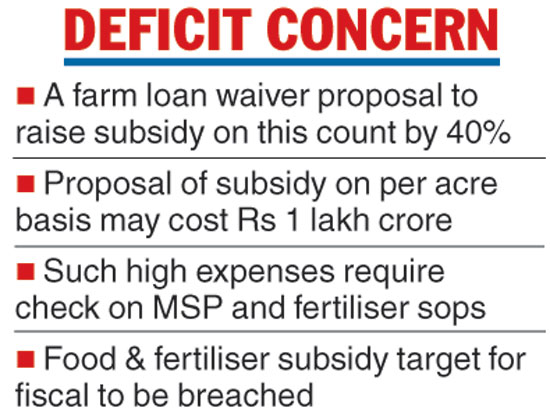 The Telegraph
The government is weighing its options to stimulate the economy through expanded budgetary allocations for agriculture as well as infrastructure.
Usually interim budgets presented in election years do not attempt at expanding budgetary allocations or raising new taxes. However, for some time the government has been giving out hints that this is a mere convention and it is not bound by such rules. The government is considering a scheme which promises to waive interest on loans up to Rs 3 lakh for farmers, in case they have been prompt with repayments. This year the outlay for farm loan subsidy stands at Rs 15,000 crore, which is expected to go up 40 per cent or more if the government accepts the recommendation.
The finance ministry has also been asked to consider a direct benefit transfer scheme which promises a per acre subsidy directly into farmers' bank accounts, whose implementation on a nation-wide scale could cost more than a lakh crore of rupees. "The only way to fund such a scheme would be to curtail subsidy for fertilisers and MSP," said officials.
However, it is feared the government is already likely to breach both its food subsidy bill of around Rs 170,000 crore and its fertiliser bill of nearly Rs 75,000 crore.
Officials say the government may opt for the time-tested method of not actually expanding expenses or giving tax sops but just announce the schemes, leaving it for the incoming government to implement them.
"Either way, this would be a major headache for the next government. A full year budget seeking largescale expansion of schemes will need to be funded and that would pose a challenge," said Biswajit Dhar of the Jawaharlal Nehru University. Promises made in the budget would impose a responsibility on the incoming elected government, regardless of the party elected to power.
Any attempt at pump priming the economy through budgetary expenditure would any case mean the fiscal deficit for 2019-20 would cross the target of 3 per cent of GDP. As it is, the fiscal deficit of 3.3 per cent of GDP for this year looks in doubt given the expanding expenditure and shortfalls in revenue collection.
The deficit, in fact, had reached Rs 7.17 lakh crore by November, which is 114.8 per cent of the budgeted target for the current fiscal.