Blame game over power crisis
Union power minister R.K. Singh says fear of disruption in supply is entirely misplaced, Delhi deputy CM Manish Sisodia alleges Centre not ready to accept crisis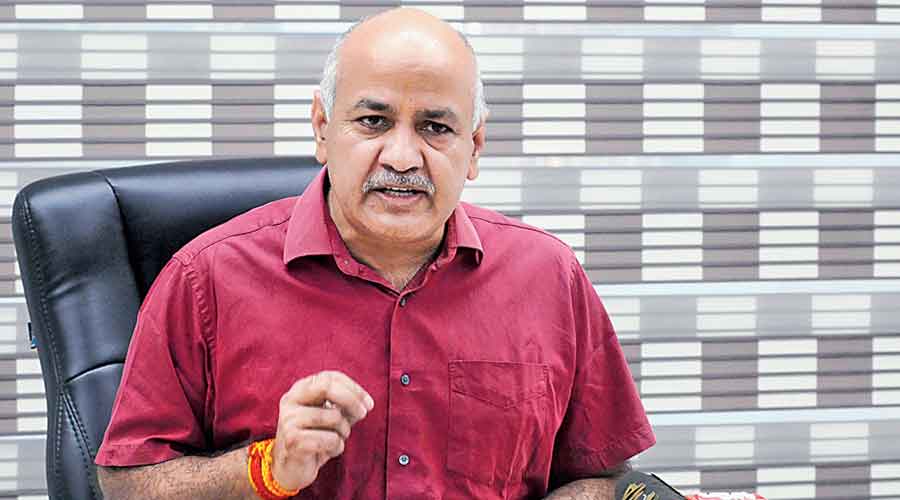 Manish Sisodia at the news conference on Sunday.
(PTI)
---
New Delhi
|
Published 11.10.21, 03:13 AM
|
---
With states from Delhi to Andhra Pradesh sending warnings of a developing power crisis because of the shortage of coal, the central government on Sunday pressed all the resources at its command to ensure power plants have enough feedstock to generate electricity.
Union power minister R.K. Singh reviewed the coal stock position at all thermal power plants, including those units that supply electricity to distribution companies in Delhi, the ministry of coal said "ample coal is available in the country to meet the demand" and "any fear of disruption in power supply is entirely misplaced".
Delhi's deputy chief minister Manish Sisodia on Sunday, however, alleged that the Centre is not ready to accept that there was a coal crisis and its policy to "turn a blind eye" to every problem could prove fatal for the country. 
His remarks came after the coal ministry asserted that sufficient dry fuel is available in the country
"Union power minister R.K. Singh today (Sunday) said there isn't any coal crisis and that chief minister Arvind Kejriwal should not have written a letter to the Prime Minister on the issue. It is sad that a Union cabinet minister has adopted such irresponsible approach," Sisodia said at a press conference here.
In a year when the country produced record coal, excessive rains in coal producing belt hit movement of the fuel from mines to power generation units, impacting power generation in many states including Punjab, Rajasthan, Delhi and Andhra Pradesh.
Another factor that has contributed to the present crisis is power plants that used imported coal to generate electricity, have either curtailed generation or completely stopped as a spurt in international energy prices have made it difficult for them to meet the commitments to states at a particular rate.
Tata Power, which has signed contracts to supply 1850 MW of electricity to Gujarat, 475 MW to Punjab, 380 MW to Rajasthan, 760 MW to Maharashtra and 380 MW to Haryana from its imported coal-based power plant at Mundra in Gujarat, has stopped generation.
After Singh's review, the power ministry said the total despatch of coal from all sources — Coal India Limited, Singareni Collieries Company, captive coal mines and imported coal — on October 9 was 1.92 million tonnes (mt)  against the total consumption was 1.87mt.
"Coal despatch have exceeded the consumption, thereby indicating shift to gradual building up of coal stock," it said adding the coal stock at power plant is sufficient for more than 4 days' requirement and as the coal supply is being ramped up by Coal India Ltd (CIL), the coal stock at power plant would gradually improve.
In a separate statement, the coal ministry said the  stock at power plant end is about 72 lakh tonnes, sufficient for four days requirement, and that the Coal India Limited (CIL) has more than 400 lakh tonnes of stocks, which is being supplied to power plants.