Big hike in fertiliser subsidy
Information minister Anurag Thakur says the subsidy on DAP (di-ammonium phosphate) has been increased to Rs 2,501 per bag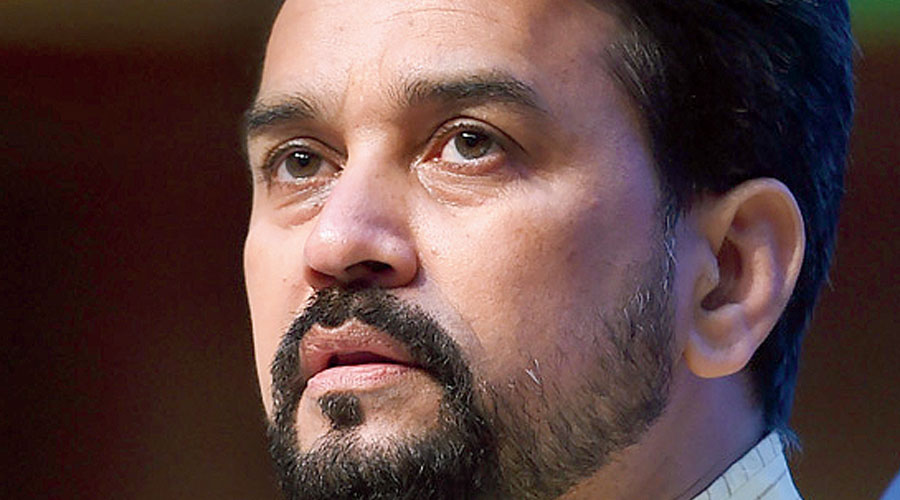 Information minister Anurag Thakur
File Photo
---
New Delhi
|
Published 28.04.22, 03:21 AM
|
---
The Union cabinet on Wednesday approved a subsidy of Rs 60,939.23 crore for phosphatic and potassic (P&K) fertilisers, including DAP, for the first six months of this fiscal — much in excess of Rs 42,000 crore subsidy provided for them for the whole of this fiscal in the budget, threatening to derail deficit numbers for the year. 
The sum meant for the kharif season is almost close to the subsidy provided to the P&K fertilisers for the whole of 2021-22 at Rs 64,149 crore.
The Telegraph had earlier reported that the fertiliser subsidy would balloon to about Rs 1.50 lakh crore in FY23 from the budget estimate of Rs 1.05 lakh crore because of higher input costs in the wake of the Ukraine war. India imports 18 per cent of its murate of potash used in P&K fertilisers from Belarus.
Information minister Anurag Thakur said the subsidy on DAP (di-ammonium phosphate) has been increased to Rs 2,501 per bag. The farmers will continue to get the DAP at Rs 1,350 per bag.
Prices of phosphoric acid and rock phosphate — ingredients for non-urea fertilisers — have gone up 92 per cent and 99 per cent, respectively, in the past 12 months to March 2022.
Given that Russia, Belarus and Ukraine are the major suppliers of non-urea fertiliser ingredients, the conflict will only exacerbate the situation.
"Our assessment assumes 3 per cent year-on-year growth in demand for fertilisers and a moderation of raw material and fertiliser prices in the second half of this fiscal. If demand is higher than expected, or input prices do not soften even in the second half, the subsidy bill may inch up to Rs 1.8-1.9 lakh crore," Crisil Rating said in a note.
The cabinet has also approved Rs 820 crore for India Post Payments Bank.