Bengal springs handout in Budget
Mamata comes up with her own budget announcement of an annual Rs 1,000-crore handout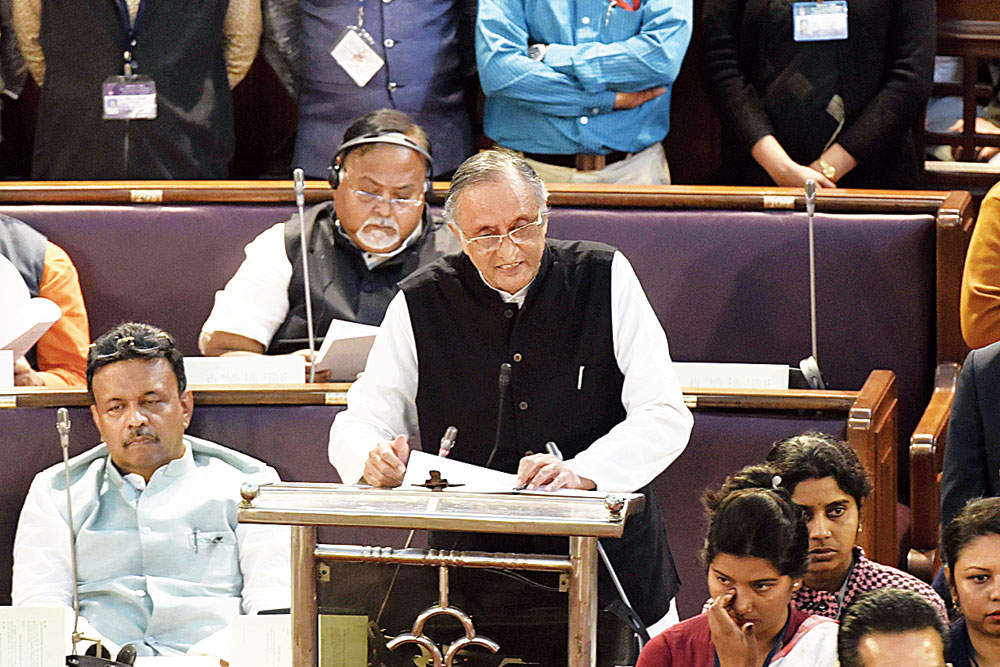 ---
|
Calcutta
|
Published 04.02.19, 07:48 PM
---
Competitive populism is the name of the game with the stage set for a fiercely-contested general election later this year. Just three days after the Centre promised a Rs 20,000-crore direct cash handout to small and marginal farmers across the country this fiscal, the Bengal government came up with its own budget announcement of an annual Rs 1,000-crore handout to trump the Modi government's blandishment.
The lion's share of the largesse will go to a new scheme aiming to provide financial assistance of Rs 100,000 a year to 50,000 unemployed youth of the state.
Finance minister Amit Mitra said the details of the scheme would be disclosed later, including the selection criteria and the department that would run it.
"We have budgeted Rs 500 crore expenditure for this scheme, which is aimed at creating employment. All put together, the new schemes will entail an allocation of Rs 1,000 crore," Mitra said at the Assembly after presenting the state budget.
The new initiatives include an increase in honorarium of more than 210,000 anganwadi workers and helpers and 50,000 Asha workers, involved in providing primary healthcare, by Rs 500 a month.
Remuneration of contractual group D and C staff is being raised by Rs 2,000 per month. Moreover, terminal benefits given as ex gratia to contractual workers is being raised by Rs 1 lakh a month. Both the schemes will benefit 1 lakh workers.
The Centre's payout of Rs 20,000 crore will have to be spent among 29 states, working out to an average of Rs 689 crore if it is divided equitably. But as the PM Kisan programme is heavily skewed towards the north Indian states, farmers in Bengal will stand to get a lot less — and that too only if the state plays ball and shares its farmland holding records with the Centre.
Keeping this in perspective, the dole announced by Mitra in the Assembly, in the absence of chief minister Mamata Banerjee and amid an uproar by the members of the Opposition, stands out as substantial.
Mitra mentioned that there has been a 13.25 per cent rise in state development schemes to Rs 89,300 crore in 2019-20 compared with Rs 80,166 crore. A majority of this would be spent on panchayat and rural development, followed by school education and urban development and municipal affairs.
Even though the budget had something for contractual workers, there was no firm announcement on the implementation of the 6th Pay Commission and increase in dearness allowance for permanent government staff. "We are in dialogue with the commission and it will be done at an appropriate time," the minister said.
The budget schemes came over and above several welfare plans the Mamata Banerjee government had announced during the year, including the Krishak Bondhu scheme — Bengal's own cash handout for farmers — for which Mitra promised an allocation of Rs 7,000 crore in 2019-20.