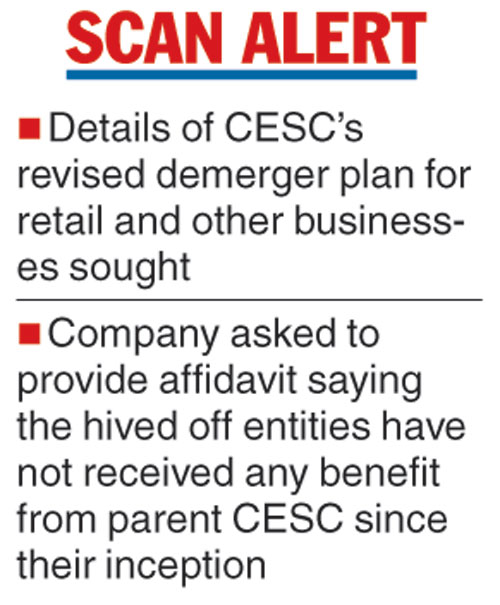 The Telegraph
The West Bengal Electricity Regulatory Commission has sought details from CESC Ltd on the revised demerger of its retail and other businesses into separate entities, asking the company to provide an affidavit citing that the hived off entities have not secured any benefit from the parent (CESC) since their inception.
The regulator has shot off a letter to the RP Sanjiv Goenka flagship on Monday, incidentally the last day of office for the commission's chairperson R.N. Sen.
"A letter has been sent from the commission to CESC about the demerger based on media reports and letters received from the public," he told The Telegraph on Tuesday.
The commission has also sought an affidavit from CESC clarifying that the companies, which are being carved out, have not received any "benefit" from the parent entity from inception till separation.
CESC sources said the company would take legal opinion on whether it would require to respond to the letters, sent by the outgoing chairperson in the last hour before leaving office, at all.
For all practical purposes, the process of demerger is already running its course. The CESC stock has started trading on the bourses as a pure-play power company, while the listing of retail (Spencer's) and new businesses (FMCG, IT, BPO) is expected soon.
CESC had initially approached the National Company Law Tribunal and the state electricity regulatory commission with the demerger plan in 2017. The original plan was to split the company into four entities, focusing on distribution, generation, retail and new businesses (BPO, IT, FMCG and Quest Mall).
But on February 16, 2018, the commission declined permission and asked the company to approach it with a fresh proposal under section 17(3) of the Electricity Act, 2003.
However, the NCLT approved the plan on March 28 with the caveat that it would be subject to obtaining only a power purchase agreement (PPA) between the distribution and the generation company. CESC subsequently approached the commission but the commission's view was that the company had to first seek its nod on demerger and unless the company split its generation and distribution divisions, there was no question of a power purchase agreement.
The board of CESC met last month and approved a modified demerger plan that involved the transfer of non-power business into RP-SG Retail and RP-SG Business Process Services. It did not split the distribution and generation business and, consequently, it did not seek PPA.
It is also learnt that the state in a directive to the commission in September, had asked the regulator not to pass any order for a period of 60 days, the deadline for which ends on November 17, 2018.
The state has exercised its authority under section 108 of the Electricity Act, citing the ongoing amendments to the Electricity Act.