Bengal Chamber of Commerce faces the music
The 187-year-old body is staring down the barrel of a property tax gun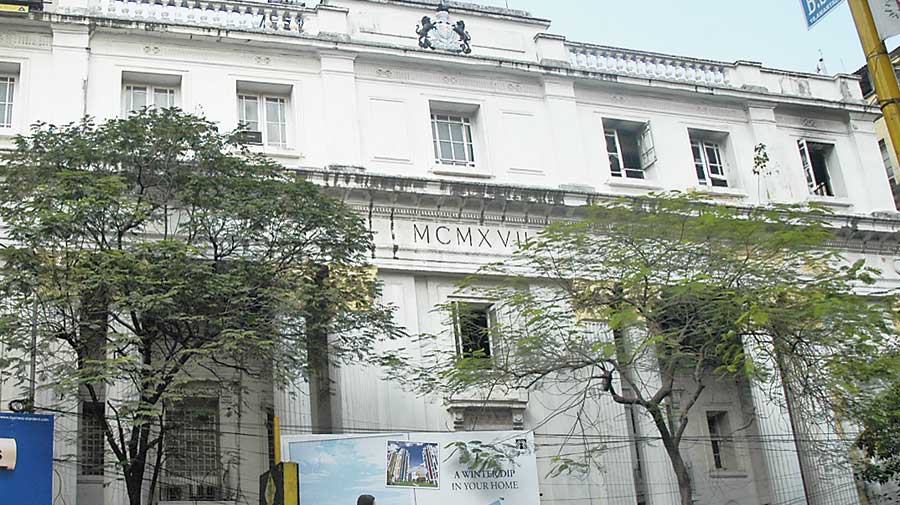 Courts reject plea for property tax waiver
Bishwarup Dutta
---
Calcutta
|
Published 10.07.20, 01:10 AM
|
---
Bengal Chamber of Commerce — the country's oldest representative body for business interests — is staring down the barrel of a tax gun.
The 187-year-old chamber, which is housed at Royal Exchange in Dalhousie, finds itself caught in a pretty pickle after Calcutta High Court turned down a plea to grant it a waiver from property taxes on the heritage building that amount to Rs 30 crore inclusive of interest and penalty.
Royal Exchange is a building that is steeped in history: it is the only commercial building in the city that sports the Royal Court of Arms and dates its history back to Robert Clive, the first governor-general of India.
Lord Clive, who was instrumental in establishing British rule in India, lived in a sprawling house that stood there in the mid-eighteenth century. Several structures came up there and were torn down before the current building — called the Royal Exchange — was built in 1919 and was occupied by the Bengal Chamber.
The Chamber tried to build its case for a waiver of property taxes that it hasn't paid for years on two grounds: that it played a key role in development of trade and commerce in Bengal, and the fact that it had entered into a public-private arrangement with the Calcutta Municipal Corporation under which the civic body had taken a decision to exempt it from paying the tax.
The Chamber's counsel argued before Judge Ravi Krishan Kapur that section 425K of the CMC Act expressly provides that "if the owner of a heritage building enters into an agreement with the corporation to maintain, preserve and conserve such a heritage property at his own expense, the corporation may exempt wholly or partly the owner of such heritage building from payment of rates and taxes or fees for supply of water or any other charge in respect of such heritage building".
No real contract
The court ruled that the Chamber would have to pay a property tax on the four-storey building as it did not possess a final, formal document granting it a legally enforceable right to a waiver even though there had been extensive discussions and a broad agreement on the tax waiver with the civic body.
The Bengal Chamber had tried to buttress its argument for the waiver with a batch of letters between 2004 and 2005 where the Corporation granted the building heritage status and agreed to waive property taxes. A memorandum of understanding was also drawn up but signed only by the Chamber and not by the Corporation.
On June 2, 2004, the CMC, under the mayorship of Trinamul Congress leader Subrata Mukherjee, had accorded heritage status to the building which has about 50,000-square-foot built-up space. Thereafter, the Corporation and the Chamber decided to enter into an understanding to promote and develop Calcutta and Bengal.
A letter dated May 6, 2005 from the municipal commissioner stated that in view of the public private partnership (PPP) arrangement between the Chamber and Corporation, BCC&I would be exempted from paying municipal tax.
A further communication from the commissioner on the same day noted that a draft PPP agreement had been approved.
The MoU was later signed by the Chamber and sent to the Corporation where it remained unsigned till date.
In its ruling given on June 30, the court said: "It is well settled that to be an enforceable contract it must be proved that there was a final and a concluded bargain containing all necessary terms and which left nothing to be settled in the future. As a proposition of law, until the parties have agreed on everything which they consider required agreement, there can be no contract."
It went on to add: "There is no final and binding agreement … which the petitioner can possibly enforce in a court of law. As a rule of law, negotiations do not make an enforceable contract. In the facts of the instant case what the petitioner has failed to establish, was the full and final settlement of all the necessary terms and conditions in order to enforce a binding contract."
"It is unfortunate that an issue of payable municipal rates and taxes has been pending since 1987 i.e. when the petitioner first received a notice under Section 184(3) of the Calcutta Municipal Corporation Act, 1980," the judge said.
Coat of Arms
Fiery history
The spot where the building stands is entwined in the history of Bengal itself.
An earlier edifice there once served as the residence of Sir Philip Francis, a member of the Governor General's Council, who gained notoriety for his duel with Warren Hastings in August 1780 at Belvedere (near the Alipur zoo).
Hastings and Sir Philip had been involved in a severe ego clash after he had teamed up with two other members of the Council — Monson and Clavering — in frustrating the Governor General's directives. Matters came to a head when Hasting wrote a minute to a meeting where he made a scathing reference to Sir Philip's conduct.
He wrote: I judge of his (Sir Francis) public conduct by my experience of his private, which I have found void of truth and honour. This is a severe charge, but temperately and deliberately made." The private conduct that Hastings alluded to was Sir Philip's scandalous affair with Catherine Grand, a celebrated beauty.
In that duel, Sir Philip was badly injured while his bullet missed the target. He would eventually have his revenge when he instigated Edmund Burke to launch impeachment proceedings against Hastings in the House of Commons — a gruelling seven-year trial that cleared Hastings but left him a broken man.
The legend goes that Sir Philip used to pay a rent of £1,200 for what he described as the "finest house in Bengal". In 1842, it was purchased by the Oriental Bank of Commerce (no relation to the existing Gurgaon-based public sector bank which merged with the Punjab National bank in April). This bank went into liquidation in 1892.
The premises were acquired by the Calcutta Chamber of Commerce that had been formed in 1833 and later morphed into Bengal Chamber of Commerce in 1853.
The property, a fine illustration of the Ionic order of Grecian architecture, was designed by a Bombay-based architects firm, Gregson, Batley and King. The structure was built at a cost of Rs 5 lakh and its foundation stone was laid by Lord Carmichael in 1916.
Formed in 1833 by 25 merchants, the Chamber by then required a much bigger space for its widening activities and a growing number of members.
Members of the Chamber commented and provided vital inputs that formed part of several legislations in pre-Independent India, including the Indian Electricity Bill of 1902, Life Assurance Legislation, 1910, and the Customs Act.
Bengal chief minister Mamata Banerjee, then an opposition leader in 2008, chose this Chamber to interact with business during the height of the Singur agitation to voice her opposition to the proposed Tata small car factory.
The Confederation of Indian Industry, Indian Tea Association and Indian Jute Mills Association are long-standing tenants of the building.
The building still sports the Royal Court of Arms comprising a shield propped up by a lion and a unicorn — with another lion atop — with the motto Dieu et mon droit on a scroll below it. The court of arms was first used by Richard I and has been used ever since by the royal family.
The motto in Old French means: God and my right, and was apparently used as a battle cry by Richard I and is believed to testify to his French ancestry.
Ironically, for the Bengal Chamber, that royal crest and motto wasn't enough to guarantee its right to a property tax waiver.