Australia promises to step up trade with India
Australian investment in India to be raised ten-fold, Calcutta to get consul-general with eye on east's mining industry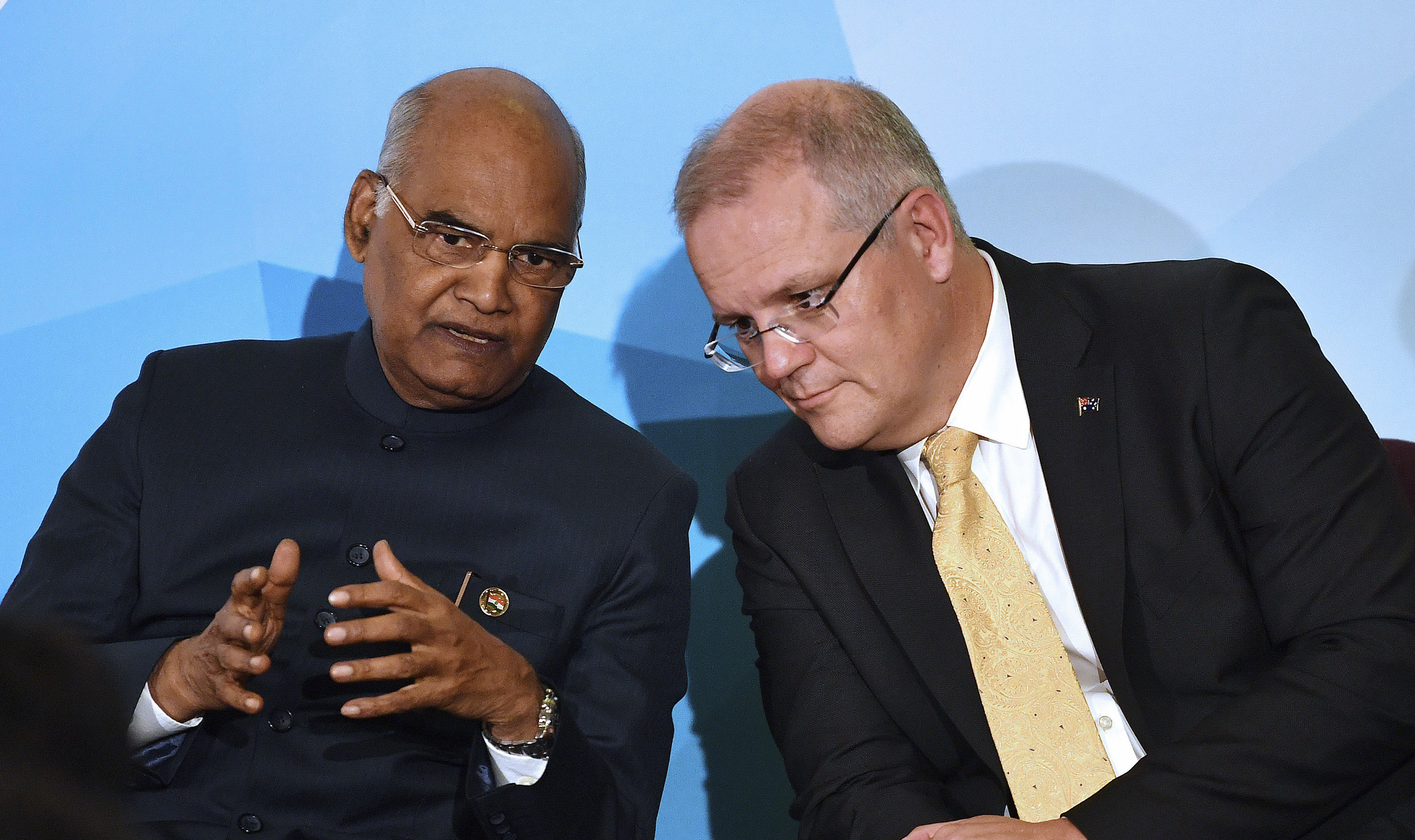 India's President Ram Nath Kovind (left) talks to Australia's Prime Minister Scott Morrison at a business summit in Sydney, on Thursday.
AP picture
---
Sydney
|
Published 22.11.18, 09:38 PM
|
---
Australia on Thursday said it would ratchet up its trade and investment with India and start a consulate general in Calcutta by early next year to take care of its growing business with India's east-based mining industry.
Australian Prime Minister Scott Morrison on Thursday announced that his government would "raise Australian investment in India ten-fold" to $100 billion.
Sharing the stage with President Ram Nath Kovind at the India Business Summit organised by the Australian Financial Review here, Morrison indicated that his country would focus on four sectors in its trade and investment ties with India — resources, education, agri-business and tourism.
The plan also envisages increasing two-way trade which the Australian Prime Minister placed at Aus $27.5 billion, to Aus $145 billion by 2035.
Australia, which has been a prime source of high quality coal for Indian steel mills and thermal power plants, is keen to enter the iron ore, coal and bauxite sectors in India.
Coal worth round Aus $9.18 billion was bought by India from Australia last year.
This objective prompted Morrison to announce a new consulate general in Calcutta, which Australian officials said would start its operations from early next year.
Direct flights to Calcutta are likely to follow, said Indian officials.
"Coal is our top export to India ... we are very serious about coal and very serious about our relationship with India," said Morrison.
"As far back as 1802, we exported coal from Newcastle to Bengal," said the Prime Minister, a conservative politician who leads the Liberal party.
President Kovind said, "India and Australia have much at stake, not to up their game." To which Morrison replied, "I like to cook on Saturday night and it's always a curry... we are at the masala stage (in bilateral economic relationship) ... we need to get the recipe right."
Regional trade group
Australia is also looking at the 14-member Regional Comprehensive Economic Partnership (RCEP) agreement, to be finalised next year, as the way forward to build the trade relationship.
The RCEP includes Asean, India, China, Japan and Australia. Australian trade minister Simon Birmingham indicated that Australia would look at bilateral free trade deals after signing the pact.