As Railway gets highest-ever allocation, minister announces Vande Metro
India will get its first Hydrogen train by December 2023 which will be completely indigenously manufactured. It will initially be run on heritage circuits like Kalka-Shimla: Ashwini Vaishnaw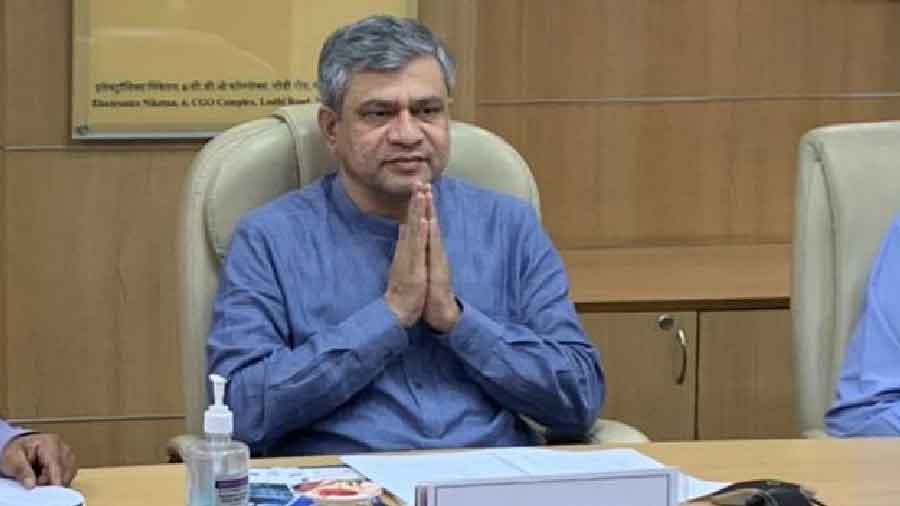 Railway Minister Ashwini Vaishnaw
File picture
---
Published 01.02.23, 09:43 PM
|
---
Vande Metro, a mini version of the Vande Bharat Express trains, will be developed by the Railways for people living around big cities to travel to and fro in comfort between their place of work and hometowns, Railway Minister Ashwini Vaishnaw said on Wednesday.
Addressing a press conference after Finance Minister Nirmala Sitharaman announced the highest-ever capital outlay for the railways in the Union Budget 2023-24 at Rs 2.40 lakh crore, Vaishnaw also said India will get its first Hydrogen train by December 2023 which will be completely indigenously manufactured. It will initially be run on heritage circuits like Kalka-Shimla.
Presenting the Budget in Lok Sabha, Sitharaman said the outlay for the railways is nine times the amount provided in 2013-2014.
She said 100 critical transport infrastructure projects for last-and-first-mile connectivity for coal, fertiliser and food grain sectors have been identified and will be taken up on a priority basis with an investment of Rs 75,000 crore, including Rs 15,000 crore from private sources, she said.
Budget papers showed that the net revenue expenditure of the railways is placed at Rs 2,65,000 crore in the Budget Estimate (BE) 2023-24 as against Rs 2,42,892.77 crore in Revised Estimate (RE) 2022-23.
For the railways, which is looking to focus on investing in building infrastructure, manufacturing new coaches, renewal of tracks and redevelopment of stations, the budgetary outlay is sure to go a long way.
"Today's budget will make India the growth engine for the whole world. As the prime minister said the world is looking at India as a ray of hope, the Budget envisages that vision.
"The Budget tries to bring change in the lives of every section of society. I thank the Prime Minister," Railway Minister Ashwini Vaishnaw said.
The lack of investment in Railways for years had hindered it from achieving its potential. This Rs 2.41 lakh crore capital will bridge that gap. This will become a medium to fulfill the aspirations of our 800 crore passengers who travel in railways, Vaishnaw said.
While the Vande Bharat trains did not get a mention in the finance minister's speech, the announcement of a mini version of it was the highlight of Vaishnaw's post-budget press conference.
"We are also developing Vande Metro... Around big cities, there are large habitations from where people would like to come to the big city for work or leisure, and go back to their home place.
"For that, we are coming up with a Vande Bharat equivalent Vande Metro. This year the design and production will be completed, and in the next financial year, a ramp-up of production of the train will be done.
"These will be like rapid shuttle-like experience for passengers," said Vaishnaw.
The Railways is already working on a sleeper version of the semi-high speed Vande Bharat trains.
Officials said that these trains will be of eight coaches and will be like a metro train.
The Ministry of Railways has directed the General Managers (GMs) of Chennai-based Integral Coach Factory (ICF) and Lucknow-based Research Design and Standard Organisation (RDSO) to roll out the rakes of eight-car Vande Bharat trains at the earliest.
A senior railway official said the decision to run Vande Bharat trains with a shorter car composition will prove a boon to passengers, especially traders, students and the working class people who want to visit different big cities.
Normal Vande Bharat trains have a 16-car composition.
Vande Bharat trains will now also be manufactured in Latur (Maharashtra), Sonipat (Haryana) and Raebareli (Uttar Pradesh) apart from ICF Chennai, the minister said.
"You saw how the Vande Bharat train has been accepted as a world-class train. The production will be ramped up," he said.
He said that by end of the next financial year, Railways should be able to roll out about two or three new Vande Bharat trains every week.
He also said that India will get its first Hydrogen train by December 2023 which will be completely indigenously manufactured.
"It would initially be run on heritage circuits like Kalka-Shimla and will be expanded," he said.
Among green growth initiatives, over 85 percent of the railway network is electrified, he said. To ensure that the electricity is also green, ultra mega solar plants will be set up.
"For infrastructure growth, the corridor approach will be used. Energy corridor, separate corridors for hilly areas, Janjatiya Gaurav Corridor, cement corridor... it will be a combination of social and economic corridors.
"Bullet train progress is good. Due to political situation, in Maharashtra earlier some permissions were not give, the new government has granted all permissions," he said.
Tourism is a big theme for this year's budget, he said, adding Bharat Gaurav trains - Ramayan circuit, Jagganath circuit, Kashi Vishwanath circuit - are very popular and more circuits will be added to these soon.
Except for the headline, this story has not been edited by The Telegraph Online staff and has been published from a syndicated feed.