LIC, SBI take a beating too
Adani shares hammered again after abandoning mega-shares issue, more downside seen
Stock rout has so far wiped $108 billion off shares, fears of wider market contagion from crisis engulfing Adani empire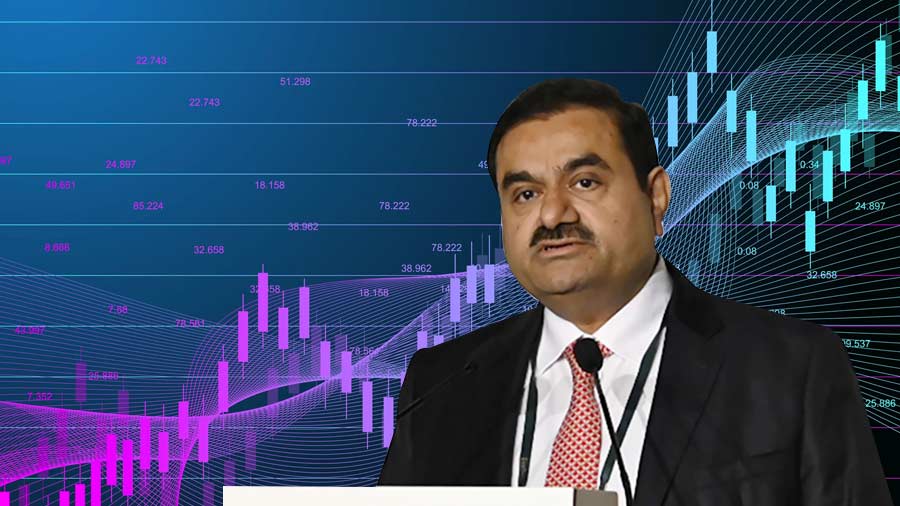 Gautam Adani
File picture
---
Published 02.02.23, 07:30 PM
|
---
Adani Group companies were battered once again on the stock market on Thursday bringing the group's total value down by a colossal $107 billion in just a few days since the publication of the Hindenburg Research Report.
The price of Adani Enterprises, which dramatically pulled its public issue late last night, fell another 27 per cent today, losing 570 points and closing at Rs 1,565. It had fallen by 28 per cent yesterday. It is now very far below Rs 3,112, the proposed lower band of the follow-on public offer that it abandoned last night.
It is not clear yet what impact the Adani rout will have on the wider Indian stock market. Insurance giant LIC, and public sector banks SBI and Bank of Baroda have also seen their shares drop steeply because of their links with the Adani Group. From a peak of Rs 734 in early January LIC has fallen 18 per cent to Rs 598 today. Similarly, SBI closed at Rs 532 today, coming down from a peak of Rs 612 in early January. This was a fall of 13.08 per cent in the last year. Bank of Baroda fell to Rs 155.23 today and it has dropped 16.67 per cent since the Adani crisis began.
The MSCI India Index has fallen 9 per cent since Hindenburg Research published its report saying that Adani had pulled a huge "con" on investors.
As the shares of all Adani Group companies continued to fall, market regulator Sebi said it would conduct a full-scale probe into Adani Group companies. Earlier today international giant Citi announced that it would not accept Adani Group company shares as collateral for loans.
Crucially, Adani bonds have also taken a beating and Adani Ports and Adani Green were particularly badly hit. Adani Group bonds are said to be offering yields of upto 30 per cent. Most bonds offer about 4 per cent.
Group Chairman Gautam Adani was in Israel yesterday meeting with the country's President Benjamin Netanyahu and finalising a deal to run Haifa Port, one of the country's largest. Adani also announced that the group would open an artificial intelligence laboratory there which would be launched in the summer.
However, after returning to India he quickly surveyed the crisis and decided that the FPO had to be dropped for the time being. In a statement he said: "Yesterday's decision of its withdrawal would have surprised many. But considering the volatility of the market seen yesterday, the board strongly felt that it would not be morally correct to proceed with the FPO."
If he had gone ahead with the issue some of his billionaire investors like Mukesh Ambani, Airtel's Sunil Mittal and JSW's Sajjan Jindal would have seen immediate losses amounting to several millions. "For me, the interests of my investors is paramount and everything else is secondary," Adani said while withdrawing the issue.
Analysts are now predicting that Adani will have trouble raising money for future ventures. Also, it's believed he has to make repayments of $700 million this quarter.
Stock analysts say they have no idea how far the Adani stocks could fall and, indeed, whether it could take down the wider market with it.