Adani becomes world's 4th richest person after Bill Gates speeds up charitable giving
Gates, Buffett's goal of giving away their fortunes creates space for other billionaires to climb the rich list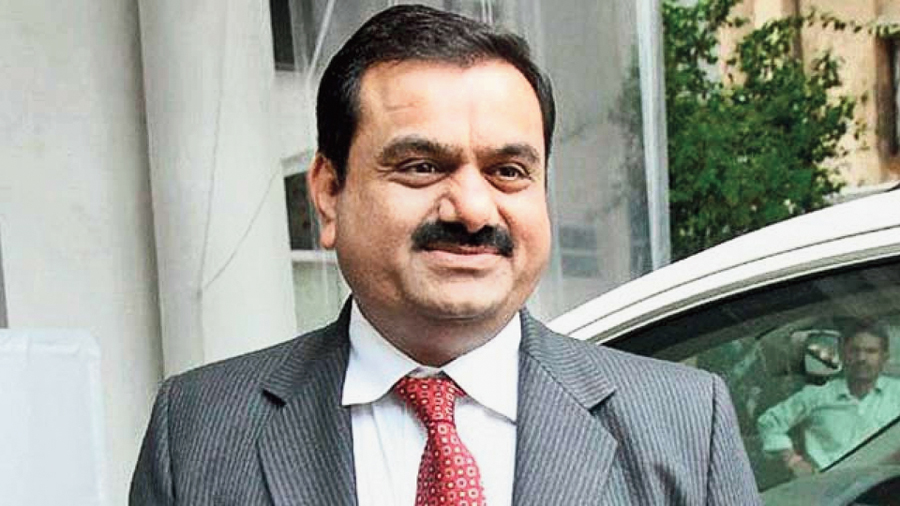 Gautam Adani
File Picture
---
Published 24.07.22, 06:39 PM
|
---
Industrialist Gautam Adani has become the world's fourth-richest person, even though his estimated wealth has slid in the last two months by $7 billion, following Bill Gates' decision to accelerate his charitable giving.
Gates left space for Adani, reckoned to be worth $115.7 billion, to climb higher on Forbes' Billionaires list by giving away $20 billion earlier this month to the Bill and Melinda Gates Foundation. The Microsoft founder's total wealth dropped to $104.7, making him now the world's fifth-richest person.
Gates, who's topped the wealth charts for more than a dozen of the last 30 years since Microsoft went public, has declared he aims to keep donating huge chunks of his fortune until he's finally scrubbed from the Rich List. 
Gates said various crises, including the pandemic, the war in Ukraine and rising inflation "require all of us to do more" and that he was raising his giving to the Gates Foundation. "I plan to givevirtually all of my wealth to the foundation. I will move down and eventually off of the list of the world's richest people," he tweeted after his latest donation. 
A first
Before Adani, no Indian tycoon has ever soared to such a pinnacle in the wealth charts. Mukesh Ambani, who held the title as the richest Indian for a number of years until he was overtaken by Adani, is now in ninth spot globally in the wealth stakes, and worth $90.6 billion, according to Forbes, the bible of wealth calculation.  
Warren Buffett, who like Gates, has been another constant star at the top of the rich lists since the early 1990s, is now in 7thspot and worth $99.3 billion. The Berkshire Hathaway chairman's wealth has also been sliced by his huge charitable donations – he has given away $35.7 billion, $4 billion just last month – and aims to give away 99 per cent of his wealthwhen he dies. 
The Forbes Real Time Billionaires' List currently has only six people – yes, all men – who are centi-billionaires worth more than $100 billion.
The 60-year-old Adani's wealth has risen astonishingly in the last year. In the Forbes India Rich List published in early April, he was estimated to be worth $90 billion. He has climbed by around $25 billion in slightly over three months.
In 2021, during the peak of the Covid-19 pandemic, Adani was also climbing at a fast clip. In April 2021 Forbes reckoned he was worth $74.8 billion and a year earlier Forbes calculated he was worth a relatively modest $25 billion. And in 2018 he was worth just $11.9 billion.
Adani's wealth has been soaring to stratospheric levels thanks to the constantly rising share prices of several group companies. 
His flagship Adani Enterprises, for instance, touched an all-time high five days ago and so did a second company Adani Transmission which, as its name suggests, is in the power business. 
The share price of another company, Adani Green, has also been shooting to new levels. It moved up from Rs 942 in July 2021 to Rs 2,911 in April. It has fallen from that peak to Rs 2,119 a few days ago.
In elite category
Moving to the fourth position puts Adani behind global household names like the world's richest man, Elon Musk, who's worth a mind-boggling $253.4 billion, even though his Teslashares have fallen more than 30 per cent for the year.
In second position is luxury king Bernard Arnault of LVMH whose wealth is currently pegged at $156.3 billion. In third spot is another household name globally, Amazon's Jeff Bezos who's worth $148.1 billion.
The Ahmedabad-based tycoon's presence in Indian industry has also climbed steeply in the last year. He now controls Mumbai and six other major airports and this means his Adani Airports Holdings caters to a large percentage of India's air passengers. His Adani Ports and Special Economic Zone also controls India's largest SEZ Mundra and nine other ports.  
Besides that, the Adani group has just made a foray into telecom and has entered the race to buy telecom spectrum. It has also formed a joint venture with France's Total. 
The Adani Total Gas share is also on a rip. On March 14, it was at Rs 1,650.35 and it climbed to Rs 2,291.60 on June 24. On Friday, it had soared even higher to Rs 2,870.50. The company is looking to distribute gas around the country and already has contracts to do this.  
Along with Gates, Buffett and other billionaires, Adani has also stepped up his philanthropy. To mark his 60th birthday last month, the self-made Adani pledged to donate $7.7 billion to healthcare, education and skills development to his Adani Foundation. 
In the main, average contributions of Indian philanthropists have been low across wealth brackets in comparison with the US, according to the latest Bain and Company India Philanthropy Report. Bain ascribes the difference in part to the tax advantages charitable giving confers to donors in other countries. India doesn't offer such benefits.