Rent a luxe ride
High-end and hassle-free — that's what users are looking for and self-drive car rentals are delivering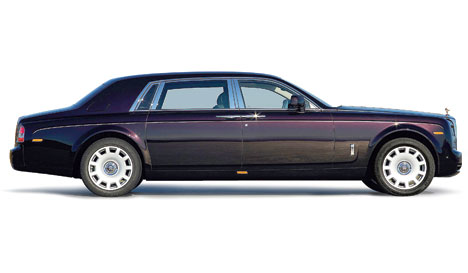 ---
Published 29.04.18, 12:00 AM
|
---
You don't have to be a millionaire to drive like one. You can live out your driving fantasies with high-end self-drive rental cars. Available are luxury vehicles that start from brands like Mercedes-Benz, BMW and Audi, whose least expensive models cost somewhere around Rs 30 lakh, and go up to the Rs 4-crore-plus Rolls-Royce Phantoms. If GT coupes and supercars are what you crave for, then you can get models like the Ford Mustang or the Lamborghini too. There's a price to pay, of course, but not one that will break your bank. And all you need are a valid driving licence that's a few years old and an identity proof.
Till a few years ago, it was tough getting hold of self-drive rentals, what with the high deposits demanded by the rental companies, which were few and far between anyway. Then, things got better with insurance rule changes that crashed the deposit amounts substantially and a number of new companies came up offering self-drive cars for rent; existing companies too bumped up their operations. But premium and luxury cars were still not available easily. While there were the big, luxurious vehicles that came with chauffeurs, rarely would a company risk having them driven by those who hired them. However, that, too, is changing now.
A few years ago, Raghav Belavadi, founder and CEO, Hype, an online premium car rental service, sold his tech start-up to insurance giant Axa, and moved back to Bangalore. For many years before that he had been living in Switzerland and, on his trips home had to go through a lot of trouble to rent luxury cars like Audi, BMW and Mercedes-Benz, the kind of rides he was used to.
"On the occasion of my parents' 50th wedding anniversary, celebration plans in Bangalore specifically included a Mercedes-Benz S-Class. But the rental company sent a BMW 7 Series instead. And while they were in the same segment, I wanted a specific car," he says. "Operators would say something and you would get something else," he adds. So he decided to do something about it as he was sure that there were others like him who faced similar problems.
Others, like Delhi-based Aditya Loomba, joint managing director of Eco Rent A Car, have also seen the demand for luxury self-drive rentals growing and the market maturing. While he has offered a fleet of premium cars for self-drive for a while, lately he has been observing a change in the nature of the demand for those cars. "While earlier people would ask for a Mercedes-Benz or Audi, now they specifically ask for, say, an Audi Q7 or a Mercedes-Benz E-Class or a BMW 5 Series. So those taking a premium vehicle on rent have matured and are now very specific as to what they want," says Loomba. He says that more people are asking for luxury rides on rent too. With the self-drive rental business gathering steam, Eco has also set up its self-drive rental brand, Urban Drive.
For Belavadi, Hype is the solution he has come up with for his problems with renting self-driven cars. It is an aggregator, something one can think of like an Airbnb for luxury vehicles. Planned in 2016, it got off the ground last August. It does not own the cars that it rents out but sources them from vendors that it vets for quality. Belavadi says revenues have been growing at five to six times every month.
Why did he think a premium cars-only rental service would work? "Indians want to drive something that they haven't driven. They do that when they go abroad. Also, sometimes people want to rent a car similar to what they have been using at home when going for a road trip. Besides, they don't want to take the hit of the depreciation, which is quite heavy in the first 18-24 months."
Loomba puts forward a few other reasons why the demand is growing. "Most of the demand is from those making an out-of-the city trip for a weekend or longer, essentially leisure travellers. The bulk of the users are in their 30s and 40s and want to try out different kinds of cars. Then there are NRIs who want cars similar to what they use abroad and often take cars on a long-term or short-term basis during their stays here." Most of these patterns are common with Hype as well.
For Eco, costs range between Rs 4,000 for 24 hours for a Toyota Innova Crysta and Rs 30,000 for a Mercedes Benz
S-Class or BMW 7-Series on a full tank-to-full tank basis. The maximum one might need to keep as the security deposit, which would be for an S-Class, is about Rs 2 lakh, says Loomba.
Other companies, like Voler Cars, are offering Audi Q3s or Mercedes-Benz GLAs for about Rs 5,760 a day in Delhi, and a BMW X1 in Bangalore at the same price.
For Hype, the pricing varies from city to city and can range from Rs 5,000 for eight hours for a Mercedes Benz C-Class to Rs 2 lakh for the same period for a 2016 Rolls-Royce Phantom.
As they say, where there's a set of wheels, there's a way.