Minimal machine
The new Rolls-Royce Ghost is the luxury carmaker's exercise in making it look as unostentatious as it can while stuffing it to the brim with cutting-edge tech
The New Rolls-Royce Ghost is a completely ground-up design
Rolls-Royce Motor Cars
---
Published 19.09.20, 05:29 PM
|
---
William of Occam was a scholastic philosopher who lived in late medieval England. He used a theoretical device now famous as Occam's razor to shave off superfluous assumptions in order to check the comparative strength of hypotheses.
Rolls-Royce Motor Cars, which is headquartered in Goodwood, about an hour's drive from Surrey, where William had lived, seems to have taken the essence of this Franciscan friar's philosophy to heart when creating the second iteration of the Ghost, a model line that it launched a decade ago.
We are yet to see it in the flesh, but from the pictures released by the company of the new car in white — a colour we have been told all good ghosts are spotted in — Rolls-Royce seems to have managed the whole pared-down look rather well. Surfaces flow into each other smoothly without obvious seams showing where sheet aluminium, which is what much of the car is made of, has been joined.
The car would launch in India in the fourth quarter of this year and start at Rs 6.95 crore before taxes and other charges. The company says, "Rolls-Royce cars are bespoke. Actual pricing is highly dependent on customer specification." Of course it is.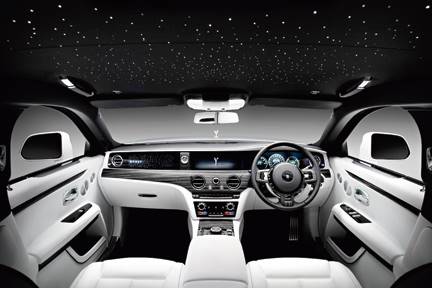 On the tech front, its maker says that this is the most technologically advanced Rolls-Royce ever and, since it's the latest one, we wouldn't expect anything less. The obvious ones are all-wheel steering along with all-wheel drive to improve road manners. Then there is the Planar Suspension System, a sort of damping system for the damping system coupled with cameras to anticipate and adjust to the surface and keep passengers insulated from the road.
Then there are LED and laser headlights with more than 600m of illuminated range, vision assist, a four-camera system with panoramic view, helicopter view, collision warning, cross-traffic warning, lane departure and lane-change warning, a high-resolution biggish head-up display and self-park (very useful), among other goodies.
The engine is a 6.75-litre, twin-turbo V12 petrol that makes 563bhp and 850Nm of torque, all of the latter available from a low 1,600rpm to make pulling away effortless for this two-and-a-half-ton car that's over 5.5m long and over 2m wide. Even with that heft it hits 100kmph from standstill in just 4.8 seconds. This Ghost can disappear quite quickly.
The exterior is totally new but the continuity is obvious. It has been cleaned up meticulously and everything that could have been done away with has been taken out. So the chrome highlights and lamps catch the eye, not to mention the backlighting of the pantheon grille.
Yes, the Ghost will actually have icy-bluish illumination behind the slats!
The interiors are interesting. Unlike many luxury cars today that are increasingly using touchscreens for various controls within the car, the Ghost retains traditional dials, pushers and switches, creating possibilities for conveying a sense of quality through touchpoints much better than haptic feedback ever could.
Most of the busy details have gone now and the interiors have been visually pared down so much that even Franciscan monks won't feel guilty riding in this car. They just have to ignore the starlit headliner, the  acres of leather and carpet, the expensive wood finishes, the 18-speaker audio system and the champagne cooler. Shouldn't be too tough, should it?