2-in-1 Hero electric vehicle
The Quark 1 is primarily a light commercial vehicle three-wheeler that can be used for e-commerce and deliveries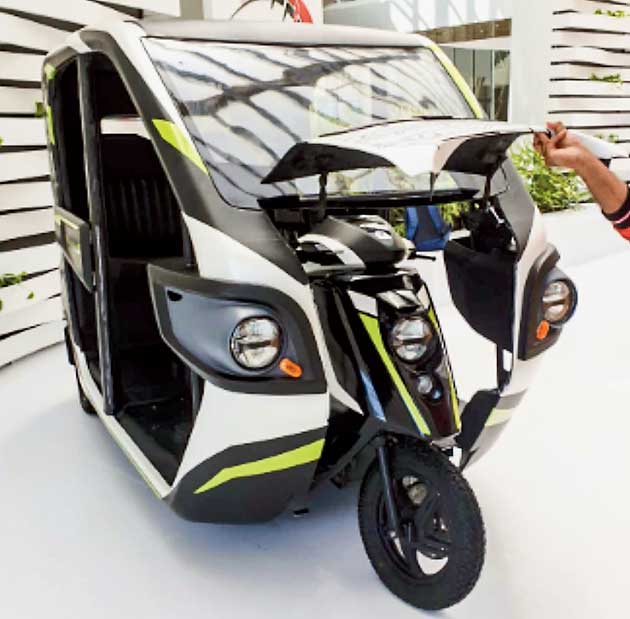 ---
|
Calcutta
|
Published 23.02.20, 07:45 PM
---
Hero MotoCorp is developing an electric vehicle — named Quark 1 — that is a three-wheeler which can be turned into a two-wheeler with the press of a button. The company showcased the concept at its Centre for Innovation and Technology in Jaipur.
The Quark 1 is primarily a light commercial vehicle three-wheeler that can be used for e-commerce and deliveries. However, it can also used as a two-wheeler.
When the hood of the three wheeler opens up the two-wheeler unit is pulled out leaving the cabin of the three-wheeler with its pair of rear wheels behind. The front wheel of the three-wheeler and a fourth wheel that is lodged in the three-wheeler cabin forms the two-wheeler.
The vehicle is powered by M360 and AMSEP (Advanced Modular Scalable Electric Powertrain) technology. "It will be a low voltage system. We are yet to decide whether it will have fast charging, slow charging or swappable battery," said a company official.
The maker of the world's largest two-wheelers is also looking to develop a mass market product in the electric vehicle (EV) segment. "We are looking at creating an EV mass market product. We are in no tearing hurry. A mass market product will get us volumes," said Pawan Munjal, chairman of Hero MotoCorp. "We have demonstrated our capability in the EV sphere way back in 2012 Auto Expo when we showcased the Hero Leap, a hybrid scooter. We also had a tooled up version of the product in 2014. We have a 31 per cent stake in Ather Energy. We are working on EVs both off the company and within."