Focus on 'worsening hate speech and violence'
'Pathology of Islamophobia' taking lethal form, says Noam Chomsky
His comments came in a recorded message to a congressional briefing — the third in a month organised by US-based diaspora organisations on communalism in India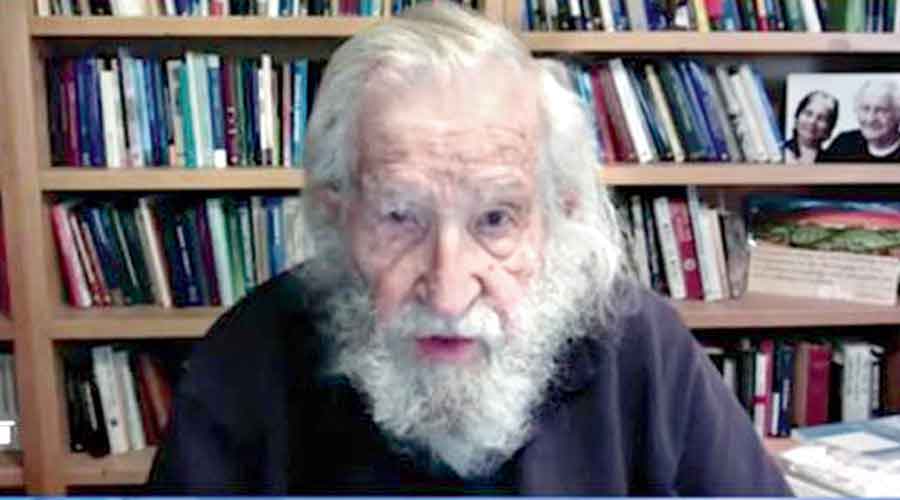 ---
New Delhi
|
Published 11.02.22, 02:48 AM
|
---
Celebrated thinker Noam Chomsky on Wednesday said the "pathology of Islamophobia", now growing throughout the West, was "taking its most lethal form in India where the Modi government is systematically dismantling Indian secular democracy and turning the country into a Hindu ethnocracy".
Chomsky's comments came in a recorded message to a congressional briefing — the third in a month organised by US-based diaspora organisations on communalism in India.
This time the focus was on "worsening hate speech and violence in India". Chomsky was to be one of the speakers but sent a recorded message as did activist Harsh Mander of Karwan-e-Mohabbat.
In his short message, Chomsky spoke also on the attacks on independent thought and the education system besides the situation in Kashmir, which he said "is now occupied territory… similar in some ways to occupied Palestine". He also referred to the situation in Pakistan and the rest of the region.
Mander said: "India finds itself today in a frighteningly dark and violent space of fear and hate."
He spoke about how modern India's founding fathers had made the conscious choice not to go the Pakistan way of letting a religion define the country.
On the "Hindutva project", he said it "requires a radical, violent rupture between India's Hindus and those of the hated 'others' that it constructs: India's Muslims and India's Christians". "India's immense tragedy today is that people steeped deeply in the Hindu supremacist ideology that spurred Gandhi's killing are in fact ruling India today," Mander said.
"It is tempting for supporters of the ruling establishment to dismiss claims of possible genocide as alarmist, mischievous and motivated so-called foreign interference and not as they are — efforts to alert the national conscience. But the Holocaust Memorial Museum Report warns of the dangers of such denial."
Unlike the last congressional briefing, there was no participation from lawmakers. The external affairs ministry, asked for a comment on the latest briefing, did not respond.
In London, British lawmakers participated in a Westminster Hall debate to mark the 20th anniversary of the Gujarat riots. Labour MP Kim Leadbeater had raised the issue in keeping with the wishes of three of her diaspora constituents who had lost relatives in the violence and were still seeking justice.
The discussion drew a response from the Indian high commission in London. It said it had not till date been approached by the MP who sponsored the motion or any of the other participants in the discussion to engage on the subject, including the specific request from the families of three British victims.
Leadbeater asked the British government to explore with Indian authorities the possibility of repatriating the remains of the three men from her constituency of Batley and Spen in West Yorkshire who were killed in the riots.
Fellow Labour MP Tanmanjeet Singh Dhesi, who participated in the discussion, tweeted: "The mass murder, death and destruction of 2002 #Gujarat riots displayed to the world the worst of humanity. Marking 20th anniversary, crucial that victims' families receive justice, and we appreciate the importance of respect for all religions and living peacefully side by side."
The mass murder, death and destruction of 2002 #Gujarat riots displayed to the world the worst of humanity.

Marking 20th anniversary, crucial that victims' families receive justice, and we appreciate the importance of respect for all religions and living peacefully side by side. pic.twitter.com/gWuHcbri9i

— Tanmanjeet Singh Dhesi MP (@TanDhesi) February 9, 2022