Worst air quality on planet in West Coast
At least 23 people have died in the fires, and in Oregon, which has taken the biggest blow in the last few days, officials have warned of the possibility of 'mass fatality incidents'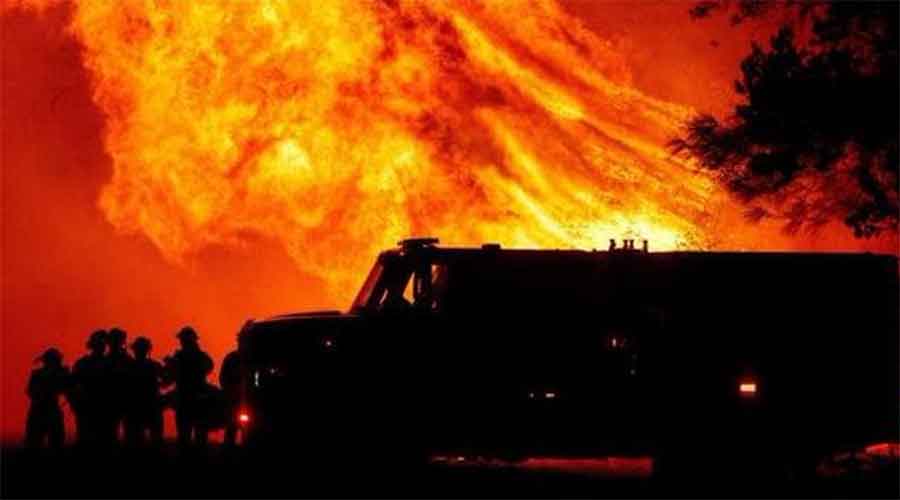 ---
|
New York
|
Published 14.09.20, 01:20 AM
---
Exhausted fire crews worked on Sunday to beat back raging wildfires that have scorched millions of acres across three western US states, all while an anguished search goes on for the dozens of people who remain unaccounted.
At least 23 people have died in the fires, and in Oregon, which has taken the biggest blow in the last few days, officials have warned of the possibility of "mass fatality incidents".
Thousands have been pushed from their homes as communities have been swallowed by flames. The fires have also cast a haze over a broad stretch of the West Coast, leaving the region with what officials have said is the worst air quality on the planet.
"It is apocalyptic," senator Jeff Merkley, Democrat of Oregon, said on Sunday on the ABC programme This Week. "I drove 600 miles up and down the state, and I never escaped the smoke. We have thousands of people who have lost their homes. I could have never envisioned this."
The fires in Oregon have already consumed more than one million acres and forced tens of thousands of people out of their homes. That is in addition to the record-setting 3.1 million acres burned in California and over 600,000 acres burned in Washington State.
The National Weather Service said the air quality could begin to improve for some cities from Monday.
President Donald Trump is scheduled to visit McClellan Park, California, on Monday to be briefed on the wildfires. "I spoke to the folks in Oregon, Washington," he said late on Saturday. "They've never had anything like this."