With everything she's got, May fights
Leader needs 159 to survive as Prime Minister, 316 MPs available to vote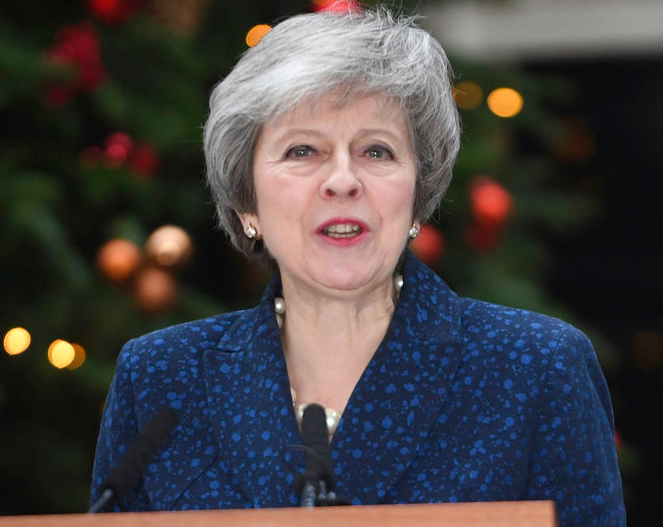 Britain's Prime Minister Theresa May makes a media statement in Downing Street, London, on Wednesday, confirming there will be a vote of confidence in her leadership of the Conservative Party.
AP
---
London
|
Published 12.12.18, 08:41 PM
|
---
It was like a scene from Julius Caesar with plotters meeting in the dark corners and crevices of the House of Commons to decide how to stab Theresa May and replace her as Prime Minister with a hardline Brextremist.
And as dawn broke over the Mother of Parliaments on Wednesday, events moved with lighting speed, with the formal announcement that more than 48 Tory MPs — a fifth of the 318 elected Conservative representatives — had submitted letters calling for May's ouster to Sir Graham Brady, chairman of the 1922 back bench committee .
As a consequence, under party rules, there would be a speedily arranged leadership contest between 6pm and 8pm (local time) in committee room 14 of the Commons to decide whether May remains leader of the party, with MPs voting in secret and the result announced at 9pm (local time).
With 316 MPs available to vote, May needs half her parliamentary party — 158 — plus one, that is 159 votes, to remain Prime Minister. By late afternoon, members of the cabinet had declared they would support May with the BBC calculating that that at least 174 MPs had announced they would vote for her. But it was also emphasised that since the ballot was secret, it was not unknown for MPs to say one thing in public and do the opposite in private.
Just before 9am (local time), May emerged from the famous black doors of No 10 Downing Street — her last day as Prime Minister, her critics forecast — and announced: "I will contest the vote with everything I have got."
In a joint statement the chairman of the European Research Group Jacob Rees-Mogg and his deputy Steve Baker, two of the principal plotters, said: "Theresa May's plan would bring down the government if carried forward. But our party will rightly not tolerate it.
"Conservatives must now answer whether they wish to draw ever closer to an election under May's leadership. In the national interest, she must go."
The plotters moved on Tuesday while May was in Europe trying to secure last minute concessions for her withdrawal bill. When she flew back home, Brady, as chairman of the 1922 committee which organises party matters, telephoned her and gave her the bad news that the 48 vote ceiling had been breached.
They decided the election would take place the very next day — which would deprive her would be assassins of more time to gather round additional conspirators.
There are suggestions that May, fighting for her political life, will win over waverers by announcing she will not lead the Tories into the next election but step down after Brexit is done. There are those who insist that a win is a win even if her margin of victory is a solitary vote, while others argue that if 100 of her colleagues go against her, the Prime Minister's position will be untenable.
May was supposed to fly to Dublin on Wednesday to talk to the Ireland's Indian-origin Taoiseach (Prime Minister) Leo Varadkar but she called off the meeting and remained in London where she was due to address Tory MPs at 5pm (local time) before they voted to decide whether she lived or died.
Addressing MPs minutes before the vote, May said she accepted she would not be leading the Tories into the next election. But she wanted to remain leader for now.
She also attended a noisy Prime Minister's Questions in the Commons, with her ever loyal husband Philip watching from the public gallery.
If she loses, there will be a leadership contest with bookies already offering odds on several current and former cabinet ministers, including former foreign secretary Boris Johnson, former Brexit secretaries Dominic Raab and David Davies, the home secretary Sajid Javid (he would make history as the nation's first Asian Prime Minister if he won) and others.
MPs will whittle down the number of candidates to two, whose names will then go to the Tory party membership in the country. This process could take until the end of January next year, during which period May will remain in charge.
Javid said: "The last thing our country needs right now is a Conservative Party leadership election. Will be seen as self-indulgent and wrong. PM has my full support and is best person to ensure we leave EU on 29 March."
Expressions of support also came from the chancellor Philip Hammond and the international development secretary who took over from Priti Patel, who has emerged as a hardline Brexiteer and critic of the Prime Minister.
The environment secretary Michael Gove, who had led the Brexit campaign during the referendum campaign in 2016, tweeted: "I am backing the Prime Minister 100% — and I urge every Conservative MP to do the same."
Brexiteer Andrea Jenkyns said she would vote against May and thought the Prime Minister would lose.
In her morning statement, May warned: "A change of leadership in the Conservative Party now would put our country's future at risk and create uncertainty when we can least afford it."
The new leader would not be in place by the January 21 deadline by when parliament has to confirm a withdrawal agreement ahead of Britain leaving the EU on March 29. "A leadership election risks handing control of the Brexit negotiation to Opposition MPs in Parliament," she said.
May stressed: "The new leader wouldn't have time to renegotiate a withdrawal agreement and get the legislation through Parliament by March 29, so one of their first acts would have to be extending or rescinding Article 50 – delaying or even stopping Brexit when people want us to get on with it."
A leadership election "would not change the fundamentals of the negotiation or the parliamentary arithmetic", she said. "Weeks spent tearing ourselves apart would only create more division, just when we should be standing together to serve our country. None of that would be in the national interest."
If May wins the vote, her leadership cannot be challenged for a year.