Social media storm about China
Why were Indians so keen to believe social media rumours about Xi Jinping's 'ouster'?
Experts point to a reflection of 'wishful thinking' that seems real given the significant anti-Beijing feeling in India that predates Ladakh clashes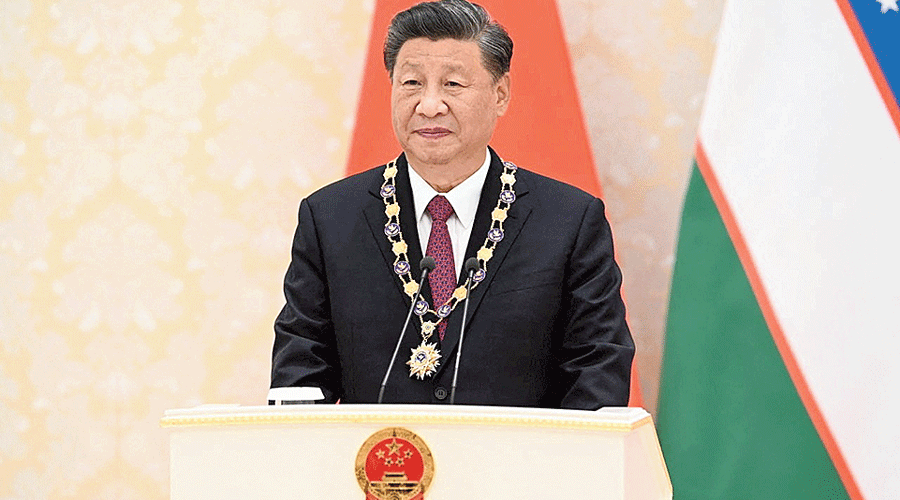 ---
Published 26.09.22, 08:41 PM
|
---
It began with low-key murmurs that Xi Jinping hadn't been spotted for days after returning from an official visit to Central Asia. By Saturday night Indian Twitter users were convinced Xi had been deposed and jailed. Twitter reported the hashtag #Xi Jinping was: Trending in India.
Sure enough, the rumour mills were working overtime and stories that Xi's reign had been abruptly ended by China's People's Liberation Army were circling the globe. But in India the rumours were much louder than anywhere else. Indians seemed particularly eager to believe that Xi had been toppled.
Says China expert Manoj Kewalramani: "The Indian media picked it up and ran with it. But the probability of something like this happening without a shot being fired is absurd. Beijing is not North Korea. There are foreign correspondents living there."
The rumours about Xi not being spotted were followed by alarm bells clanging loudly on Friday. Global flight tracking sites began reporting empty skies in a huge radius around Beijing. It's reported that over 9,000 flights out of about 16,000 had been suddenly cancelled. China's state media stayed tight-lipped about the flight cancellations but a Weibo (a Chinese messaging app) hashtag "airports across the country cancel flights," was reported to have had 200,000 views.
On Saturday US-based China watcher Jennifer Zeng put out a video said to be of an 80-km-long military convoy heading towards Beijing.
By now social media appeared to be on fire – and particularly in India. And one Twitter message after the other fanned the flames. Indians seemed reluctant to believe that the rumours were baseless even when firmly told how unlikely they were. Drew Thompson, a China scholar based in Singapore, said the rumours appeared to reflect, "wishful thinking.
Added The Hindu's Beijing-based correspondent Ananth Krishnan on Twitter: "While Chinese politics is the blackest of black boxes, I've come across zero evidence in Beijing today to substantiate any of the social media rumours." Twitter seemed very reluctant to believe even such on-the-ground reporting.
Why's that? Says Kewalramani: "There is significant anti-China feeling in India." He adds that this predates even the India-China clashes in Ladakh.
Sure enough, it's a very politically sensitive time in Beijing. The Communist Party's 20th National Congress is due to kick off on October 16. The Congress is expected to give Xi Jinping another five-year term as the country's president and party's top leader. Also, a handful of top Chinese leaders have just been sentenced to long jail terms.  
Says Thompson: "The rumour that Xi Jinping has been arrested has legs because it is such a sensitive political moment in China."  
Most China experts say the rumours originated from Falun Gong supporters based in the US. Falun Gong is a religious movement that the Chinese government has attempted to stamp out harshly. In the US there are a large number of Falun Gong members who spread a mix of information and disinformation about what's happening in China. Another China analyst Aadil Brar traced the rumours back a dissident Chinese journalist which were picked up by NTDTV, a Falun Gong outlet. Then it was amplified on Twitter and YouTube by a Falun Gong member. But after that Indian social media users picked it up and ran and created a storm of fake news.
The extent to which Indians and some others were determined to believe bad news out of Beijing was demonstrated when George Fahrion, Der Spiegel's China correspondent put out a thread of humorous tweets about the supposed coup. One tweet showed an old lady being wheeled around in a modified cycle-rickshaw. Fahrion captioned it: "Alas, hope is dim. Coup reinforcements arrive in armored personnel carriers." Fahrion's tweets were picked up by Republic Bharat TV.
What was the truth behind the events in China? It's thought very likely that Xi went into quarantine after returning from Samarkand. He didn't attend the last banquet there and the Chinese said this was because of Covid-19 protocols.
And the flight cancellations? Those have been happening on a large-scale because of China's draconian Zero Covid policy which has shut down cities across China.
What about the troop movements? Let's put that down to sheer wishful thinking getting a push from Falun Gong backers.
Certainly, the Twitter-storm showed the extent of ill-feeling in India against the Chinese. During talks the Chinese have also said to India that the government, "must engender better public opinion about China." Perhaps that will be tougher in India than it is in China. What is certain is the social media storm showed just how Indian public opinion has become strongly anti-Chinese.