Wembley gives Rishi Sunak rock star welcome
There are fears that there has been so much bad blood between Rishi and Truss that the new prime minister will find it difficult to unite a bitterly divided Conservative Party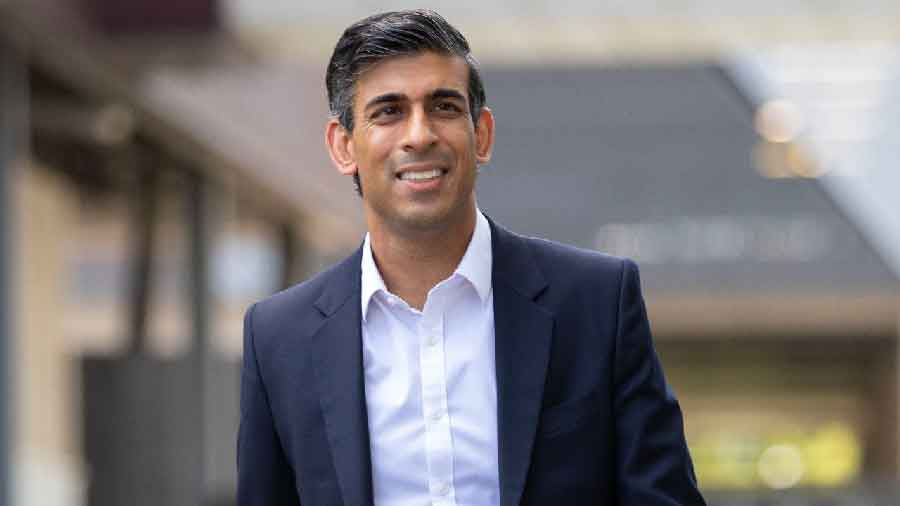 ---
London
|
Published 02.09.22, 12:52 AM
|
---
Rishi Sunak entered a packed Wembley Arena on Wednesday night for the 12th and final hustings in the Tory leadership contest to a rock star welcome and sustained chants of "Rishi! Rishi! Rishi!"
Even the Daily Telegraph, which along with the Daily Mail, has been giving unquestioning support to the expected winner, Liz Truss, said in its live coverage: "Louder cheers for Sunak than Truss – by some margin."The paper's Whitehall correspondent, Tony Diver, acknowledged: "The cheers in the room are significantly louder and longer for Rishi than Liz.
Audience members are on their feet and chanting his name."Indeed, it took Rishi several minutes to calm down the 6,500-strong audience holding aloft a sea of "Ready for Rishi" banners.
There are fears that there has been so much bad blood between Rishi and Truss that the new prime minister will find it difficult to unite a bitterly divided Conservative Party after the winner is announced by Graham Brady, chairman of the "1922 back bench" committee, at 12.30 pm on Monday, September 5.
"Mobility issues" are forcing the 96-year-old Queen to stay in Balmoral, her holiday home in Scotland, instead of coming to Buckingham Palace to accept the resignation of the outgoing prime minister and appoint her 16th, following on from Winston Churchill (in 1951), Anthony Eden, Harold Macmillan, Alec Douglas-Home, Harold Wilson, Edward Heath, Harold Wilson, James Callaghan, Margaret Thatcher, John Major, Tony Blair, Gordon Brown, David Cameron, Theresa May and Boris Johnson.
Rishi's parents, Yashvir and Usha Sunak, were at Wembley."You may have picked up over the summer that my dad used to be a GP, and my mum used to run a pharmacist," he quipped.
He revealed his father had received treatment in an NHS hospital last week. He thanked his mother for "sacrificing and striving to provide a better life for your kids than you had. And thank you for teaching me that for hard work, and belief, and the love of your family, that there is no limit to what someone can achieve in our great country." Sitting with his parents was his wife, Akshata Murty, whom he also thanked for "choosing to give up your high heels, and take a chance on a short kid with a backpack". 
Asked about his deepest regrets, Rishi said that due to work pressures, he had been "an appalling husband and father for the last couple of years".Rishi began with conciliatory words for Truss who failed to return them. He said: "Leadership elections tend to emphasise difference, but in fact I agree with Liz on far more than we disagree on, and I don't just mean our shared love for Whitney Houston and Taylor Swift. 
"I was proud to work alongside her closely, to put together the most stringent set of sanctions the world had seen, so that we could say to Putin your aggression will not go unpunished and Britain will stand up for freedom and democracy. 
"Liz is a fantastic Foreign Secretary, she is a terrific ambassador for our country and we should all pay her enormous tribute because she is a proud and passionate Conservative. And when this is done we're going to come together and we're going to show it is the Conservative Party, and only the Conservative Party, that can provide the leadership that our nation needs." 
Throughout her campaign Truss has said she was against giving direct "handouts" to people facing a crippling rise in energy costs. But she announced a U-turn in an article in The Sun on Thursday: "The Government I lead will reverse the rise in National Insurance and suspend the green levy on energy bills, in order to help people deal with the heaviest tax burden in 70 years…. I will also deliver immediate support to ensure people are not facing unaffordable fuel bills."
The Guardian in its leading article pointed out that Rishi's campaign had been far from flawless: "The man most likely to lose the fight to become Conservative leader is threatening dire consequences if he is disappointed. Pointing to volatile financial markets, Rishi Sunak warned this week that investors will dump British assets if Liz Truss becomes prime minister and then borrows tens of billions to give away.
Pressing ahead with tax cuts and public spending while ignoring the risk of an investors' revolt is, says the former chancellor, 'complacent and irresponsible'.
"A degree of rhetorical licence is granted to electoral combatants, and Mr Sunak has enjoyed his full quota this summer. The once mild-mannered MP has spotted a dangerous 'lefty woke culture' from which only he can protect 'our history, our values, our women'.
Indeed, the further behind he has fallen, the more extreme the vows for what he will do if he wins. But even the boy who cried wolf called it right once, and this latest claim will undoubtedly be taken more seriously. After all, its author once worked in the City for those money managers he sees as so jittery."