'We followed Trump orders on Ukraine'
Sondland said US secretary of state Mike Pompeo was aware and "fully supportive" of their efforts on Ukraine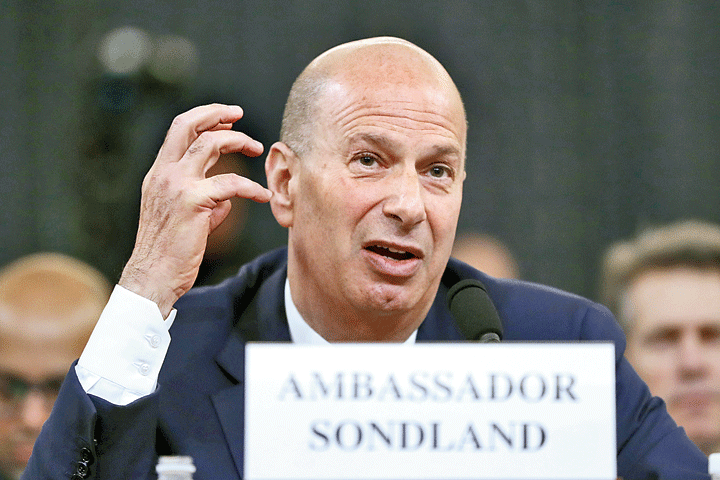 ---
---
A US diplomat who is a pivotal witness in the impeachment inquiry into President Donald Trump said on Wednesday he worked with his personal attorney Rudy Giuliani on Ukraine issues on "the President's orders," confirming Trump's active participation in a controversy that threatens his presidency.
Gordon Sondland, the US ambassador to the EU, told the inquiry that Giuliani's efforts to push Ukrainian President Volodymyr Zelenskiy for investigations into Trump's political rivals "were a quid pro quo for arranging a White House visit" for the Ukrainian leader.
Quid pro quo is a Latin term meaning a favour exchanged for a favour.
Sondland, a wealthy hotel entrepreneur and Trump donor, said US secretary of state Mike Pompeo was aware and "fully supportive" of their efforts on Ukraine, providing a fuller role of the top US diplomat's role in the affair.
Pompeo, a close Trump ally, has declined to defend state department witnesses who have been attacked by Trump and other Republicans over the Ukraine controversy.
Sondland was appearing on Wednesday before the House of Representatives Intelligence Committee, which is taking the lead in the impeachment inquiry. He smiled and laughed as he took his seat at the witness chair in the hearing room on Capitol Hill in the fourth day of public proceedings in the investigation.
Sondland testified that Trump had ordered him and two other senior officials to work with Giuliani, who has refused to cooperate with the impeachment inquiry. Giuliani at the time had been working to get Ukraine to carry out the investigations that would benefit Trump politically.
"We did not want to work with Giuliani. Simply put, we played the hand we were dealt. We all understood that if we refused to work with Giuliani, we would lose an important opportunity to cement relations between the United States and Ukraine. So we followed the President's orders," Sondland said.
The inquiry focuses on a July 25 phone call in which Trump asked Zelenskiy to carry out two investigations that would benefit him politically including one targeting rival Joe Biden.