Vladimir Putin orders troops and tanks into Ukraine rebel enclaves
With the despatch of forces by Russia, the conflict entered a perilous new chapter as the path to a diplomatic solution quickly narrowed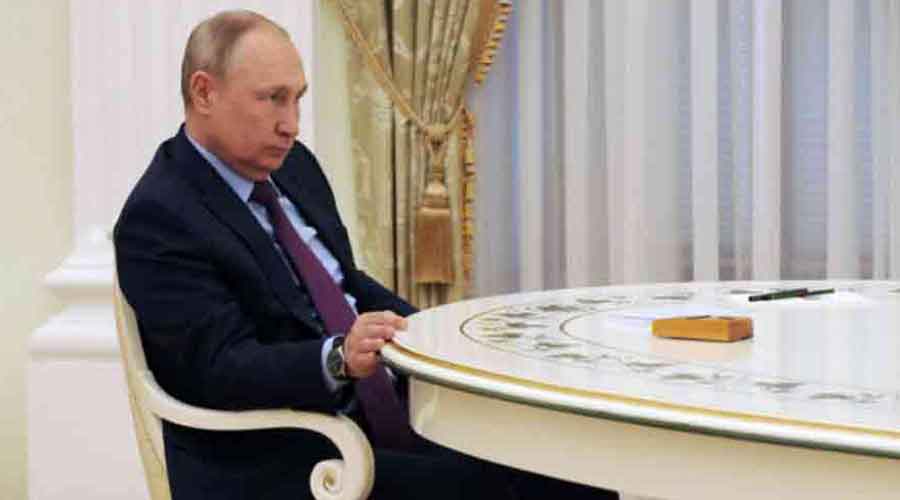 Vladimir Putin.
Twitter/@KremlinRussia_E
---
Published 23.02.22, 02:56 AM
|
---
President Vladimir Putin ordered Russian troops and tanks into Ukraine's breakaway eastern regions on Monday night under the guise of a peacekeeping force after signing decrees recognising their independence.
The order sending "peacekeeping missions" into Donetsk and Luhansk (known as Donbass, an umbrella term for the two regions) amounts to a de facto military invasion of the eastern corner of Ukraine.
With the despatch of armed forces by Russia and the activation of sanctions by the US, the Ukraine conflict entered a perilous new chapter as the path to a diplomatic solution quickly narrowed.
The White House issued an executive order from President Joe Biden banning all US trade with the separatist regions and freezing any US assets of the leadership there.
Germany put a new gas pipeline on ice and Britain hit Russian banks with sanctions on Tuesday. Germany is Russia's biggest customer for natural gas, and the decision by Chancellor Olaf Scholz to freeze the Nord Stream 2 pipeline — built but awaiting approval — was widely seen as one of the strongest measures Europe could take.
The prospect of a disruption to energy supplies and fears of war — stoked by reports of shelling in some areas and movements of unmarked tanks overnight in the rebel-controlled city of Donetsk — rattled international financial markets and sent oil prices surging to their highest level since 2014. 
India has so far refrained from criticising Russia for recognising the rebel areas of eastern Ukraine, calling for restraint on all sides to allow diplomatic efforts to scale down the tensions. India's stance is more in line with China than the US. 
Biden's executive order declared that the recognition of Donetsk and Luhansk "contradicts Russia's commitments" under the Minsk agreements of 2014-15, which were intended to end the war in eastern Ukraine, "and further threatens the peace, stability, sovereignty, and territorial integrity of Ukraine, and thereby constitutes an unusual and extraordinary threat to the national security… of the United States".
If Russia further invades Ukraine, the Biden administration could deprive it of a vast swath of low- and high-tech US and foreign-made goods, from commercial electronics and computers to semiconductors and aircraft parts, people familiar with the matter told Reuters.
Nato secretary-general Jens Stoltenberg said the alliance believed that Russia was still planning a big assault on Ukraine. "Every indication is that Russia is continuing to plan for a full-scale attack of Ukraine," Stoltenberg said.
But US defence secretary Lloyd Austin said: "Mr Putin can still avoid a full-blown, tragic war of choice."
Ukraine's leaders braced for the possibility of an intense fight to defend their territory, offering a sombre message to troops on Tuesday. "Ahead will be a difficult trial," defence minister Oleksiy Reznikov said in a statement released by the military. "There will be losses. You will have to go through pain and overcome fear and despondency."
In recent weeks, some 150,000 to 190,000 Russian troops, by western estimates, have gradually drawn a noose around their neighbour, and the US has warned repeatedly that the question about a Russian invasion was not if but when.
Video clips of military convoys moving through the separatist territories were circulating on social media on Tuesday, but there was no immediate official confirmation that these were Russian troops rather than the forces of Russian-backed separatists.
On the Ukrainian side, similarly unconfirmed reports on social media appeared to show the Ukrainian Army moving heavy weaponry, such as self-propelled artillery guns and tanks, towards the front line with the separatist enclaves.
Before issuing the order on the tanks and troops, Putin gave a televised national address in which he denounced Nato encroachment on Russia's borders and vowed to defend the two regions.
Russia has controlled Donetsk and Luhansk via proxies since it fomented an armed separatist movement there, having annexed Crimea in 2014.
Putin denounced Ukraine as an American puppet state and said that the decision to recognise the republics "should have been made a long time ago".
He warned: "If Ukraine was to join Nato, it would serve as a direct threat to the security of Russia."
He appeared to make the case for invading Ukraine, describing it as a tool for the West "to hold a knife to the throat" of Russia.
Deciding to recognise the two territories in the Donbas region gives the Kremlin greater influence over them, strengthening Putin's hand in his standoff with the West over the long-term security of Europe.
US officials were reported to have discussed plans with the Ukrainian government for President Volodymyr Zelensky to leave Kiev in the event of a Russian invasion. The President would relocate to Lviv, in western Ukraine, about 80km from the Polish border, NBC reported.
NYTNS and Reuters