US science icon Charles Lieber falls to Earth
On Tuesday, after deliberating for two hours and 45 minutes, a federal jury found him guilty of two counts of making false statements to the US government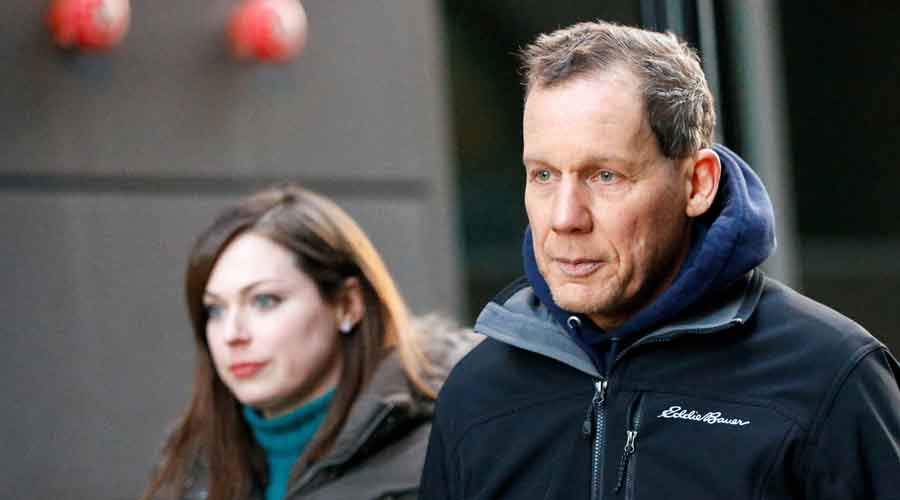 Charles Lieber.
Twitter/@IFENG__official
---
Boston
|
Published 23.12.21, 03:16 AM
|
---
 Charles Lieber, one of the US's top research chemists, sat miserably in a chair at the Harvard Police Department, trying to explain to two FBI agents why he had agreed to partner with a lesser-known Chinese university in a relationship that had soured and landed him in trouble with the US government.
The university had money to spend — "that's one of the things China uses to try to seduce people", Dr Lieber said in the interrogation, clips of which were shown in court.
But money wasn't the reason, he said. By training young scientists in the use of technology he had pioneered, he hoped to burnish his credentials with the committee that decides the ultimate scientific honour. "This is embarrassing," he said. "Every scientist wants to win a Nobel Prize."
On Tuesday, after deliberating for two hours and 45 minutes, a federal jury found Dr Lieber guilty of two counts of making false statements to the US government about whether he participated in Thousand Talents Plan, a programme designed by the Chinese government to attract foreign-educated scientists to China. They also found him guilty of failing to declare income earned in China and failing to report a Chinese bank account.
No date has been set for sentencing. A charge of making false statements carries a maximum sentence of five years. Dr Lieber, who has cancer, sat expressionless through the six-day trial and said nothing as he left the courthouse with his wife.
Though it is not illegal to participate in Chinese recruitment programs, scientists are required to disclose their participation to the US government, which also funds their research and may view it as a conflict of interest.
 Dr Lieber's conviction is a victory for the China Initiative, an effort launched in 2018, under the Trump administration, to root out scientists suspected of sharing sensitive information with China.
"Mr Lieber exploited the openness and transparency of our academic system," said Joseph Bonavolonta, who heads the Boston division of the FBI. "The FBI will not hesitate to work with our law enforcement partners to focus on those who put their financial and professional interests ahead of our country's economic prosperity."
Among the cases opened against academic researchers, most, like the case against Dr Lieber,  do not allege espionage or intellectual property theft, but failure to disclose Chinese funding.
It suffered a series of setbacks over the summer, with half a dozen cases dismissed and the first case to reach the trial stage, against the researcher Anming Hu, ending in acquittal. Dr Lieber's trial was watched closely in scientific circles, as an indicator of whether the justice department will proceed with prosecutions of other researchers.
Peter Zeidenberg, a Washington lawyer who represents around a dozen researchers who are under investigation, said Dr Lieber's case stands out because he was specifically asked about his participation in the Chinese programme, and denied it.
"The reason people like Lieber lie is because they are afraid," he said. "It's really sad. They are afraid to answer truthfully, 'Are you a member of the talent programme?' I'm sure during the Red Scare, people said they were not a member of the Communist Party."
In closing arguments, Dr Lieber's lawyer, Marc Mukasey, said the government  had inadequate proof of wrongdoing and risked silencing a pioneering researcher.
"Isn't it troubling that nobody in this courtroom has explained what the Thousand Talents Plan is and who is in it?" he said. 
"Isn't it troubling that Dr Lieber's work was all public, was for the benefit of the world, yet he is facing criminal charges for it?"

New York Times News Service