US House delivers impeachment article
Republicans are indicating that they are unlikely to find Trump guilty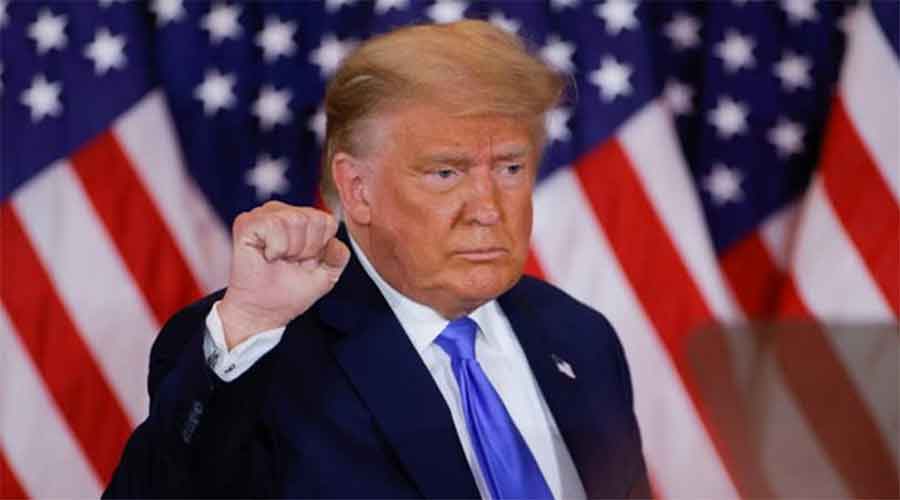 ---
Washington
|
Published 27.01.21, 12:07 AM
|
---
For the second time in just over a year, the House on Monday sent an article of impeachment against Donald J. Trump to the Senate for trial, thrusting his fate into the hands of 50 Republican senators who for now appear reluctant to convict him.
On a day marked more by ceremony than substance, nine House impeachment managers crossed the Capitol to inform the Senate that they were ready to prosecute Trump for "incitement of insurrection", a bipartisan charge approved after the former President stirred up a violent mob that stormed the Capitol. But with some of the outrage wrought by the January 6 rampage already dissipating, few Republicans appeared ready to repudiate a leader who maintains broad sway over their party by joining Democrats in convicting him.
Senators planned to put off the heart of the trial until February 9. That move will allow President Biden time to win confirmation of crucial cabinet officials and buy breathing room for Republicans to weigh their stances in what amounts to a referendum on their own futures and that of their party as much as on Trump.
Unlike Trump's last impeachment, when his party quickly rallied behind him, several Republicans, including Senator Mitch McConnell of Kentucky, the minority leader, have signalled they are open to convicting the former President after his mendacious campaign to overturn his election loss turned deadly.
That would allow the Senate to take a second vote to bar him from ever holding office again. But at least at the trial's outset, their numbers fell well short of the 17 Republicans needed to join Democrats to secure a conviction.
A survey by The New York Times on the eve of the trial found that 27 Republican senators had expressed opposition to charging Trump or otherwise holding him accountable by impeachment. Sixteen Republicans indicated they were undecided, and seven had no response. Most of those opposed increasingly fell back on process-based objections, rather than defending  Trump.
"Why are we doing this?" said Senator Ron Johnson, Republican of Wisconsin. "I can't think of something more divisive and unhealing than doing an impeachment trial when the president is already gone. It's just vindictive."
Lawmakers in both parties cautioned that Republicans' mood could quickly shift in the weeks ahead, if more evidence broke into public view about Trump's actions or he provoked them further with his defiant threats of retribution.
Unflattering details
Already, unflattering new details were surfacing about Trump's broader campaign to use his power stay in office at any cost. The justice department's inspector general opened an investigation on Monday into whether current or former officials had tried to use their positions inappropriately to help Trump overturn the election outcome.
The inquiry appeared to be a response to a report in The Times on efforts by a senior justice department official working with Trump to push top law enforcement officials to falsely and publicly use fraud investigations to cast doubt on the election outcome.
With so much at stake, senators were moving with little precedent to guide them. Trump is the only President to have been impeached twice, and the trial will be the first in which the Senate has considered convicting an ex-President.
With few Republicans ready to defend Trump's actions, many have turned to arguing that the process itself is flawed because the Constitution does not explicitly say ex-Presidents can be tried.
Republicans have invited Jonathan Turley, a George Washington University law professor, to expound on the argument at Republicans' luncheon on Tuesday, and some were bracing for Senator Rand Paul, Republican of Kentucky, to try to force a vote to toss out the case for that reason.
New York Times News Service