US elections 2020: Obama mocks Trump in fiery speech
Glare on the US President's business dealings with China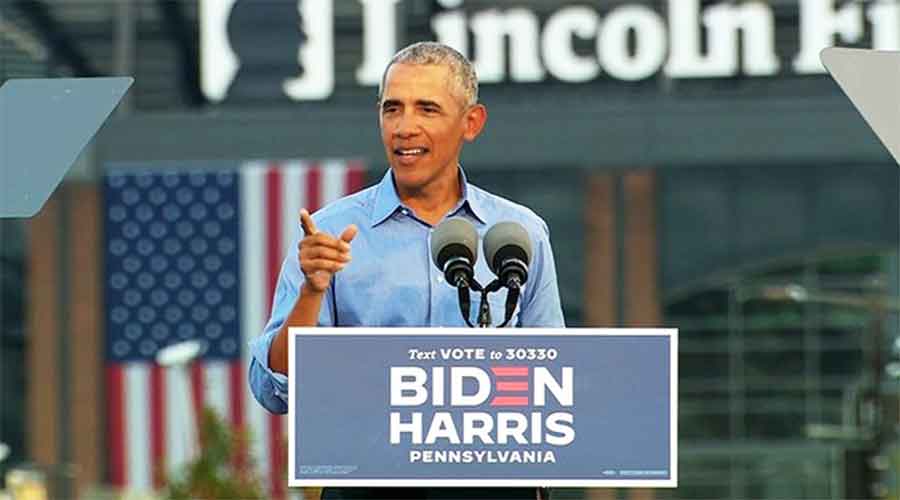 ---
New York
|
Published 23.10.20, 04:05 AM
|
---
Former President Barack Obama made a fiery first in-person campaign appearance on behalf of Joseph R. Biden Jr. in Philadelphia on Wednesday, ridiculing President Trump for complaining about campaigning in Pennsylvania, contracting the coronavirus and hiding business dealings with China.
"We know that he continues to do business with China because he has a secret Chinese bank account. How is that possible?" Obama asked supporters who had been invited to hear him speak at a drive-in rally in a Philadelphia sports complex. 
He was referring to a recent New York Times report that revealed previously unknown financial holdings of the President's — at a time when Trump is criticising Biden's ties to the country.
"Can you imagine if I had a secret Chinese bank account?" said the former President, wearing a blue shirt with the sleeves rolled up, his voice straining. "Can you imagine if I had a secret Chinese bank account when I was running for re-election?"
He added, "They would've called me Beijing Barry."
It is "not a great idea to have a President who owes a bunch of money to people overseas," Obama said, adding that he had probably paid more in income taxes working a high school job at an ice-cream parlour than what Trump paid during each of his first two years as President — $750.
Obama's long-anticipated speech, the first of several he intends to deliver on behalf of Biden and Kamala Harris, represented a complete reversal of his reluctance to engage Trump directly. 
New York Times News Service