A study in contrast of duelling rivals
Combative Trump and a deliberate Biden spar from afar at town halls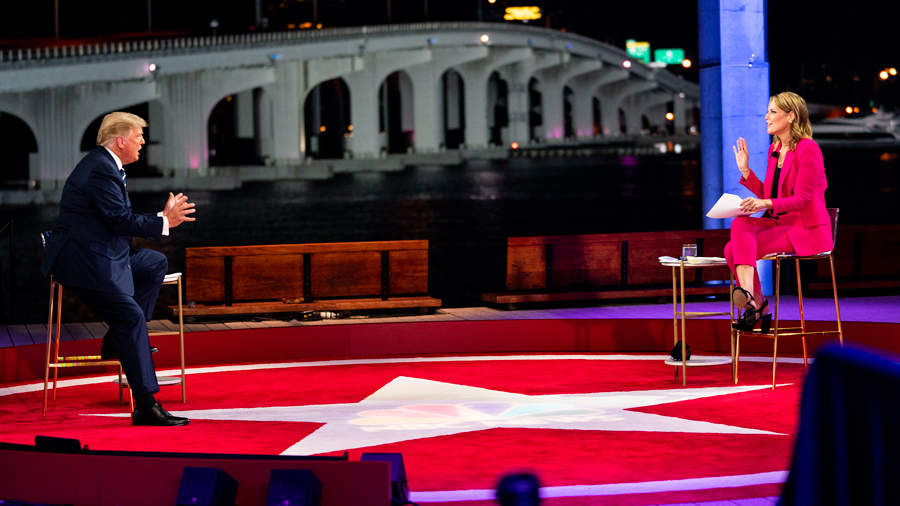 President Donald Trump with "Today" show host Savannah Guthrie during a town-hall-style event at the Pérez Art Museum Miami on Thursday
NYTNS
---
New York
|
Published 17.10.20, 12:53 AM
|
---
President Trump spoke positively about an extremist conspiracy-theory group, expressed scepticism about mask-wearing, rebuked his own FBI director and attacked the legitimacy of the 2020 election in a televised town hall forum on Thursday, veering far away from a focused campaign appeal.
Instead, he further stoked the country's political rifts as his Democratic opponent, Joseph R. Biden Jr., pushed a deliberate message anchored in concerns over public health and promises to restore political norms.
Trump's defensive and combative performance came on a night that was supposed to feature a debate between him and Biden, but that morphed into a long-distance study in contrasts on different TV networks after the President declined to participate in a virtual debate.
On the central issue of the election, the coronavirus pandemic, the two candidates appeared to inhabit not just different television sets but different universes.
Biden has made the full embrace of strict public health guidelines the centrepiece of his candidacy, while Trump has continued to defy even the recommendations of his own government on matters as basic as the use of masks — a pattern that persisted in their opposing events on Thursday.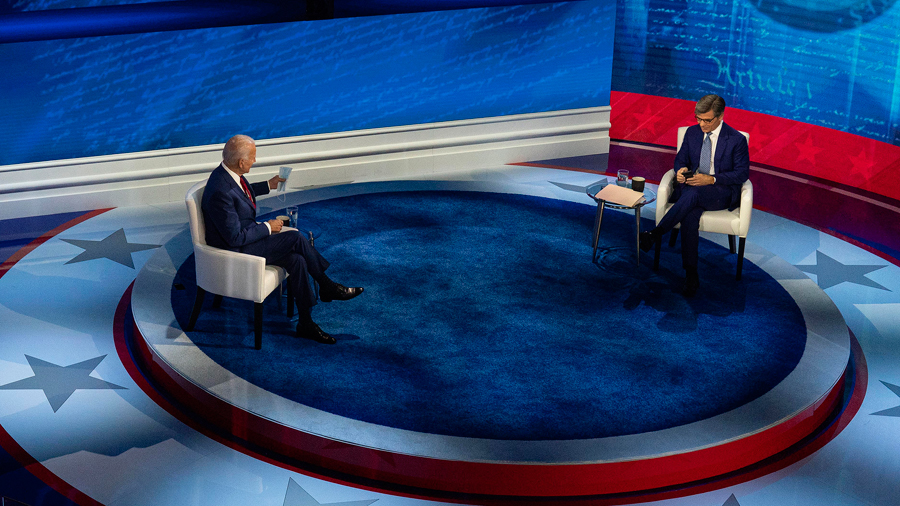 Biden lashed virtually every aspect of the President's handling of the health crisis, including his language on masks.
"The words of a President matter," Biden said. "When a President doesn't wear a mask or makes fun of folks like me when I was wearing a mask for a long time, then, you know, people say, 'Well, it mustn't be that important.'"
In perhaps his most incendiary remarks, Trump repeatedly declined to disavow QAnon, a pro-Trump Internet community that has been described by law enforcement as a potential domestic terrorism threat. The President professed to have no knowledge of the group, and as a result could not disavow it, but then demonstrated specific knowledge of one of its core conspiracy theories involving paedophilia that is entirely false.
"I know nothing about it," Trump said. "I do know they are very much against paedophilia. They fight it very hard." When the NBC anchor Savannah Guthrie pressed Trump to reject the community's essential worldview, and described some of its most extreme and bogus elements, the President gave no ground: "I don't know," he insisted. "No, I don't know."
At the moment that Trump was effectively defending a fringe corner of the Internet, Biden, the former Vice-President, was speaking about corporate tax rates and citing the business-analysis service Moody's, underscoring the extraordinary gulf separating the two candidates in their worldviews, policies and connections to factual reality.
"It's about growing the economy," Biden said, a political platitude that would fit in any ordinary election year — and an illustration, in some ways, of Biden's central campaign promise: to restore stability and a measure of predictability to the White House.
With less than three weeks left in the presidential campaign, there was no sign from the town hall events that either candidate was diverging from the political tracks they laid down months ago.
New York Times News Service