Ukrainian soldier recites Persian poem on battle eve
The viral video was shared across social media platforms like Telegram and Twitter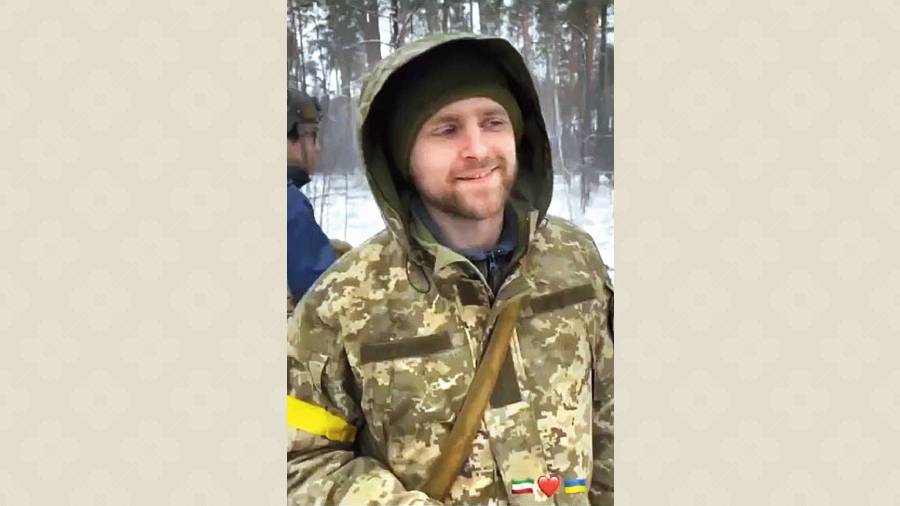 Ukrainian soldier Zhenya Perepelitsa
NYTNS
---
Published 03.03.22, 02:10 AM
|
---
Zhenya Perepelitsa, a Ukrainian soldier with the civilian territorial defence forces, wearing military fatigue and standing in an open field covered in snow, looked into the camera and recited a verse of poetry in Persian: "What are you thinking? Who would believe, your love burned to ashes the jungle of my soul."
The video went viral. Shared across social media platforms like Telegram and Twitter, mostly by Iranians and Ukrainians, it touched a common nerve, a reminder that literature, particularly poetry, has the power to bond people.
Everyone it seemed, was impressed that Perepelitsa resorted to poetry — and to a poem in a language other than his native tongue — to capture the mood of the moment. His choice of poem was also poignant. It is a Persian poem by Hamid Mosadegh addressing a lover and titled, Who will tell you the news of my death?
Ukrainian soldier reciting Persian poetry in the battle field. The poem, addressed to a lover, asks who will tell you the news of my death?
"به چه می‌اندیشی، چه کسی باور کرد، جنگل جان مرا آتش عشق تو خاکستر کرد." pic.twitter.com/mhZSyliHFr

— Farnaz Fassihi (@farnazfassihi) March 1, 2022
Perepelitsa is a resident of Kyiv, a husband and a father of a little boy. He is a businessman who until last week was working in exports. He had lived in Tehran for a year and half and studied Persian, according to Alex Lourie, an American photographer in Ukraine who recorded the video.
Lourie said in a telephone interview that he had been shooting photographs of soldiers in the outskirts of Kyiv when he and Perepelitsa started chatting. They both realised they spoke a little Persian and were familiar with Iranian culture and poetry.
Out of the blue, Perepelitsa broke out reciting poetry. Lourie filmed it to share with his Iranian friends. He posted it on his Instagram page, tagging Perepelitsa, who has since told him that he is getting flooded with messages from Iranians in support and solidarity.
The last post from Perepelitsa's Instagram page, a landscape photograph of Ukraine, had 1,468 messages written on Tuesday after the video went viral. Nearly all of them are from Iranians. "Love and prayers from Iran," said one. "Iranians love you," said another, "I wish you victory," and "Our hearts are with you."
"It's pretty weird for an American and Ukrainian to be speaking Farsi in the middle of an invasion by Russia," Lourie said. "He was such a smart and kind guy."
Here is the poem translated into English:
At times I wonder
Who will tell you the news of my death?
The moment when you hear of my death, from someone
I wish I could see your beautiful face
Shrugging your shoulders, carefree
Waving your hands — it's no matter
Nodding your head, "Wow! He died! How sad!"
I wish I could see it
I ask myself
Who would believe
Your love burned to ashes
The jungle of my soul