Ghost of Kyiv 'out for the soul of occupiers'
Supposed ace has become a symbol of Ukraine's courage and hope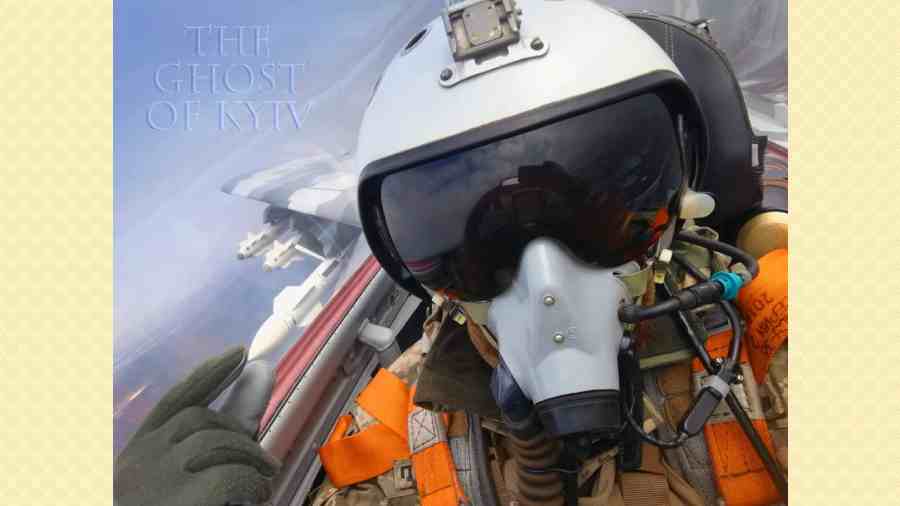 Ghost of Kyiv
Twitter / @NewVoiceUkraine via General Staff of the Armed Forces of Ukraine
---
Published 13.03.22, 02:35 AM
|
---
Ukraine's armed forces have published a photograph purported to be of a fighter pilot known as the Ghost of Kyiv, who is claimed to have shot down ten Russian warplanes.
The image of an unnamed pilot with an oxygen mask and dark visor sitting in the cockpit of his MiG-29 and gesturing towards the missiles on the fighter jet does not show his face.
It was captioned with a message to the Russians: "Hello, occupier, I'm coming for your soul!"
The supposed ace has become a symbol of the country's courage and hope. The term has also been used to refer to the entire Ukrainian air force, or the country's fighting spirit. Whether an urban legend or reality, the Ukrainian general staff published the latest image of the pilot, with a caption identifying him as the Ghost of Kyiv.
President Zelensky has urged Nato and its allies to impose a no-fly zone but the requests have been rejected.
The US also vetoed a plan by Poland to send more MiGs to Ukraine via Nato.
Britain and the US have pledged surface-to-air missiles, including Patriot missiles and the Starstreak shoulder-mounted weapon, to bolster defences.
Ben Wallace, the UK defence secretary, previously suggested that a no-fly zone would also apply to Ukrainian forces, taking away "one of the few weapons" its defenders had against the aggressors.
A western official said it was surprising Putin's forces had failed to gain dominance in the skies. "That's clearly significant," he said. "Doctrine would say that they destroy all the air defences and completely dominate the skies and then they can support ground troops as they move forward. They've not been able to do so.
"The Ukrainians have been incredibly smart about how they've dispersed their forces and sustained and endured their ability to provide air defences and indeed to fly aircraft. This would have totally disrupted Russian plans and even now we are seeing, in terms of sorties being flown by the Russians, they are limited in their range and their ability."
The official said the Russians had been targeting airfields in western Ukraine used by the defending forces, which are believed to have about 56 fighter jets remaining.
At the start of the conflict Russia had 1,172 combat-capable aircraft, including 97 Su-35S Flankers, its latest jet. Ukraine had 124 aircraft, including 36 older MiG-29 Fulcrums.
Warplanes have been lost on both sides but despite its greater size, Russia has not achieved air superiority. Ukraine's commanders have claimed almost daily to have shot down Russian jets with aircraft as well as surface-to-air missiles. Ukraine has also used Bayraktar TB2 drones, which are manufactured in Turkey, to attack the invading forces from the skies.
The Facebook page of the Ukrainian general staff has regularly published images of the wreckage of Russian aircraft, including Su-35 jets with verifiable serial numbers.
However, Ukraine's air force has been unable to stop the relentless bombardment of its cities.
The western official, asked whether the Ghost of Kyiv was real, said: "I don't know, but it is pretty incredible that there are still Ukrainian aircraft flying in Ukrainian air space."
Drone success
Ukraine's most sophisticated attack drone is about as stealthy as a crop duster: slow, low-flying and completely defenceless. So when the Russian invasion began, many experts expected the few drones that the Ukrainian forces managed to get off the ground would be shot down in hours.
But more than two weeks into the conflict, Ukraine's drones — Turkish Bayraktar TB2 models that buzz along at about half the speed of a Cessna — are not only still flying, they also shoot guided missiles at Russian missile launchers, tanks and trains, according to US officials.
The drones have become a sort of lumbering canary in the war's coal mine.
Agencies