UK university returns skulls
The ceremony took place in the university's Playfair library on Thursday with the skulls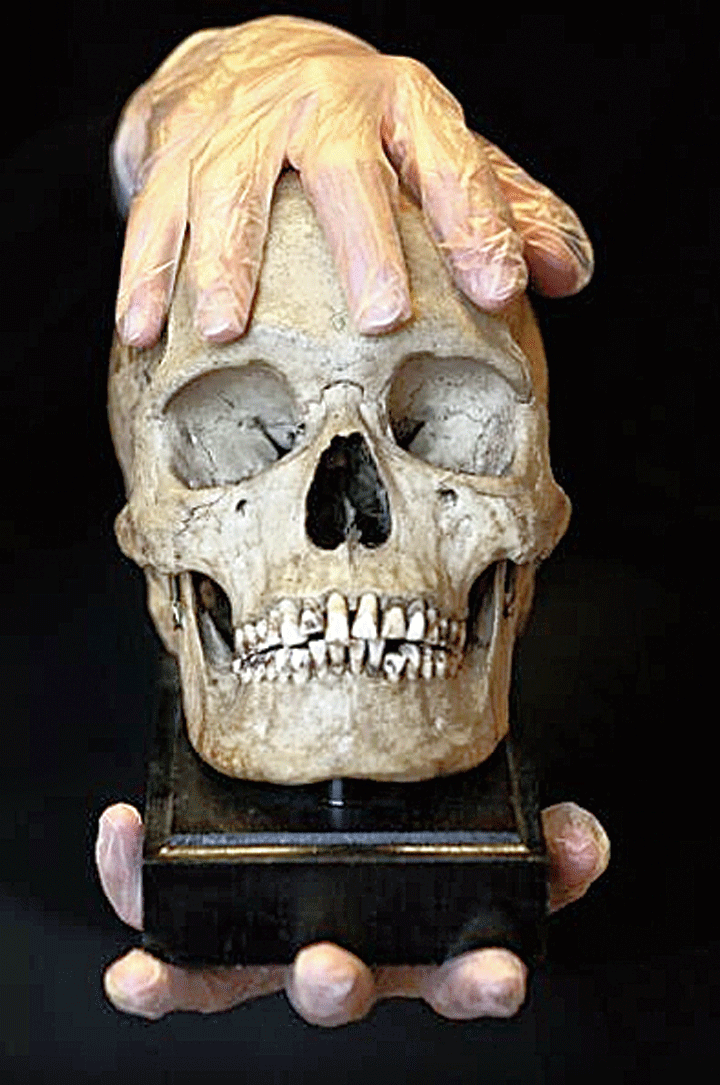 A Vedda skull
Telegraph picture
---
London
|
Published 23.11.19, 06:37 PM
|
---
Nine skulls held for over a century in Edinburgh University's Anatomical Museum have been returned to the ancient Vedda tribe in Sri Lanka in a high-profile act of colonial restitution.
The ceremony took place in the university's Playfair library on Thursday with the skulls, thought to be about 200 years old, handed over to a traditionally attired Wanniya Uruwarige, chief of the Veddas.
He didn't quite say the equivalent of Hamlet's "Oh, poor Yorick! I used to know him" but the sentiment expressed by the Vedda elder was not so different.
"The dead are very important in Vedda society," he said.
"Every year we hold a special ceremony to honour those who are no longer with us. Even though these remains have been in Edinburgh for many years, their spirits have remained with us in Sri Lanka. This reuniting of spirits and physical remains — for which I thank the University — is a very special moment for my people."
Mea culpa has become the new policy across British universities and museums as they re-examine their colonial acquisitions and links with a view to apologising for past sins, if not always returning looted treasures.
Edinburgh University does not quite know how the skulls were acquired but gathering human remains from colonised lands was once commonplace for western institutions.
The collection at the university's Anatomical Museum opened in 1884 and now consists of 12,000 objects from 300 years of continuous teaching and research.
That the nine skulls belonged to the rapidly diminishing Veddas in Sri Lanka was confirmed by researchers in Edinburgh's department of anatomy and at the Max Planck Institute for Science of Human History in Germany.
The studies also confirmed the Vedda's claim to be some of the earliest inhabitants of Sri Lanka, living in the rainforests since the 6th century BC.
While records suggest there were around 5,300 Veddas in 1911, this number was estimated at fewer than 1000 by the early 1960s, with most of the tribes people now absorbed into Sri Lanka's predominant Sinhalese population.
At the handover ceremony, where the university vice- chancellor and principal, Prof. Peter Mathieson was present, the act of restitution was explained by Prof. Tom Gillingwater, chairman of anatomy, who said: "We are delighted to welcome the Vedda tribes people to Edinburgh and mark the return of their ancestral remains. Our vast and diverse collection is often used in research breakthroughs and teaching.
"We are pleased to be able to return these culturally-important artefacts to help ensure the Vedda's legacy endures for generations to come."Whether Britain should or shouldn't apologise for its colonial past has been made into a general election with the Right-wing leader of the Brexit Party, Nigel Farage, adopting a populist stance that the country most certainly shouldn't.
A YouGov poll in 2016 found that 44 per cent of Britons were proud of their country's history of colonialism, with 21 per cent regretting it.
Farage told reporters in Peterborough earlier in the week: "I think if we obsess about the past, different times and different cultures, it can be very difficult to move forwards. So I think some of this stuff is just not helpful.
""I don't think I should apologise for what people did 300 years ago. It was a different world, a different time.
"You could apply that argument to any civilisation, any country and we seem to be terribly keen to apologise for the past and a bit less worried about creating a good future."
Asked if schools should teach more about British colonial history, Farage suggested other European empires were somehow worse.
He said: "If you want to get into British empires, you can compare the British empire with the Belgian empire, the German empire, you compare it with the Spanish empire, compare it to the Portuguese empire and you'd find by comparison with the others we were not even a military empire, we did it on bribery, that's how the Brits did it. This stuff doesn't help."
The Raj is not taught in British schools, with Partition given a wide berth. Winston Churchill's guilt or otherwise in aggravating the Bengal famine of 1943 is also on the "Do not mention" list.