UK floods a poll issue
East midlands homes and farms swamped by rising waters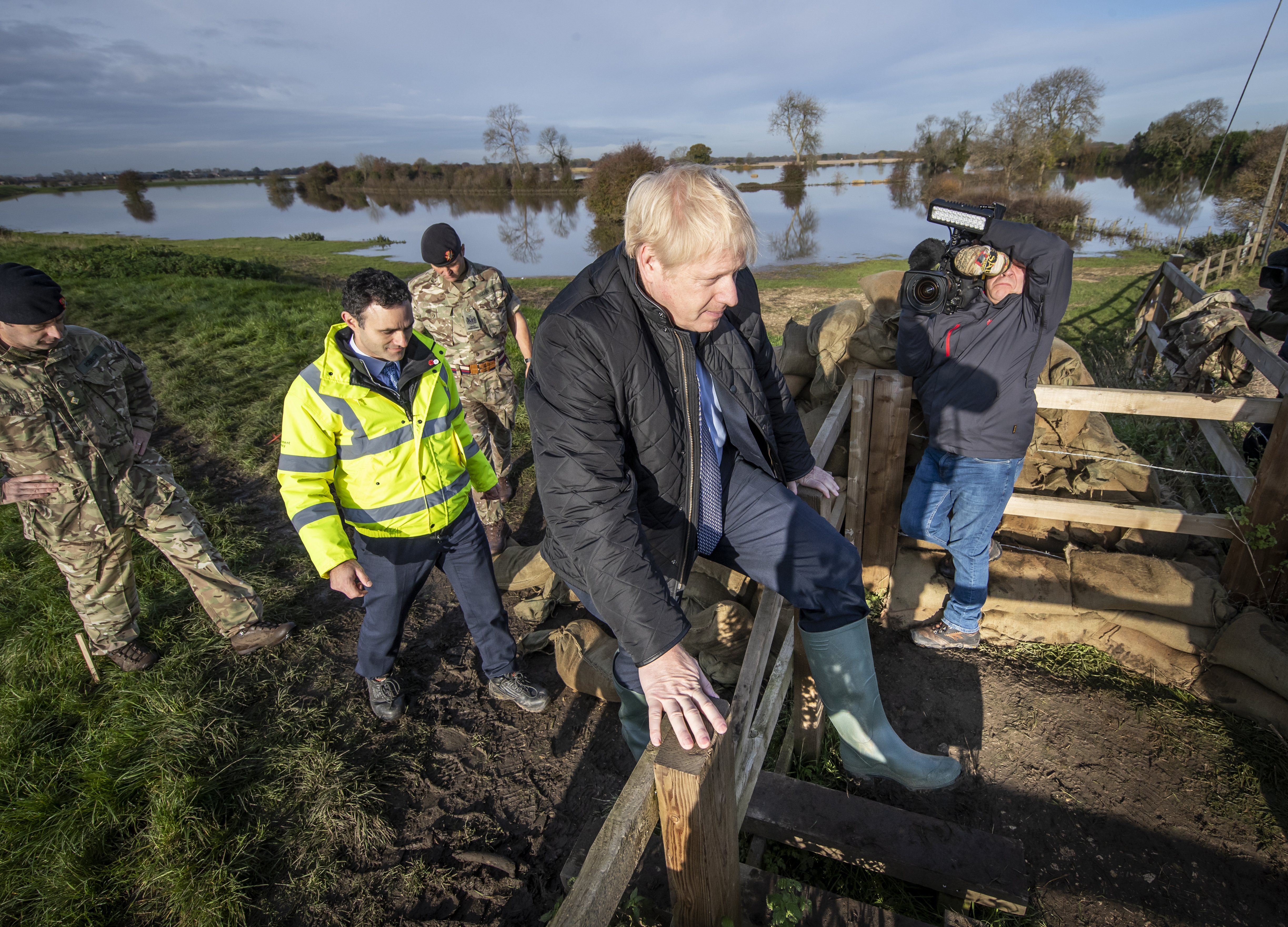 Boris Johnson, clambers over a fence, during a visit to see the effects of recent flooding, in Stainforth, England, Wednesday, November 13, 2019
AP
---
London
|
Published 13.11.19, 07:19 PM
|
---
Flooding in large swathes of Yorkshire and the East Midlands has become a general election issue, with the Labour leader Jeremy Corbyn making the allegation that if the Tory heartland in Surrey in the south of the country had been affected, Boris Johnson's Conservative government would have shown greater concern.
"If this was happening in Surrey, it would be a national emergency," said Corbyn.
It was pointed out his accusation was a false one because Surrey did suffer serious flooding in 2014 when a national emergency was not declared.
After chairing a meeting of the government's emergency "Cobra" committee on Tuesday, Prime Minister Boris Johnson was on Wednesday visiting villages near Doncaster in Yorkshire where 100 troops have been deployed
to help people forced to evacuate their homes.
Although climate change is partly held responsible for the flooding, other factors, such as building thousands of homes on flood plains, concreting over vast areas to put up supermarkets and not dredging rivers and the old waterways, are also thought to have aggravated a worsening crisis.
In the past, there was heavy rain in some years but the water was absorbed by the soil. Now, it seems there is nowhere for the water to go with the result a river "can rise eight feet in half a day", according to a man in his eighties who could recall the old days.
The village of Fishlake in the borough of Doncaster now really does look like a lake.
Many of the individual stories are heartrending. While photographs of the after effects of Bulbul in Bengal show villagers who had very little before now left with nothing, the images in England are of tearful residents standing in several feet of water in their front rooms with their valued possessions floating on water.
It is hard to believe this is happening in England but Henry Ward said his 1,000-acre farm near Lincolnshire in the East Midlands is under 10 feet of water. His farm buildings have been left completely marooned after the nearby Barlings Eau river burst its banks.
"In our particular case, we haven't actually got any crops in the ground," Ward told the BBC. "We were preparing. We had seedbought, fertiliser bought to start drilling, but now it just looks like a sea. We now don't think we'll be able to plant and growanything for the next 12 months, which will have a huge financial impact on us. "
Ward criticised the government's Environment Agency for not doing enough to prevent flooding in the north. "To be honest if theydredged our waterways.… there certainly would be much less (flooding). We don't know what's going to happen, we really do feel onour own."
There is a risking to life from swiftly moving water. A few days ago a body recovered from flood water turned out to be that of amuch loved local dignitary – Annie Hall, who was the former High Sheriff of Derbyshire.
Flood warnings and alerts are currently in place in locations from Somerset and East Sussex in the South, to as far north as theLower River Nidd near Harrogate in Yorkshire, and the Holderness Drain in east Yorkshire.
For any politician to turn up with camera crew in tow does not always win votes. One resident in flood-hit Stainforth in SouthYorkshire clutched her wheelbarrow as she told the visiting Prime Minister: "I'm not very happy about talking to you so, if youdon't mind, I'll just mope on with what I'm doing."
Boris shrugged off her cold shoulder as he told reporters: "I perfectly understand how people feel and you can understand theanguish a flood causes. The shock of seeing your property engulfed by water is huge and also the anxiety of what may still be tocome and I do thank the emergency services for everything they are doing."
The British are not the only ones to be suffering. Venice has been hit by the highest tide in more than 50 years, with touristswading through flooded streets to seek shelter as a fierce wind whipped up waves in St. Mark's Square.
The exceptionally intense "acqua alta", or high waters, peaked at 1.87 metres as the flood alarm sounded across the Italian city ofcanals, the tide monitoring centre said.
Only once since records began in 1923 has the water crept even higher, reaching 1.94 metres in 1966.