UK, EU agree on Brexit draft deal, but hurdles remain
The deal needs approval from Europe's leaders and, most crucially, passage in the British Parliament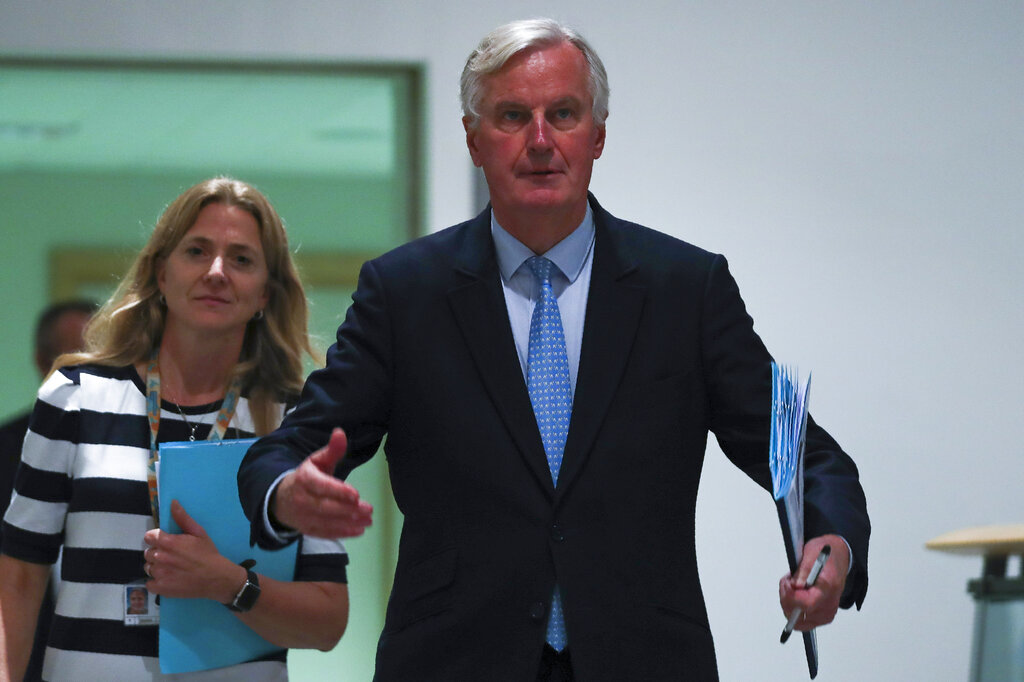 ---
|
Brussels
|
Published 17.10.19, 12:58 PM
---
Britain and the European Union agreed on the draft text of a Brexit deal on Thursday, an 11th-hour breakthrough in Prime Minister Boris Johnson's effort to settle his country's anguished, yearslong debate over Brexit and pave the way for its departure from the bloc.
The deal, details of which were published shortly after the announcement, must still clear several hurdles, including approval from Europe's leaders and, most crucially, passage in the British Parliament. Johnson's predecessor, Theresa May, had also struck a deal with Brussels, but suffered three thunderous defeats in Parliament.
Northern Ireland's Democratic Unionist Party, seen as vital to the passage of the agreement in Parliament, said it did not support the agreement. And the opposition Labour Party leader, Jeremy Corbyn, called on Members of Parliament to reject it, saying, "It seems the Prime Minister has negotiated an even worse deal than Theresa May's."
Johnson announced the agreement on Twitter, saying that the parties had reached a "great new deal that takes back control" and that Parliament would now be clear to vote on the agreement on Saturday.
Jean-Claude Juncker, the European Commission's president, confirmed that a deal had been struck and noted that a revised arrangement on Northern Ireland had been reached.
He wrote on Twitter: "Where there is a will, there is a #deal — we have one! It's a fair and balanced agreement for the EU and the UK."
Britain's frantic efforts to negotiate a Brexit agreement with the EU had appeared to hit a last-minute snag after the DUP said in a statement Thursday morning that it could not support the deal "as things stand."
The statement, hours before Johnson was to present the deal to European leaders at a summit meeting in Brussels, suggested that domestic politics once again threatened to torpedo the complex negotiations.
It was unclear whether the Northern Irish party simply wanted to make a show of holding out for its position before ultimately acquiescing — or whether Johnson faced a serious rebellion from the skeptics in his ranks.
Johnson may have an advantage over his predecessor in securing parliamentary approval for the deal, because he has assiduously cultivated the most skeptical elements of his party.
For days, Johnson had worked frantically to bridge a gap over the thorny question of how to treat Northern Ireland in a post-Brexit Europe — a fiendishly complex issue that helped torpedo May's agreement and could still fracture Johnson's Conservative-led coalition in Parliament.
People briefed on the talks said Johnson had given significant ground on the structure of a customs unions that would allow Northern Ireland, which is part of the United Kingdom, to continue to trade seamlessly with Ireland and other members of the EU.
It was a dramatic culmination to down-to-the-wire talks that began on Tuesday morning, with some European officials predicting that the two sides would not be able to close the gap on customs issues in time to finalize a draft deal before the critical summit meeting of European leaders Thursday and Friday.
The value of the British pound soared on the news of a deal to a five-month high, trading at $1.29 to the dollar. The rise reversed a slump earlier in the day, when the Democratic Unionist Party signaled that it would not back Johnson's draft deal.
The Democratic Unionists, who have proved to be a pivotal blocking force in previous attempts to negotiate a Brexit agreement, said they were troubled by elements of the deal on how to handle Northern Ireland in a post-Brexit world.
"As things stand, we could not support what is being suggested on a customs and consent issues, and there is a lack of clarity on VAT," the party said in a statement issued earlier on Thursday, referring to the value-added tax.
The party said it would continue working with the government on an acceptable agreement.
Johnson has consulted closely with the Democratic Unionists and other skeptical elements of his Conservative Party-led coalition as a deal has taken shape. On Wednesday, optimism had grown amid signs in Brussels that the deadlock over Britain's planned departure from the bloc could be on the verge of breaking.
Brussels has pushed Johnson so far that it "makes sense they are unhappy," Mujtaba Rahman, an analyst with the Eurasia Group, a political risk consultancy, said of the Democratic Unionists. But he said it was unclear how serious the setback was, because "the DUP does have to be seen fighting."
The intervention from the Democratic Unionists underscored the problems that Johnson faces in trying to get any deal through Parliament, where he does not have a majority. Without the support of the DUP, Johnson would seem to have little hope of getting any agreement ratified by Parliament.
It is also a reminder that he faces many of the problems confronted by May. In December 2017, the Democratic Unionists derailed her efforts to reach a deal to allow her to proceed to another phase in the Brexit negotiations.
That happened while she was holding a working lunch with Juncker. She was forced to pause discussions with the European Commission president, and keep diplomats waiting, to take a call from Arlene Foster, the Democratic Unionist Party's leader.
May then returned with a revised plan several days later, at which point Foster said that the new version ensured that there would be no border between Britain and Northern Ireland, which is part of the United Kingdom.
Essentially, Johnson's proposed agreement would leave Northern Ireland aligned with EU laws and regulations on most trade issues, even as it moved out of the European single market and into a customs union with Britain.
Under the proposed terms, there would be customs checks on goods flowing from Britain to Northern Ireland to ensure that they meet the rules if those goods were ultimately destined for the EU.
There would be a complex series of rules on tariffs and value-added tax payments to compensate for differences in tariff rates between the European and British customs unions, though negotiators had struggled on Tuesday to resolve the issue of how to rebate value-added tax payments.
The arrangement would also be subject to consent by the Northern Ireland Assembly, but in a way that would prevent the Democratic Unionists, who have opposed previous such proposals, from simply vetoing it at the first possible opportunity.
The Democratic Unionists are crucial to Johnson's effort to win a majority for the deal in Parliament. Their opposition to similar previous versions of a Brexit agreement forced May to overhaul that agreement to place all of Britain in the European customs union for a period of time.
May's deal was, nevertheless, soundly defeated in Parliament three times.
Johnson was seen as having a better chance of cobbling together a majority, in part because he was a vocal supporter of Brexit before the 2016 referendum and thus has greater credibility with euroskeptic elements of the Conservative coalition.
The Democratic Unionist Party campaigned for Brexit in the 2016 referendum campaign and Johnson has presented his plan as the last chance to deliver on that mandate from voters. In Northern Ireland as a whole, however, 56% of voters in the referendum favored remaining in the EU.
Yet, for the party, which is strongly committed to maintaining Northern Ireland's status as a part of the United Kingdom, the issues being negotiated by Johnson are existential. That is because if they bind Northern Ireland much more closely to Ireland, its southern neighbour, some fear that it would inevitably lead to a united Ireland.
If the Democratic Unionists have collectively decided that the proposals are unacceptable, they will have to change to secure support.
Johnson has vowed to withdraw Britain from the European Union, with or without a deal, by October 31, and his negotiators have laboured to seal an agreement by this week so that he is not forced to ask Brussels for an extension, as would be required under a measure that Parliament passed last month.