Twitter woofs goodbye to Mexican rescue dog Frida
Over the course of her career, she was credited for finding at least 41 bodies and a dozen people alive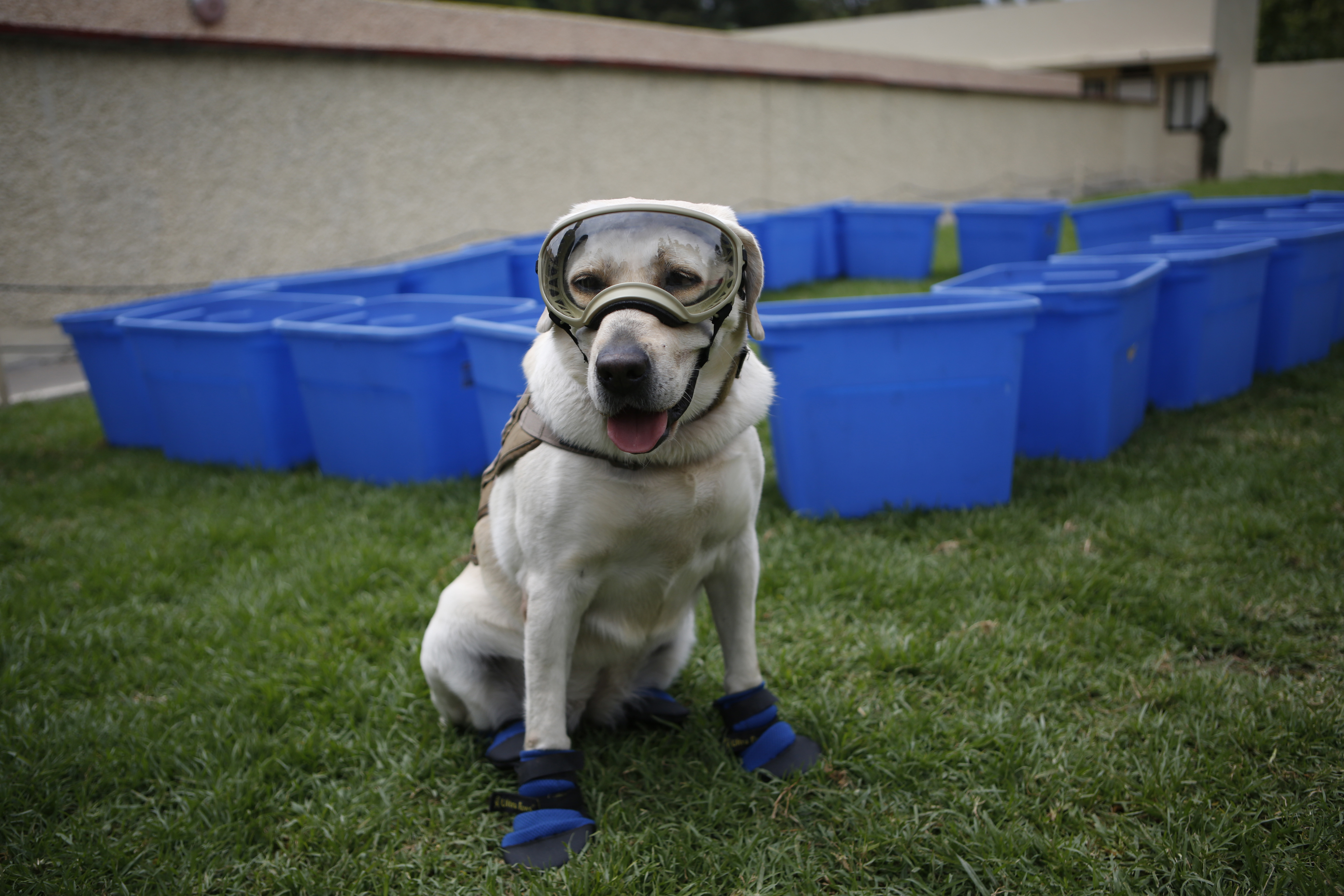 In this September 28, 2017, file photo, Frida wears her protective gear during a press event in Mexico City.
(AP)
---
Mexico City
|
Published 25.06.19, 11:01 AM
|
---
A golden Labrador retriever has retired from rescue work nearly two years after gaining international fame for rescuing survivors trapped in the rubble following a deadly 2017 earthquake in Mexico City.

Mexican Navy presented Frida the rescue dog with a toy at a ceremony to wish her joy during her retirement. She is 10.
Frida became a symbol of hope as Mexicans eagerly awaited signs of life following the September 19, 2017, 7.1-magnitude earthquake that killed over 300.
People say that dogs are the most loyal creatures and that we don't deserve them. Whenever we feel down are gloomy, dogs are there to rescue us from our misery. 
Frida literally lived up to the word 'rescue'. Over the course of her career, she was credited for finding at least 41 bodies and a dozen people alive. 
She also worked two international missions after earthquakes in Haiti and Ecuador in 2010 and 2016, respectively.
The word 'Frida', in Scandinavian countries, means 'beautiful and beloved'. This is what people on Twitter said about the 'beautiful and beloved' rescue dog's retirement:

This netizen iterated what the Mexican Naval Minister had to say about the doggo's retirement
Frida the rescue dog rose to fame after the 2017 earthquakes in Mexico where, as Naval Minister Eduardo Redondo said:

"Her bark always gave hope, and in moments of pain and uncertainty she brought relief."

Today she retires. She is the very best girl. pic.twitter.com/SMe7peZGRp

— Robin Leigh (@robinskyleigh) June 24, 2019
A scribe on Twitter shared an adorable video, shot by her mom, of the ceremony
Frida❤️Mexico's symbol for hope after the 2017 earthquakes. She located 56 people in her 10 years of a rescue service. Today was her retirement ceremony. My jefa/mom @collinsoficial as usual slaying, did such a wonderful job covering the moment. #GraciasFrida 🇲🇽 #ThankYouFrida pic.twitter.com/CtledqbX6O

— Antonietta Collins (@AntoniettaESPN) June 24, 2019
This is what the European Media Director of Human Rights Watch had to say about her retirement...
Well, if that doesn't melt your heart, you are made of stone... #GraciasFrida https://t.co/OLaimOB9iH

— Andrew Stroehlein (@astroehlein) June 24, 2019
We're sure that you've heard the saying: Not all heroes wear capes!
Well, this person had an interesting image to share with the world
thanks for all Frida we will miss you Mexico with the heart up viva México #Frida pic.twitter.com/AHNd5oBt6n

— Valeria Anne González (@ValeriaAnneGon1) June 24, 2019
Then there were some dog-owners who shared pictures of how their 'best friends' have drawn inspiration from Frida, and how they are dressing up like the retired lifesaver...
Dressing dogs up like Frida became a thing here.
Also there was a statue made for her. And lots of comics and art. She became an icon of hope for many. pic.twitter.com/LrX8KKipL1

— Lord Huesos (@mgranadosv) June 24, 2019
You've inspired a lot of other dogs Frida! pic.twitter.com/cmtZ3KS20o

— Natalie Jackson (@NatJack88) June 24, 2019
Frida's no. 1 fan 🐶 pic.twitter.com/q0nHlVKncA

— Nadia (@nashkalina) June 25, 2019