Twitter restricts President's tweet
The company says Trump's post violated its rules against glorifying violence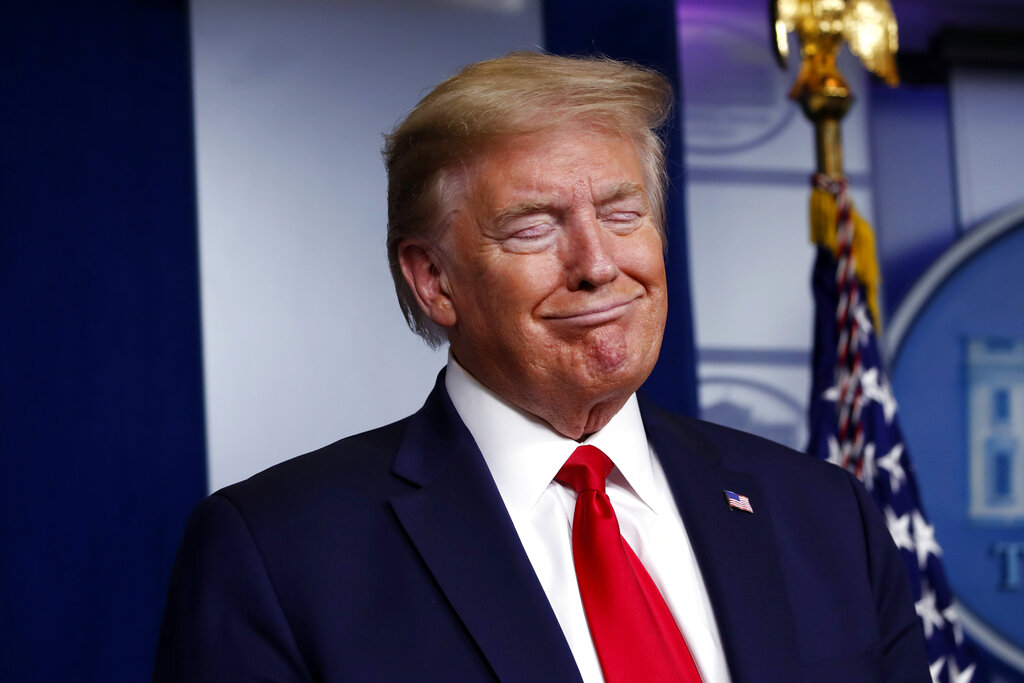 ---
New York
|
Published 29.05.20, 09:19 PM
|
---
Twitter added a warning label early Friday to a tweet from President Trump implying that protesters in Minneapolis could be shot, in a move likely to escalate tensions between Trump and his favorite social media megaphone.
The company said Trump's post violated its rules against glorifying violence, and it prevented users from viewing the tweet without reading a brief notice, the first time it has restricted one of the president's messages in this way. Twitter also blocked users from liking or replying to Trump's post, though they were still allowed to retweet it if they added a comment of their own.
But Twitter did not take the tweet down, saying it was in the public's interest that the message remain accessible.
In the tweet, posted early on Friday morning, Trump called the protesters "thugs" and said he had told Minnesota's governor that the military was "with him all the way".
"Any difficulty and we will assume control but, when the looting starts, the shooting starts," the President wrote. "Thank you!"
Twitter said it had decided to restrict the tweet "based on the historical context of the last line, its connection to violence, and the risk it could inspire similar actions today".
The company's decision comes a day after Trump signed an executive order that seeks to limit the legal protections shielding social media companies from liability for the content posted on their platforms. The President had fulminated over Twitter's decision earlier this week to add fact-checking labels for the first time to two of his tweets.
In response, he accused Twitter of stifling speech and said that he would end the interference.
Hours after the warning label was added to Trump's Friday tweet, he posted another that accused Twitter of targeting "Republicans, Conservatives & the President of the United States."
Trump's tweet about the Minneapolis protests echoed a comment by Walter E. Headley, the Miami police chief who attracted national attention in the late 1960s for using shotguns, dogs and a heavy-handed "stop-and-frisk" policy to fight crime in the city's black neighbourhoods.
Headley announced a "get tough" campaign in a December 1967 news conference that prompted anger among black leaders.
"We haven't had any serious problems with civil uprising and looting," he said, "because I've let the word filter down that when the looting starts, the shooting starts."
"We don't mind being accused of police brutality," Headley also said at that news conference. "They haven't seen anything yet."
Twitter has for years faced criticism over Trump's posts on the platform, which he has used to issue threats, bully critics and spread falsehoods. The company has said repeatedly that the President did not violate its terms of service, however much he appeared to skirt the line.
The company has also said that blocking world leaders from the service or removing their tweets would hinder public debate around their words and actions. Twitter did announce last year, however, that it would in certain cases place warning labels on posts from political figures that broke its rules, the feature it used with Trump's tweet about Minneapolis.
Twitter's attitude appeared to shift this week after Trump posted about Lori Klausutis, a woman who died in 2001 from complications of an undiagnosed heart condition while working for Joe Scarborough, a Florida congressman at the time. The President has long feuded with Scarborough, now a host for MSNBC, and in recent days, Trump had posted conspiracy theories about Klausutis's death, suggesting that Scarborough was involved.
Her widower wrote a letter to Twitter's chief executive, Jack Dorsey, asking to have the false tweets removed.
New York Times News Service