Turkey defies US, gets Russian missile system
The process is expected to incur US sanctions and will test the Nato alliance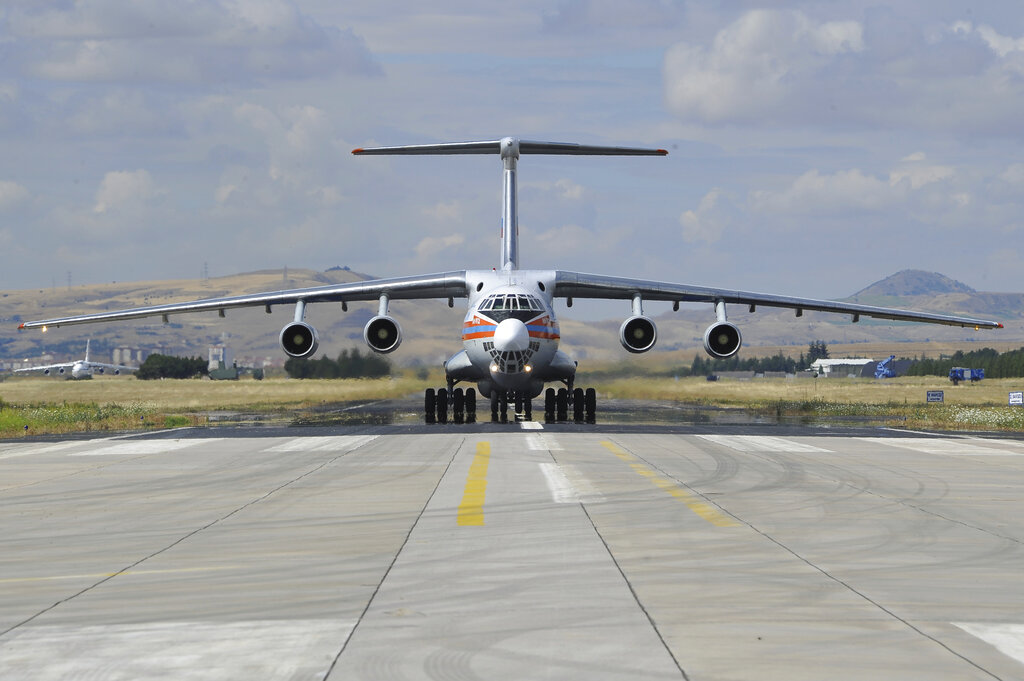 A Russian transport aircraft, carrying parts of the S-400 air defense systems, lands at Murted military airport in Ankara, Turkey, Friday, July 12, 2019.
(AP)
---
Istanbul
|
Published 13.07.19, 06:26 AM
|
---
The first shipment of a sophisticated Russian surface-to-air missile system arrived in Turkey on Friday, the Turkish defence ministry announced, a process that is expected to incur US sanctions and will test the Nato alliance.
President Recep Tayyip Erdogan of Turkey has been insistent in his determination to purchase the S-400 system, Russia's most advanced antiaircraft weaponry, despite warnings from the US. Washington has cautioned that the deal will lead to economic penalties against Turkey, a fellow Nato member, and cancellation of Turkey's purchase of American F-35 fighter jets.
The US has been unyielding in its opposition to Turkey's acquisition of the S-400. American officials have argued that the missile system is incompatible with Nato equipment, and that having Turkey operating both the Russian weapons and the F-35 could give Russia access to the American jets' secret stealth technology.
The delivery of the S-400 is likely to worsen strained Turkish-American relations, despite expressions of friendliness between Erdogan and President Trump at the Group of 20 summit meeting in Japan last month.
Erdogan has pursued the missile system despite American warnings and the damage that sanctions could do to his country's already suffering economy, including a renewed slide in the Turkish lira. His party suffered a set of stinging defeats in local elections this year, largely because of the economic recession, his worst political setback in many years.
Speaking last month, Erdogan warned the US not to risk a larger fissure in ties with Turkey over the missile system, and he said he was confident that he could reach an understanding with Trump to avoid sanctions.
"They should think deeply, because losing a country like Turkey will not be easy," Erdogan said of the US. "If we are friends, if we are strategic partners, then we should handle this issue between each other."
A Nato spokesman said on Friday that while member nations decide for themselves what equipment to buy, "we are concerned about the potential consequences of Turkey's decision to acquire the S-400 system".
"Interoperability of our armed forces is fundamental to Nato for the conduct of our operations and missions," said the spokesman who, in keeping with the organisation's protocol, declined to be quoted by name. "We welcome that Turkey is working with several Allies on developing long-range air and missile defence systems."
Nato has stationed the American-made Patriot surface-to-air missile system on Turkish soil since the outbreak of the civil war in Syria, but Erdogan has insisted his country needs its own long-range system.
Turkey tried for years to buy its own Patriot system, but talks with Washington never produced a deal — a result that Trump, at the Group of 20 meeting last month, said was the fault of the Obama administration.
The S-400 system includes advanced radar that is designed to detect stealth targets as well as other aircraft, and it can also be used against some types of missiles.
The Turkish defence ministry said the first parts of the system arrived at the Murted airfield in Ankara on Friday.
Turkey would be liable for sanctions under the 2017 Countering America's Adversaries Through Sanctions Act, which mandates US sanctions against anyone making a significant deal with the Russian defence industry.