Trump renews trade war with China
Talks with Beijing end without a deal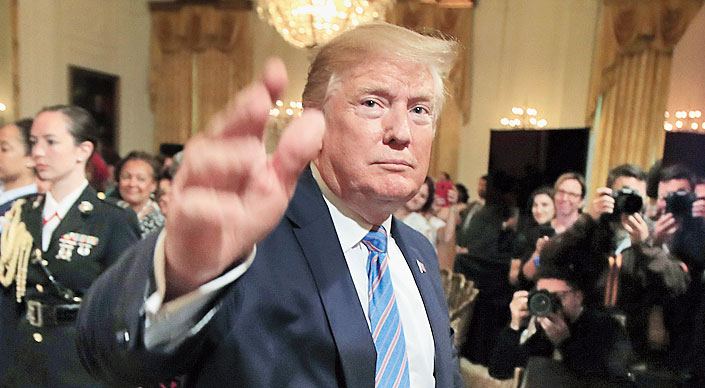 US President Donald Trump at the White House.
(AP)
---
Washington
|
Published 11.05.19, 07:41 PM
|
---
Trade talks between China and the US ended on Friday without a deal as President Trump raised tariffs on $200 billion worth of Chinese imports and signalled he was prepared for a prolonged economic fight.
Trump, who only weeks ago predicted a signing ceremony for an "epic" trade deal with President Xi Jinping of China, reclaimed his stance of threatening Beijing and insisting his approach would help the American economy. In a flurry of tweets on Friday, Trump warned that he would tax nearly all of China's imports if the country continued to backtrack on a trade deal.
"Tariffs will make our Country MUCH STRONGER, not weaker. Just sit back and watch!" Trump said on Friday morning, adding that the Chinese "should not renegotiate deals with the US at the last minute."
While both sides indicated there would be future discussions, the toughened stance thrust the world's two largest economies back into a trade war that one week ago had seemed on the cusp of ending. Trump and his advisers were surprised by what they saw as China's attempt to renege on parts of an emerging trade deal, and two days of talks this week did nothing to resolve those concerns.
Trump is now moving ahead with plans to impose 25 per cent tariffs on all remaining Chinese imports. Those new tariffs could go into effect in a matter of weeks.
In a statement on Friday evening, the US trade representative said. Trump had "ordered us to begin the process of raising tariffs on essentially all remaining imports from China, which are valued at approximately $300 billion".
On Friday afternoon, Trump suggested that the ball was in Beijing's court, saying that "the United States has imposed Tariffs on China, which may or may not be removed depending on what happens with respect to future negotiations!"
Both sides had agreed to meet again in Washington on Thursday and Friday, but the talks were brief and focused mostly on the roots of the recent impasse. By early afternoon on Friday, the meeting had concluded and no further face-to-face negotiations were scheduled.
Trump called the discussions "candid and constructive" and China's vice-premier, Liu He, said the talks went "fairly well." An administration official said it was possible that the negotiators could reconvene in June in Beijing, while Liu told China Central Television that the two sides would meet again.
"Negotiations have not broken down," Liu said on Friday, while noting that China was unwilling to make concessions on "principle issues".
Stock markets fell in early morning trading, with the S&P 500 down more than 1 percent but regained ground after Trump's comments.
It remains unclear whether the two countries can salvage a trade agreement that is complicated by political dynamics on both sides of the Pacific. Trump, who has promised to be tough on China, is eager to avoid being seen as signing a weak deal that does not take advantage of the leverage the US has created with its tariffs. But Xi is also facing pressure from hardliners in China, who do not want to acquiesce to the US, particularly Washington's demands that China make changes to its laws.