'Transition' deal on Harry, Meghan
Today my family had very constructive discussions on the future of my grandson and his family: Queen Elizabeth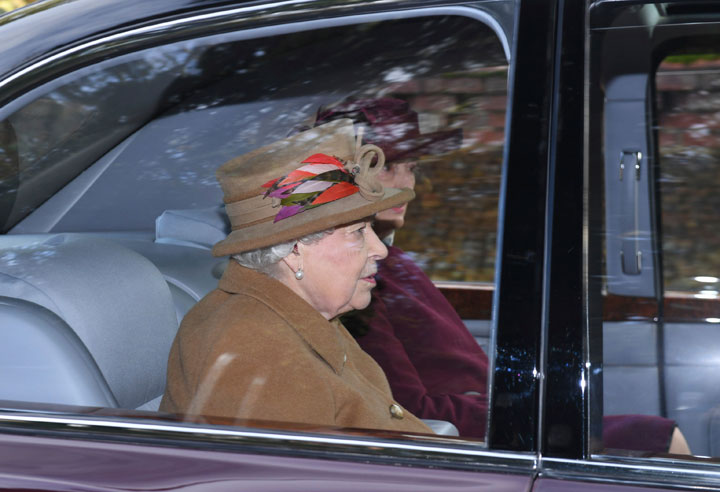 ---
|
London
|
Published 13.01.20, 08:32 PM
---
The Queen has presided over the outlines of a deal at Sandringham, her estate in Norfolk, at which her son, Charles, and grandsons, William and Harry, were present.
In a statement released by Buckingham Palace after Monday's showdown, the Queen said: "Today my family had very constructive discussions on the future of my grandson and his family.
"My family and I are entirely supportive of Harry and Meghan's desire to create a new life as a young family. Although we would have preferred them to remain full-time working members of the Royal Family, we respect and understand their wish to live a more independent life as a family while remaining a valued part of my family. "Harry and Meghan have made clear that they do not want to be reliant on public funds in their new lives.
"It has therefore been agreed that there will be a period of transition in which the Sussexes will spend time in Canada and the UK.
"These are complex matters for my family to resolve, and there is some more work to be done, but I have asked for final decisions to be reached in the coming days."
The Queen, who has shown herself to be wise and pragmatic, is aware that Harry's mental state is fragile. She did not in any way wish to "punish" him.
After the two-hour Sandringham summit, Charles, William and Harry were driven away in separate cars.
Earlier, the two brothers said in a joint statement rejecting a front page report in The Times as "offensive and potentially harmful".
The joint statement from William and Harry did not mention The Times but the paper carried a story in which it quoted a source as telling the publication that the Duke and Duchess of Sussex "regarded themselves as having been pushed away by what they saw as a bullying attitude from the Duke of Cambridge".
Prince Charles arrived by helicopter after attending the funeral of close British ally, Sultan Qaboos of Oman.
Harry arrived at Sandringham via its rear entrance in a blacked-out Range Rover Evoque just as he and his older brother released their first joint statement since the "abdication crisis" broke last Wednesday.
William had arrived 15 minutes earlier, also via a side gate. The big media contingent at the front, recording the comings and goings, was moved away by the police.
Prince Philip, who has been staying in a cottage on the Sandringham estate, was seen being driven away, looking "livid", according to the Daily Mail.
The report goes on to say that these allegations have been contested by other sources close to William and Harry.
A joint statement issued on behalf of the princes said: "Despite clear denials, a false story ran in a UK newspaper today speculating about the relationship between the Duke of Sussex and the Duke of Cambridge.
"For brothers who care so deeply about the issues surrounding mental health, the use of inflammatory language in this way is offensive and potentially harmful."
The royal reporters on national newspapers are under enormous pressure from their editors to come up with scoops on what is clearly one of the biggest circulation boosting stories since perhaps the death of Princess Diana in 1997. The result is they end up quoting (real or imagined) anonymous "friends" or "insiders", secure in the knowledge that their reports will not be challenged.
Dan Wootton, executive editor of the Sun which was tipped off about Harry and Meghan's decision to step back, said: "It is quite extraordinary that at a time when Prince William and Prince Harry are having so much warfare behind the scenes that they have come together to issue this joint statement."
He told the BBC that while he personally would not use the word "bullying", the relationship between William and Harry had become "incredibly strained over the past 18 months", and that had played "a big part" in the disruption the royal family was experiencing.
In Fleet Street, competition between papers is so fierce that it is not unusual for a "dog eats dog" attitude to prevail.
Sniping at The Times which is now a tabloid shaped newspaper just like the Daily Mail, the latter's feature writer and author of a book on the royals, Robert Hardman, said the statement "shows the depth of the bond between those two brothers" that they responded to this allegation so quickly, and demonstrated the desire to "avoid any sense of confrontation" at the summit.
The Sunday Times carried a page one story at the weekend about William telling a friend: "I've put my arm around my brother all our lives and I can't do that any more; we're separate entities.
"I'm sad about that. All we can do, and all I can do, is try and support them and hope the time comes when we're all singing from the same page. I want everyone to play on the same team."
This appeared to be a plausible quote but there will now be doubts about the veracity of this story as well.
Meanwhile, the home secretary, Priti Patel, who will be consulted on future security arrangements for Harry and Meghan was asked in a BBC Radio 5 Live interview about whether she thought the Duchess of Sussex had been subjected to racist press coverage.
She replied: "I'm not in that category at all where I believe there's racism at all. I think we live in a great country, a great society, full of opportunity, where people of any background can get on in life."
Press on whether the media had been in any way racist, she went on: "I don't think so, no... I certainly haven't seen that through any debates or commentary or things of that nature."
Others will take a different view.
The home secretary refused to comment on future security arrangements for Harry and Meghan.
"I'm not going to provide any detailed information on the security arrangements for either them or any members of the royal family or for any protected individual – that's thoroughly inappropriate for me to do so.
"At this moment in time, right now, the royal family themselves need some time and space for them to work through the current issues that they're dealing with."