Tayyip Erdogan speaks to Nato aspirants
Russia's invasion of Ukraine prompted the governments of Finland and Sweden to seek Nato membership, overturning policies of military neutrality that had endured for decades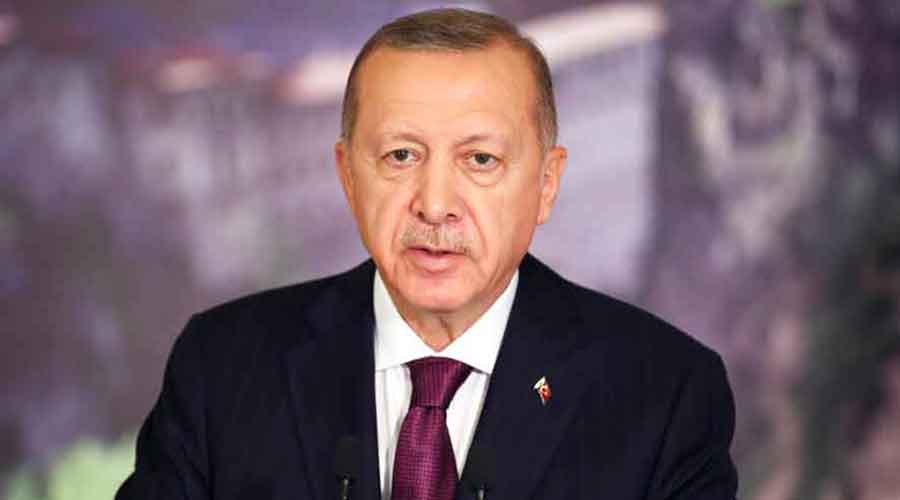 Tayyip Erdogan
File picture
---
Published 22.05.22, 12:14 AM
|
---
The leaders of Sweden and Finland held separate phone conversations on Saturday with President Recep Tayyip Erdogan of Turkey, who has said he opposes the applications of the two Nordic countries to join Nato.
Russia's invasion of Ukraine prompted the governments of Finland and Sweden to seek Nato membership, overturning policies of military neutrality that had endured for decades. Nato accession requires agreement from each of the alliance's 30 members, which gives Turkey unusual leverage.
Erdogan has expressed objections that could slow the process and require negotiations to address its concerns. In particular, he has argued that Sweden offers tacit support to Kurdish separatists who oppose the government in Ankara and whom he regards as terrorists. Efforts by diplomats from Washington and elsewhere in the alliance to encourage him to soften that position have not been successful.
Jens Stoltenberg, the Nato secretary-general, said he stressed the importance of the two countries' applications in a talk with Erdogan on Saturday.
"We agree that the security concerns of all allies must be taken into account and talks need to continue to find a solution," he said.
New York Times News Service
Israeli forces kill 17-year-old
Ramallah: Israeli forces shot and killed a 17-year-old Palestinian militant in clashes in the occupied West Bank city of Jenin on Saturday, the Palestinian Islamic Jihad group said.
The Israeli military said Palestinian suspects fired on its soldiers and threw fire-bombs at them. "The soldiers responded with live fire toward the suspects. Hits were identified," the military said.
It was not immediately clear whether the teen killed was one of those suspects. The Palestinian health ministry confirmed his death.
The Palestinian Islamic Jihad group described the teen as one of its members and said he had taken part in the fighting against the Israeli soldiers.
Reuters