250 Afghan Hindus and Sikhs await exodus
Kabul: India evacuates 392 people, including two Afghan lawmakers
This repatriation operation was made possible with the help of the US — which controls the Hamid Karzai International Airport in Kabul — Tajikistan and Qatar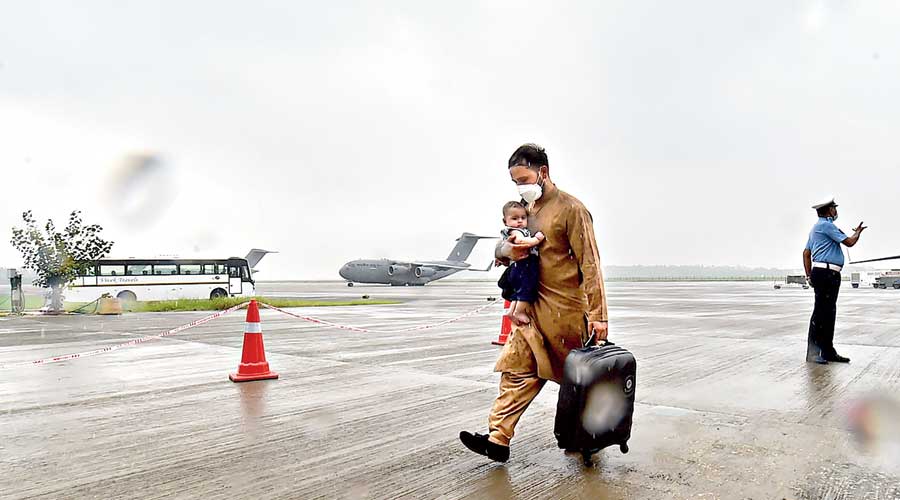 ---
New Delhi
|
Published 23.08.21, 02:37 AM
|
---
India on Sunday flew in 392 people, including two Afghan lawmakers and several other foreign nationals, from Afghanistan in evacuation and repatriation operations involving multiple routes and countries.
One group arrived in India from Dushanbe, the capital of Tajikistan, while another flew in directly from Kabul. A third batch that had been brought to Doha, Qatar, by other countries too reached India.
Sunday's evacuation was made possible with the help of the US — which controls the Hamid Karzai International Airport in Kabul — Tajikistan and Qatar.
One of the flights landed at the Hindon airbase in Ghaziabad, Uttar Pradesh, and the other two touched down at Delhi airport.
A fourth group of 146 Indians who had been evacuated from Afghanistan by other countries and dropped off in Doha were being repatriated late on Sunday night. When they land, India will have airlifted 538 people over the weekend.
Even after these evacuations, around 300 Indians are estimated to be still stranded in Afghanistan, besides Afghan Sikhs, Hindus and other local people who have partnered with India over the past two decades. India has decided to bring out all those who want to leave.
According to sources privy to the efforts to bring out Hindus and Sikhs, around 250 Afghan Hindus and Sikhs are awaiting evacuation. Most of them have long-term Indian visas.
Apart from the two legislators and other Afghans, India has evacuated two Nepalese nationals and a Lebanese citizen.
With the evacuation of Indians gathering pace, a multi-agency team of Indian officials is learnt to be on the ground at Kabul airport to facilitate the process. There was no official confirmation on this.
The two Sikh parliamentarians from Afghanistan who have made it to India are Narinder Singh Khalsa and Anarkali Kaur Honaryar. They have left behind an angry community that is upset at their representatives for deserting them, using their contacts in the Indian embassy.
Speaking to reporters at the Hindon airbase, MP Narinder and Senator Anarkali urged the Indian government to evacuate the remaining Hindus and Sikhs in Afghanistan.
Both said the Taliban had sought to assure the Sikh community that they would be safe in Afghanistan and that there was no need for them to leave, but maintained that the community did not know how far to trust the group.
"They told us, 'You are Afghans and we will provide you security,' but there are so many groups within the Taliban. In such an atmosphere of uncertainty, how does one trust what one group of people who reached out to us said?" Narinder said.
According to the MP, the Indian government and the ambassador to Afghanistan had been in regular touch with the Sikh community over the past week. About 70-80 Sikhs tried to reach Kabul airport on Saturday but were intercepted by a Taliban group that is manning the barricades in the Afghan capital. As a result, the evacuation flight they were to board left without them for Dushanbe.
They made another attempt to reach the airport in the evening and managed this time round and were evacuated on an Indian Air Force flight out of Kabul to Delhi. This flight, according to external affairs ministry spokesperson Arindam Bagchi, had 168 passengers, of whom 107 were Indians.
Those who had been ferried to Dushanbe on Saturday were brought back by an Air India flight that had 87 Indians on board along with two Nepalese.
The third flight had 135 Indians, all of whom had been extracted from Kabul over the past few days on evacuation flights operated by other countries and taken to Doha where the Indian embassy provided them with consular support for the onward journey.
Upon arrival in India, all Afghanistan returnees are being administered the polio vaccine as a preventive measure against the wild polio virus, Union health minister Mansukh Mandaviya said. Afghanistan is one of the two remaining polio-endemic countries in the world.