Suella Braverman quits home secretary position
It is not entirely clear whether the most senior Indian in Truss's tottering government, resigned from her post or was sacked — or it was a bit of both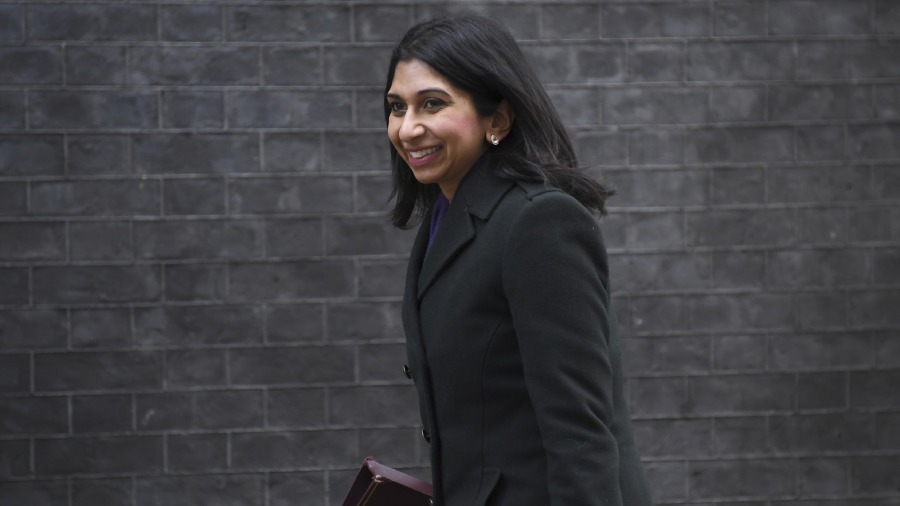 Suella Braverman
File Picture
---
Published 20.10.22, 01:36 AM
|
---
Suella Braverman, who disagreed with Liz Truss over the visa concessions the British Prime Minister was apparently willing to make to Narendra Modi in order to get a Free Trade Agreement with India, stepped down as home secretary on Wednesday evening after 43 days in the job.
It is not entirely clear whether Braverman, the most senior Indian in Truss's tottering government, resigned from her post or was sacked — or it was a bit of both.
She is being replaced by former transport secretary Grant Shapps, who backed Rishi Sunak during the leadership contest.
Braverman became home secretary after lending her support to Truss during the contest.
In her letter to Truss, whom she met in the Commons on Wednesday afternoon, Braverman said: "It is with the greatest regret that I am choosing to tender my resignation."
"Earlier today, I sent an official document from my personal email to a trusted parliamentary colleague as part of policy engagement, and with the aim of gathering support for government policy on migration."
"This constitutes a technical infringement of the rules. As you know, the document was a draft Written Ministerial Statement about migration, due for publication imminently. Much of it had already been briefed to MPs. Nevertheless, it is right for me to go."
"As soon as I realised my mistake, I rapidly reported this on official channels and informed the Cabinet Secretary. As Home Secretary, I hold myself to the highest standards and my resignation is the right thing to do. The business of government relies upon people accepting responsibility for their mistakes."
"Pretending we haven't made mistakes, carrying on as if everyone can't see that we have made them, and hoping that things will magically come right is not serious politics. I have made a mistake; I accept responsibility; I resign." A "mistake" does not quite explain her resignation.
The rest of her letter includes an attack on Truss's U-turn on several key commitments the Prime Minister had given during the Tory leadership contest.
Braverman said: "It is obvious to everyone that we are going through a tumultuous time. I have concerns about the direction of this government. Not only have we broken key pledges that were promised to our voters, but I have had serious concerns about this Government's commitment to honouring manifesto commitments, such as reducing overall migration numbers and stopping illegal migration, particularly the dangerous small boats crossings."
On a Free Trade Agreement with India, Braverman and Truss appeared to be pulling in opposite directions. While Truss wanted to proceed with Boris Johnson's desire to clinch a deal "by Diwali", Braverman's priority was to cut migrant numbers, especially from India. She upset the Indian government — and probably irritated Truss — by recently telling The Spectator, "Look at migration in this country — the largest group of people who overstay are Indian migrants."
On Tuesday, Braverman attended a Diwali party in London, dressed in a lehenga, and made conciliatory remarks about relations with India. She spoke of being struck by how "fresh and vibrant" the India-UK relationship always feels on her travels "from Kerala to Bihar, from Delhi to Calcutta".