Strong 6.8 earthquake shakes Ecuador, Peru, killing several
At least 14 people were killed and many more trapped under rubble following a strong quake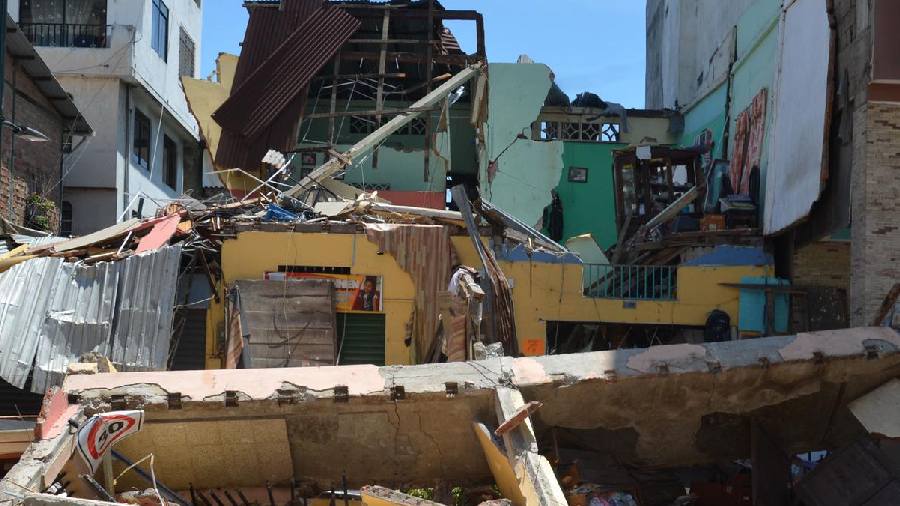 The epicenter was about 80 kilometers south of Guayaquil, the second largest city in Ecuador.
Deutsche Welle
---
Published 19.03.23, 09:28 AM
|
---
A 6.8 magnitude earthquake struck southern Ecuador and northern Peru at 12:12 p.m. local time (1712 UTC/GMT) Saturday, killing at least 14 people.
The epicenter of the quake was roughly 80 kilometers (50 miles) south of Ecuador's second biggest city, Guayaquil, and nearly 10 kilometers from the city of Balao in the province of Guayas.
Other cities including Quito, Manabi and Manta felt tremors.
Guillermo Lasso, Ecuador's president, said the situation had "generated alarm in the population." He asked that people remain calm in a tweet.
Lasso said he planned to travel to El Oro Saturday.
What do we know so far?
The Risk Management Secretary, Christian Torres, said in an interview on Ecuadorean radio that 11 people died in El Oro, the coastal state, and one in the mountainous state of Azuay.
The victim in Cuenca, in Azuay's Andean community, was riding in a vehicle when he was crushed by rubble from a residential building, Torres said.
In the town of Machala, a two-story home collapsed trapping an unknown number of people inside.
Ecuador's emergency response agency said firefighters were at work to rescue those who remain trapped. The country's national police were at work assessing the damage.
Power and telephone lines were both reportedly down in some places, making the work of emergency crews all the more hazardous.
Three tunnels were closed in Guayaquil, a city of three million. People gathered on the streets following the quake with many reporting objects falling inside their homes.
No deaths or injuries were reported in northern Peru, though the old walls of an army barracks collapsed in the northern region of Tumbes.
In 2016, 600 people died following an earthquake in Ecuador.
The Ecuadorean Navy ruled out the risk of a tsunami.