Scientists hunt for pneumonia cause
Read more below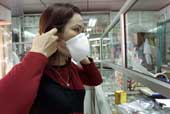 ---
Published 18.03.03, 12:00 AM
|
---
A Vietnamese woman puts on a protective mask in a Hanoi drug store on Monday. (Reuters)
London, March 17 (Reuters): Scientists worked flat out today to identify the cause of a mysterious type of killer pneumonia that has spread from Asia to Canada and Europe via air travel.
Health ministries and airport authorities around the globe were on high alert as Hong Kong's health minister Yeoh Eng-kiong announced the number of people infected with the illness there had nearly doubled.
Although he said it was too early to talk of an epidemic, he confirmed that nearly 100 people in Hong Kong, most of them medical staff, had fallen ill.
Hours later Britain reported its first suspected case.
The World Health Organisation (WHO) has issued a global health alert, the first in a decade, about the unusual strain, which does not respond to treatment and has no known cause.
Severe Acute Respiratory Syndrome (SARS) is believed to have killed nine people and infected more than 170 others. It is not clear if it is caused by a virus, a bacterium or a new pathogen. "The reason for issuing this alert is that this is an illness caused by something we can't identify," Iain Simpson of WHO said.
"Something is making these people sick. We can identify some of the symptoms they have but we cannot identify the cause at the moment. We are working flat out to do it, but until we do people around the world need to watch out," he said. Governments have warned people against unnecessary travel to China, Hong Kong and Vietnam, where most cases have occurred.
Seven people in Canada have been infected and two have died. All those affected in North America and Europe had recently visited southeast Asia or had a relative who had.
Travellers arriving in Hong Kong have been seen wearing surgical masks and airport officials in the Philippines said anti-viral agents were being sprayed inside aircraft. People in Vietnam, which has reported 50 cases and one death, are stocking up on medicines and masks.
In Geneva, where two people are in isolation with typical symptoms like breathing difficulties, high fever, chills and dry cough, the WHO said it would work with Chinese health authorities to determine the cause of the illness.
WHO experts suspect the first case of SARS appeared in China's southern Guangdong province where 305 people became ill and five died.
"With four months of meticulously obtained information from China, we believe we will have the answers to how this disease acts in populations and how we can best deal with it," said David Heymann, head of the WHO communicable diseases section. In Italy, four people who arrived on a Singapore Airlines flight were under observation and airports in the country were on high alert, but no cases have been reported.
During the weekend, a Singapore doctor was taken off a plane in Frankfurt after displaying symptoms. He had earlier treated patients with the disease in Singapore, where more than 20 people are now infected.
Scientists have been on heightened alert for the next influenza pandemic, which many believe is already overdue. The WHO alert has heightened fears of an outbreak on the scale of the worst influenza epidemic in the last century that killed more than 20 million people.