Schools reject donations tied to race
Two schools rejected the offer of the benefactor who wanted the money to be used to help only 'poor white boys'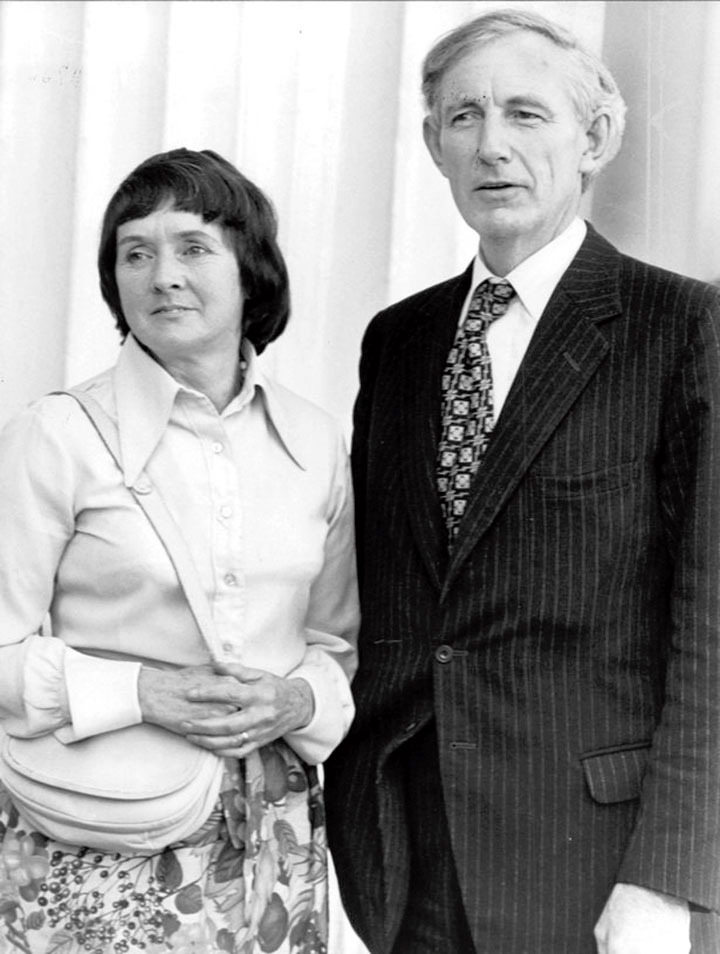 Bryan Thwaites, principal at Westfield College at the University of London, with his wife Kate
Sourced by the Correspondent
---
London
|
Published 31.12.19, 02:13 AM
|
---
Two of Britain's top public schools, Dulwich College in South London and Winchester College in Hampshire, have turned down proposed donations of £400,000 and £800,000 respectively because the benefactor wanted the money to be used to help only "poor white boys".
The schools rejected the generous offer because of fears they would be breaking the race equality law.
The 96-year-old benefactor, Bryan Thwaites, who himself attended Dulwich until the outbreak of World War II before being shifted to Winchester, wanted to leave the money in his will.
White boys from disadvantages families are said to be ethnic group that achieves the worst results at school.
Dulwich, where today the surname "Patel" is common since the school is favoured by the children by Indian shopkeepers and small business people, has a library named after its most famous old boy — P.G. Wodehouse.
Dr Joe Spence, Master (head) of Dulwich College, said he is "resistant" to donations "made with any ethnic or religious criteria".
He commented: "The community at Dulwich is proudly diverse, both socio-economically and ethnically, reflecting our location.
Bursaries are an engine of social mobility and they should be available to all who pass our entrance examinations, irrespective of their background."
Winchester is where the Nawab of Pataudi made his name at cricket. He broke Douglas Jardine's record, making 1,068 runs (avg 71.20), with 120 his highest, in 1954. As a prolific schoolboy, Jardine's aggregate in 1919 was 997 (average 66.00), a record until it was eclipsed by Pataudi. This was sweet revenge because Pataudi's father, the 8th Nawab, had been kicked out of the touring England side by Jardine during the 1932-33 "Bodyline" series against Australia after the Indian prince had protested that bowling aimed at Don Bradman's head and body contravened the spirit of cricket.
Fees at Winchester are about £40,000 a year, while at Dulwich it is £21,000 for day scholars and £45,000 for boarders.
A spokeswoman for Winchester College said that "acceptance of a bequest of this nature would neither be in the interests of the school as a charity nor the specific interests of those it aims to support through its work".
She added: "Notwithstanding legal exceptions to the relevant legislation, the school does not see how discrimination on grounds of a boy's colour could ever be compatible with its values."
Quota systems of the kind applied in India for religious and other minorities might also fall off the law in the UK.
However, Thwaites pointed out that Cambridge University had accepted donations made by the rapper Stormzy who stipulated the funds were to help black students.
Thwaites told The Times: "If Cambridge University can accept a much larger donation in support of black students, why cannot I do the same for under-privileged white British?
"Winchester said it would harm its reputation by accepting my bequest, but in my opinion it would gain enormously by being seen to address what is the severe national problem of the underperforming white cohort in schools."
Under the "Stormzy Scholarship", four black students will be assisted with fees and maintenance for up to four years after they have got into Cambridge on merit.
The rapper said: "There are so many young black kids all over the country who have the level of academic excellence to study at a university such as Cambridge – however we are still under-represented at leading universities."
The scholarship was welcomed by the university's vice chancellor Professor Stephen Toope who said: "Stormzy is an inspiration, not just for his music but for his engagement on social issues and encouragement of young people.
"The studentships are a beacon for black students who might otherwise have felt they could not come to Cambridge."