War updates: Russian forces turn Donbas into 'hell,' Zelensky says
Moscow is nearing full control of the separatist region of Lugansk in eastern Ukraine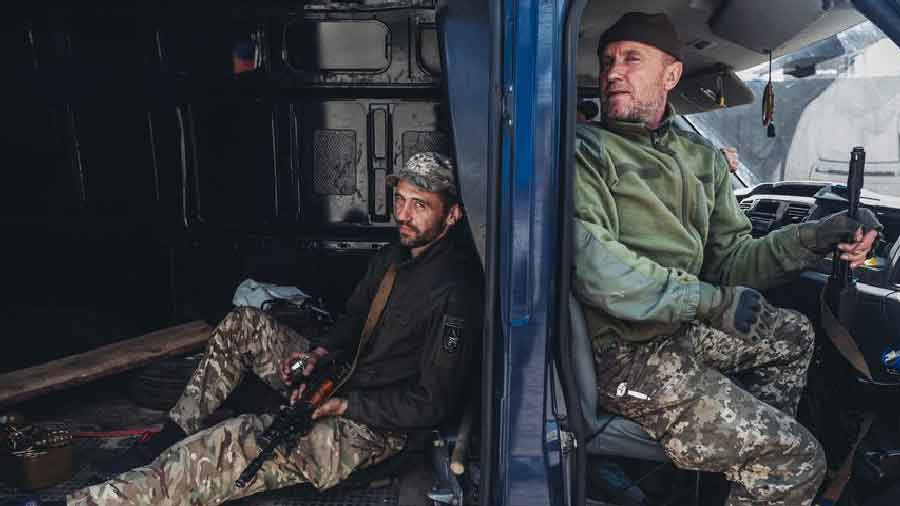 Fighting in Donbas has destroyed the region, the Ukrainian president said
Deutsche Welle
---
Published 20.05.22, 04:21 PM
|
---
Ukrainian President Volodymyr Zelenskyy has said fighting in Donbas has turned the eastern Ukrainian region into "hell," as Russia refocused its offensive on the industrial territory. Follow DW for the latest.
Russia's Duma to mull removal of military age limits
Zelenskyy says Russia has destroyed the Donbas
Ukrainian ambassador in Berlin wonders when German weapons will arrive — with ammunition 

The article was last updated at 3.30 PM (IST)  
Russia claims to be nearing control of Lugansk
Moscow is nearing full control of the separatist region of Lugansk in eastern Ukraine, Russian Defence Minister Sergei Shoigu has said in remarks carried by Russian news agencies.
Shoigu said the "liberation" of Lugansk was "nearing completion."
The minister also said that 1,908 Ukrainian soldiers had surrendered at the Azovstal steel plant in the port city of Mariupol, the last bastion of defenders of the city, which is otherwise under Russian control.
The number of Ukrainian troops that have actually surrendered has not been independently verified. A remnant of fighters is reportedly still holding out in the complex's labyrinth of underground bunkers and tunnels.
Shoigu also said that Moscow would establish new military bases in western Russia in response to what he called an increase in military threats near the border owing to Finland and Sweden's likely accession to NATO in the near future.
Both countries formally applied to join the alliance on Wednesday.
Russia's Duma to mull removal of military age limits
Russia's lower house of parliament is to debate allowing Russians over 40 and foreigners over 30 to sign up for the military, the State Duma website said on Friday.
"For the use of high-precision weapons, the operation of weapons and military equipment, highly professional specialists are needed. Experience shows that they become such by the age of 40–45," the website said.
Up to now, only Russians aged 18-40 and foreigners aged 18-30 have been able to enter into a first contract with the military.
The planned change in contractual age limits comes amid reports that Russia has suffered massive troop losses during its invasion of Ukraine.
The British Defence Ministry has suggested that around 50,000 Russian soldiers have been killed or wounded since February 24. Russia itself has declined to give any figures in many weeks.
Qatar hopes to deliver LNG to Germany by 2024: Foreign minister
Qatar wants to start supplying Germany with liquefied natural gas (LNG) by as early as 2024, a top official has told a German newspaper.
The gas would come from a plant in the US state of Texas in which Qatar Energy holds a 70% stake, Qatari Foreign Minister Mohammad bin Abdulrahman Al Thani was cited as telling the German daily Handelsblatt.
Qatari Emir Sheikh Tamim bin Hamad Al Thani is scheduled to hold talks with German Chancellor Olaf Scholz in Berlin later on Friday.
Germany is accelarating plans to construct LNG terminals as the country tries to reduce reliance on gas from Russia in response to Moscow's invasion of Ukraine.
German Economy Minister Robert Habeck visited Qatar and the UAE in March to discuss potential gas imports from the Middle Eastern countries.
German budget committee OKs €40 billion supplementary debt over Ukraine fallout
Germany's parliamentary budget committee has approved plans to take out almost €40 billion ($42.3 billion) in additional debt this year to help consumers and businesses cope with the impact of the conflict in Ukraine.
The committee agreed the package to help fund a second energy relief package for consumers, business aid and costs for the integration of refugees from Ukraine.
In all, the government wants to take on almost €140 billion in new debt. Government expenditure is now expected to be around €495.79 billion.
Last year, Germany borrowed a record €215 billion amid the coronavirus pandemic.
By 2023, the coalition government of center-left Social Democrats (SPD) and Greens with the business-friendly Free Democrats (FDP) wants to return to the constitutional "debt brake" that restricts new borrowing. The brake was temporarily suspended to enable financial measures to combat fallout from the pandemic.
Russia risks further force attrition through hasty Donbas redeployment: UK military intelligence
Russia is likely to move troops from Mariupol to support its military operations in Donbas after securing the Black Sea port despite stiff resistance by Ukrainian defenders, the UK's Ministry of Defence has said in an intelligence update.
It said Russian forces that had fought in Mariupol would need thorough reequipping and refurbishing after their fight against the staunch Ukrainian defense.
However, as Russian commanders were under pressure to show military successes, they were likely to redistribute their forces without adequate preparation, meaning that troops would possibly be vulnerable to attacks and suffer more losses, the update said.
It is unknown how many Ukrainian troops remain in the Azovstal steelworks, a large industrial complex that has been the last bastion for defenders of the city. It is also unclear how long they can hold out, though Svyatoslav Palamar, the deputy commander of the Azov Regiment, which led the defense, said on Thursday in a video message that "an operation was underway."
He did not give details on the announced operation.
Zelensky: Russian forces 'completely destroyed' the Donbas 
During his nightly video address to the nation on Thursday, Ukrainian President Volodymyr Zelenskyy said Russian forces had "completely destroyed" Ukraine's eastern industrial Donbas region.
Zelensky also accused Russia of carrying out a campaign of indiscriminate bombing in the region, as it has intensified its military campaign there following Russia's failed effort to encircle the capital, Kyiv.
He added that Russia was intent on killing as many Ukrainians as possible and doing as much damage to the country, adding that it is the politics and policy of genocide.
"It is hell there — and that is not an exaggeration," Zelenskyy said.
He added that 12 were dead following a "brutal and absolutely senseless bombardment" of Severodonetsk on Thursday.
Ukrainian ambassador in Berlin questions Scholz's commitment to deliver weapons
Andrij Melnyk, the Ukrainian ambassador to Germany, has once again questioned German Chancellor Olaf Scholz's commitment to deliver heavy weapons to Ukraine.
Melnyk told the Redaktionsnetzwerk Deutschland Friday: "We have the impression that the chancellor does not want to deliver."
He added, "One can get the impression that they are waiting until there is a cease-fire. Then the pressure on Germany will be gone and then there will be no need for courageous decisions to be made."
The Ukrainian ambassador added that so far none of the heavy equipment Germany promised such as Gepard tanks, nor Leopard 1s or Marders has been delivered. It is not known when the first of seven self-propelled howitzer 2000s from Bundeswehr stocks will be delivered or when ammunition sought abroad for them will materialize.