Russia-Ukraine War: Biden stresses NATO unity
He vows the US would respond if Russia uses chemical weapons in Ukraine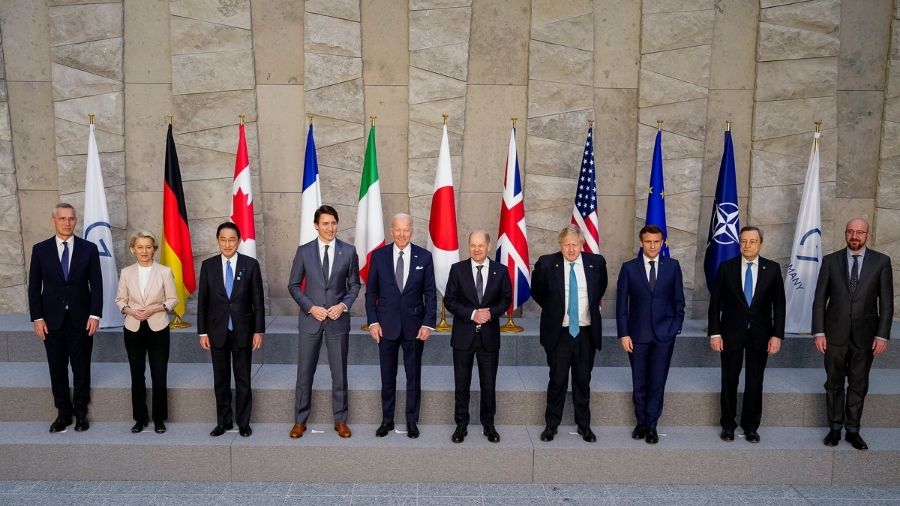 Joe Biden and other NATO leaders pose for a photograph at Brussels on Thursday
Twitter: @POTUS
---
Published 24.03.22, 11:35 PM
|
---
During an address in Brussels on Thursday, US President Joe Biden asserted that NATO is more united than ever amid Russia's ongoing invasion. He said he was determined to not only sustain ongoing efforts on Ukraine but to also build on them.
During the speech, he announced over $2 billion military aid for Ukraine and $1 billion in assistance for Ukrainians impacted by the war.
In regards to ongoing diplomatic negotiations between Ukraine and Russia, he said it was ultimately up to Kyiv to determine whether it would like to give up territory to Russia.
He vowed the US would respond if Russia uses chemical weapons in Ukraine.
Biden said Russia should be removed from the G20. At the same time, he said Ukraine should be able to attend G20 meetings.
He also defended his foreign policy response to the Russian invasion, after a reporter said sanctions did not deter Russia's attack.
"Sanctions never deter," Biden said. He said he believes maintaining the sanctions over time would ultimately lead to Russia stopping its invasion.
Biden also addressed China's possible involvement in the Russian invasion. He said he told Chinese President Xi Jinping that Beijing would face consequences if helps Moscow during the ongoing attack.
"I made no threats but I made it clear to him — made sure he understood the consequences of helping Russia," Biden said of his recent conversation with Xi. "China understands that its economic future is much more closely tied to the West than it is to Russia."
Tune in as I hold a press conference about my meetings in Europe with Allies and partners on our response to Russia's war on Ukraine. https://t.co/KSakZNhnET

— President Biden (@POTUS) March 24, 2022