'A knife to the heart' for Lysychansk residents
Russian control of the eastern city of Izium will play heavily into next phase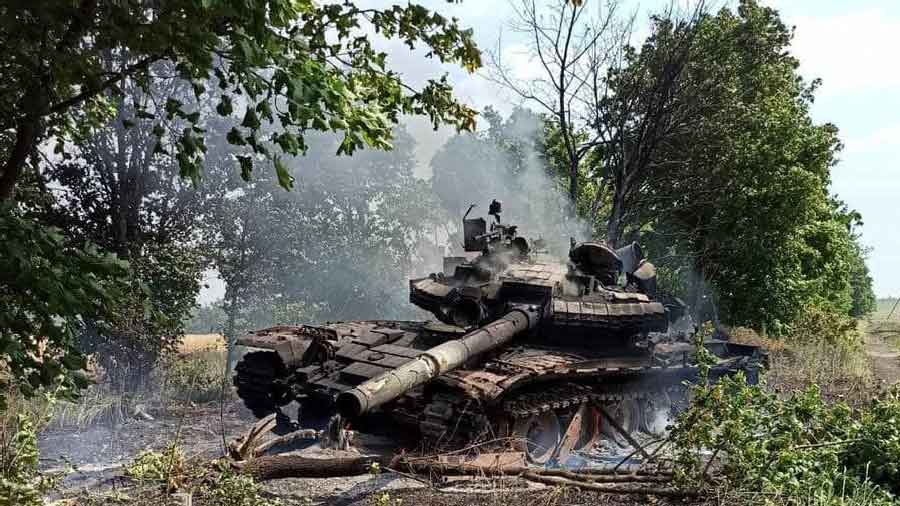 A Russian T-80 in the Luhansk region
Twitter/@IAPonomarenko
---
Kyiv
|
Published 05.07.22, 01:50 AM
|
---
Even before Ukraine's military acknowledged its withdrawal from Lysychansk on Sunday, the last city in the eastern Luhansk province that had still been held by Ukraine, former residents said they were aware of Russian control of the city.
"There is a small number of our guys in and around Lysychansk, but they don't lead an organised resistance anymore," said Denys, a Ukrainian artillery officer stationed southwest of the city.
"Those who are there are trying to leave, mostly on foot." People who have fled Lysychansk described learning of its current status mainly through videos online, sometimes relying on clips posted by the Telegram channels of separatists.
"You have to know the enemy face to face, so sometimes you have to use them," Ivan Shybkov, a resident of Lysychansk who has fled to western Ukraine, said in an interview. Shybkov said it was particularly painful to see images of people in Lysychansk meeting invaders of the city "with smiles on their faces" after having lacked basic supplies for months.
"It's like a knife to the heart," he said. "Our emotions are not a switch that can be switched off. Therefore, of course, it hurts us a lot." Dima Boyko, a 16-year-old who fled from Lysychansk to Kyiv, said he was last in touch with his mother and grandmother, who remain in the city, two months ago, since there has been a lack of cellphone service. He said he had seen videos of his own neighbourhood being taken over by Russia.
"The flags have already been hung, and near my house, too — there is a Soviet monument, a tank," he said. "From the video and photo in Telegram, you can already say that they completely occupied the city." The breakaway territories have proved useful for resupplying Russian offensives in the region ever since. The separatists also have provided fighters to support Russian offensives and help hold captured towns in Ukraine's east and south. While Ukrainian forces have made small tactical gains in the last month around the cities of Kharkiv, in the east, and Kherson in the south, Russia still maintains a significant foothold in both regions.
And its control of the eastern city of Izium will play heavily into the next phase.
New York Times News Service