Royal who dumped Taseer to wed long-time love
Lady Gabriella Windsor is putting her unhappy past relationship with Indian author Aatish Taseer firmly behind her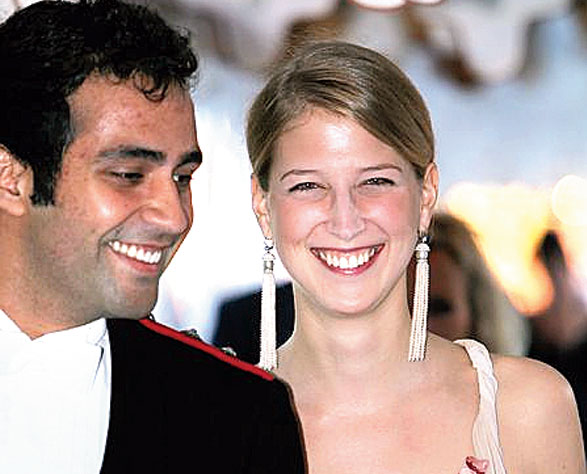 Gabriella Windsor and Aatish Taseer
Sourced by Amit Roy
---
London
|
Published 20.09.18, 08:18 PM
|
---
Another royal wedding has been announced — that of Lady Gabriella Windsor, who is putting her unhappy past relationship with Indian author Aatish Taseer firmly behind her by making a safe, conventional choice.
Gabriella, 37-year-old daughter of Prince and Princess Michael of Kent — the latter apparently never quite approved of Taseer as a possible son-in-law — is to marry her boyfriend of several years' standing, Thomas Kingston, 40, who works in finance.
He is also said to be well-connected, being a close friend of Pippa Middleton, younger sister of the Duchess of Cambridge.
Buckingham Palace said in a short statement on Wednesday: "Prince and Princess Michael of Kent are delighted to announce the engagement of their daughter Lady Gabriella Windsor to Mr Thomas Kingston.
"The engagement took place in August; Mr Kingston proposed on the Isle of Sark."
Known as "Ella" to her family and friends, Gabriella dated Taseer in her 20s when they were students in America.
Taseer's mother is the Delhi journalist Tavleen Singh and his late father was the Pakistani politician Salman Taseer — he was governor of Punjab from 2008 until his assassination in 2011. At one stage there might have been hopes on Taseer's side he could marry into the royal family — Gabriella is considered a "minor royal" because her father is the Queen's first cousin.
Taseer won no friends by discussing intimate aspects of his long-ended relationship with Gabriella in an article earlier this year in Vanity Fair, "Race and the Royals: An Outsider's View Inside Kensington Palace". He claimed, for example, that he and Gabriella swam naked in the Buckingham Palace pool. Taseer appeared bitter his romance with Gabriella did not end in marriage — either her mother drew the line at an Asian son-in-law or his girlfriend in the end thought better of it. "The British are perfectly happy to deal with people of colour who know their place; it is the 'uppity wog,' or 'Paki,' who arouses in them an animal hatred," he observed at one point.
The tale took an unexpected twist shortly afterwards when the Mail on Sunday reported that 38-year-old Taseer was living in the US "happily married" to a white husband, Ryan Davis, a lawyer aged 32.
Taseer had written a piece for Travel+Leisure on October 9, 2016, about his travels across the American south with Davis, whom he described as "the tall white man from Tennessee I had married a few weeks earlier in New York".
Gabriella studied at the private Brown University in America and works as an arts and travel director for brand company Branding Latin
America, based in Knightsbridge, London. She is also a board director for the Playing for Change Foundation, an arts education body, and has written for various publications.
Her fiancé is a director of Devonport Capital, which specialises in providing finance for companies in "frontier economies".