Rohingya documenter shot by gunmen in Kutupalong, Bangladesh
The gunmen had burst into his shack before opening fire, according to his brother, Habib Ullah, who was with Mohib Ullah at the time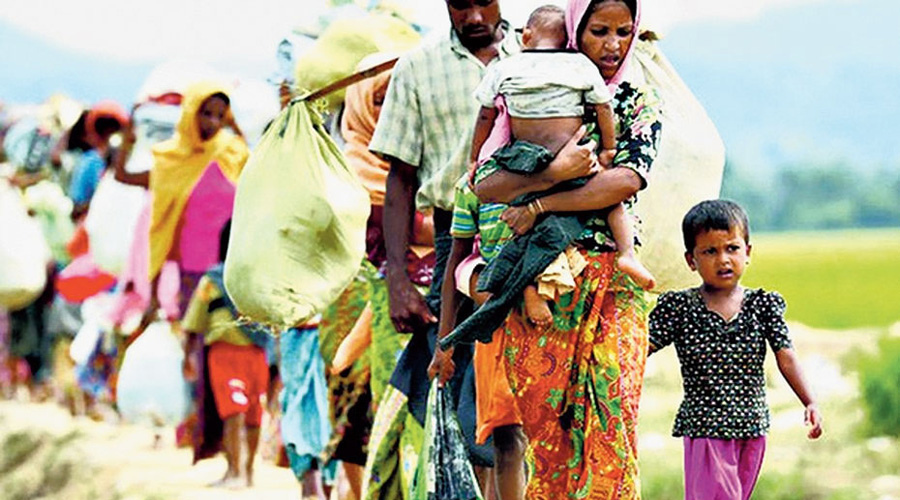 ---
Published 04.10.21, 12:39 AM
|
---
Mohib Ullah, a Rohingya community leader who believed in the power of data to confront the brutality of ethnic cleansing, died on Wednesday, shot by gunmen in a bamboo and tarp shelter in Kutupalong, Bangladesh, the world's biggest refugee camp. He was 46.
The gunmen had burst into his shack before opening fire, according to his brother, Habib Ullah, who was with Mohib Ullah at the time. The shack was stacked high with papers documenting massacres of Rohingya, the Muslim minority native to neighbouring Myanmar.
Mohib Ullah, who had worked as an administrator and teacher in Myanmar, quickly emerged as a leader in the sprawling refugee settlements of southeastern Bangladesh, which house about a million displaced Rohingya, many traumatised by their escapes from a campaign of killing, rape and village burning by the Myanmar military.
His clerklike appearance — crisply parted hair, clean shaven, pens in his shirt pocket — belied a determination that earned him respect in a community that usually venerates clerics and men with gray in their beards. Yet his willingness to speak unpalatable truths also earned him enemies, even within the Rohingya camps. Death threats became part of his life.
Mohib Ullah escaped Myanmar in 2017, when his village, like hundreds of others, was torched by the Myanmar military in a violent campaign that UN investigators said bore the hallmarks of genocide.
He had barely settled in his tarp shelter before he began trying to document the Myanmar soldiers' crimes. For years he painstakingly knocked on the doors of refugees, compiling a list of the dead, checking and cross-referencing each life lost. The aim was to provide evidence for international courts to one day prosecute the Myanmar military for genocide and war crimes.
When the Rohingya wanted to mark the anniversary of the August 2017 massacres that catalysed their largest exodus into Bangladesh, Mohib Ullah tackled the logistics of organising rallies that took place against the wishes of Bangladeshi security forces. He spoke with gentle force.
With his English skills and quick smile, he also became an ally of Bangladeshi and international nongovernmental organisation workers, who were trying to manage the influx of Rohingya into the country. He started an NGO.
"He was a little big man," said Yanghee Lee, the former UN special rapporteur for Myanmar, who last saw Mohib Ullah in the camps last year and spoke with him over phone last month. "He was all smiles, committed and firm and fearless and courageous."
Mohib Ullah travelled to Europe and the US to raise awareness of the plight of Rohingya Muslims.
In a speech before the United Nations Human Rights Council in Geneva in 2019, Mohib Ullah tried to describe all the ways in which the Rohingya were denied their humanity, from their citizenship to their very name. He was cut off after two minutes under council rules.
"Imagine you have no identity, no ethnicity, no country, nobody wants you," he said in Geneva. "How do you feel? This is how we feel today as Rohingya."
He visited the White House that same year and met President Donald J. Trump. Although he could have tried to claim asylum while in the US or Europe, Mohib Ullah instead returned to the refugee camp, with its filthy latrines, crowded shelters and deadly landslides and fires.
As plan after plan for repatriation fizzled, he continued to call for both Bangladesh and Myanmar, along with the UN, to try harder. He missed Myanmar. "We want to return home, but with dignity and safety," Mohib Ullah said.
Mohib Ullah spoke out against ARSA militancy, illicit networks and the dehumanising treatment by Bangladeshi officialdom.
His brother, Habib Ullah, accused ARSA of orchestrating the assassination. ARSA said "transnational border-based criminals" were responsible for the killing.
New York Times News Service