Rockets fired at Iraq air base
Eight Katyusha rockets fired at the base, about 80km north of the capital Baghdad: Iraqi military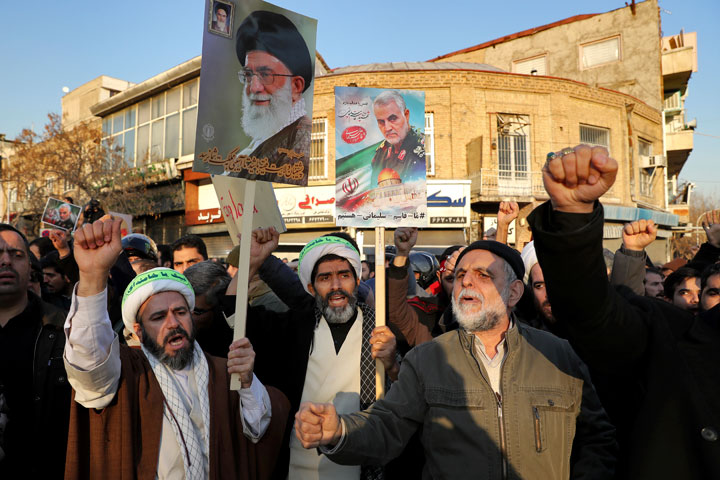 ---
|
Beirut
|
Published 12.01.20, 09:26 PM
---
Four people were wounded on Sunday in an attack on the Balad air base in northern Iraq that houses US personnel.
The Iraqi military said in a statement that eight Katyusha rockets had been fired at the base, about 80km north of the capital Baghdad, and that the four wounded included two officers.
Military sources identified the wounded as Iraqi soldiers. They said seven mortar bombs had hit the base's runway.
There was no word of any US casualties.
The Iraqi military statement did not say who was behind the attack and made no mention of heightened tensions between the US and Iran, which last Wednesday fired missiles at two military bases in Iraq which house US forces.
In Iran on Sunday, protests erupted for a second day, piling pressure on the leadership after the military admitted it had mistakenly shot down a Ukrainian airliner at a time when Tehran had feared US air strikes.
"They are lying that our enemy is America, our enemy is right here," a group of protesters outside a university in Tehran chanted, according to video clips posted on Twitter.
Posts showed other demonstrators outside a second university and a group of protesters marching to Tehran's Azadi (Freedom) Square. The videos also showed protests in other cities.
Some state-affiliated media carried reports of the university protests, after Saturday's demonstrations sparked by Iran's announcement that its military had mistakenly brought down the Ukrainian plane on Wednesday, killing all 176 aboard.
Tehran residents told Reuters that police were out in force in the capital on Sunday, as public anger boiled up following days of denials by the military that it was to blame.
Riot police fired teargas at thousands of protesters in the capital on Saturday, where many had chanted "Death to the dictator", directing their anger at Iran's supreme leader Ayatollah Ali Khamenei.
"Apologise and resign," Iran's moderate Etemad daily wrote in a banner headline on Sunday, saying the "people's demand" was for those responsible for mishandling the plane crisis to quit.
Britain said its ambassador in Iran was briefly detained on Saturday, which Iranian media said was because he was inciting protests. The envoy said he attended a vigil for plane victims.
Iran summoned him on Sunday, while state-affiliated media said members of the hardline Basij militia gathered outside the mission with signs demanding the "treacherous embassy" be shut.
British foreign secretary Dominic Raab condemned the arrest and said Iran "can continue its march towards pariah status... or take steps to de-escalate tensions" with diplomacy.
Lebanon's Hezbollah said on Sunday it was time for Iran's allies to begin working to retaliate for the killing of Major General Qassem Soleimani though it would be a "long path" to the goal of ejecting US forces from the region.