Rising Tory star: Rishi Sunak
The 39-year-old entered the Commons only 4 years ago when he took over as MP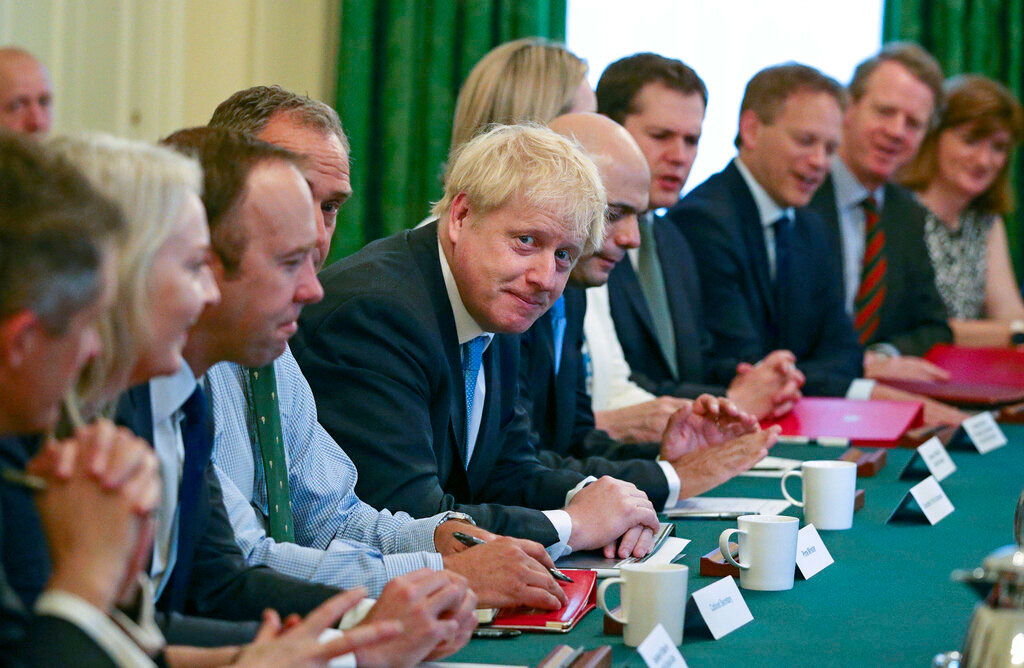 ---
|
London
|
Published 25.07.19, 07:27 PM
---
Boris Johnson's cabinet has more members from the ethnic minorities than any before it, but probably the man to watch is the new chief secretary to the treasury, Rishi Sunak, considered by colleagues to be a rising star in the Conservative Party.
The 39-year-old entered the Commons only four years ago when he took over as MP from the sprawling rural seat of Richmond in Yorkshire from former party leader and foreign secretary William Hague.
Sunak is often described as "N.R. Narayana Murthy's son-in-law" but it may not be long before the Infosys founder will introduce himself as "Rishi Sunak's father-in-law".
As chief secretary to the treasury, Sunak will work closely with Pakistani-origin Sajid Javid, who has been shifted from home secretary to chancellor.
Sunak is now responsible for the government's "spending reviews and strategic planning, public sector pay and pensions, efficiency and value for money in public service, procurement, capital investment, transport policy, including HS2, Crossrail 2, Roads, Network Rail, Oxford-Cambridge corridor, women in the economy, childcare policy, including tax free childcare" and other issues.
Compared with the two other Indians in the cabinet —Priti Patel, the new home secretary, or even Alok Sharma, promoted from minister of state for employment to secretary of state for international development — Sunak has so far avoided the limelight. But that could change.
On Thursday, he gave his first interview in his new job to the BBC, explaining why he thought the government could put new money into the host of ambitious plans Boris has announced.
"The good news is — and I pay tribute to the outgoing chancellor (Phillip Hammond) for doing a very good job of managing our nation's finances over the past few years — we are in a relatively healthy position at the moment," he said.
"We have built up fiscal headroom — £26bn is available to be deployed on the priorities that British people want to see: more investment in, for example, police on the street, slightly more funding on our schools."
Asked to clarify whether this was old money, he explained: "This is the headroom that we have that has not been allocated and deployed in various priorities."
Appointed around midnight on Wednesday, Sunak attended his first cabinet meeting at 8.30am on Thursday and sat at one end of the table.
He told BBC Breakfast TV that Boris needed to appoint people committed to his priorities.
The Times has described the departure of 17 members of Theresa May's government as an "afternoon of carnage… the most brutal cabinet purge in modern political history".
"Ruthless Johnson takes his revenge," was the headline in The Guardian, which saw the sackings of Jeremy Hunt (foreign secretary), Penny Mordaunt (defence), Liam Fox (international trade) and Greg Clark (business) as a "merciless purge" of his detractors from May's cabinet.
But Sunak, a supporter of Boris and of Brexit who had kept his head below the parapet, justified Boris's decision to appoint a cabinet in his own image.
"It is important that people around that table are committed to these priorities: delivering Brexit, and this exciting domestic agenda he outlined," he said.
About his own background, Sunak said he was not born to privilege. "My grandparents arrived in this country with little. My parents, a GP and a pharmacist, grew up wanting a better future for their children."
He paid tribute to his parents for making it possible for him to have a "great education". He was head boy at Winchester, one of Britain's leading public schools where the Nawab of Pataudi Jr had been a pupil and captain of cricket in the 1950s ("I am a great admirer of Tiger Pataudi").
He was an undergraduate at Lincoln College, Oxford, and took a First in PPE (philosophy, politics and economics) before going to Stanford to do an MBA as a Fulbright scholar.
In August 2009, he married Narayana Murthy's daughter Akshata at a relatively simple but elegant and high-profile wedding in Bangalore. The couple, who have two daughters, Krishna and Anoushka, had met as students at Stanford.
The wedding guests included Azim Premji, Kiran Mazumdar-Shaw, Anil Kumble, Praful Patel, Nandan M. Nilekani, Montek Singh Ahluwalia, Captain G.R. Gopinath, K.V. Kamath, Syed Kirmani and Prakash Padukone.
Sunak's background in business will come in useful. Before going into business, he co-founded a multinational investment firm.
Others in Boris's cabinet include the new party chairman, James Cleverly, who was born in London to a British father and a mother from Sierra Leone.
Kwasi Kwarteng, minister at the department for business, energy and industrial strategy, who was born in London to parents who migrated to the UK from Ghana as students in the 1960s, is cleared to attend cabinet.
He was a King's scholar at Eton and read classics and history at Cambridge.
In addition to the cabinet appointments, Boris has also brought in Munira Mirza, who was born in Yorkshire to Pakistani parents, as the head of the policy unit at 10 Downing Street.
During Boris's time as mayor of London, Mirza, who read English at Oxford, was a deputy mayor with responsibility for education and culture.