Rishi Sunak's PM prospects dim as tax row intensifies
British chancellor moves family out of Downing street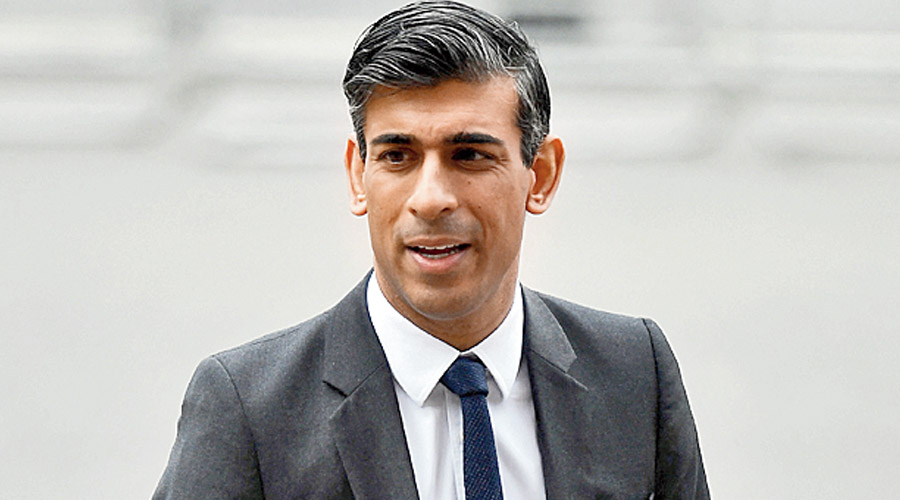 ---
London
|
Published 11.04.22, 03:50 AM
|
---
Chancellor Rishi Sunak has moved his wife, Akshata Murty, and their two daughters, Krishna and Anoushka, out of their apartment in Downing Street to the family's flat in Kensington, and also apparently ordered an inquiry into the source of the leaks into his tax affairs.
But his enemies have now tasted blood, which explains the avalanche of dire headlines in the opinion forming Sunday newspapers.
After a day when the Prime Minister Boris Johnson slipped into Kyiv for a meeting and photo op with Ukrainian President Volodymyr Zelensky, the Sunday Times led with: "Sunak's wife escapes No 11 goldfish bowl: Chancellor moves family out after tax furore."
Pages 4 and 5 were given over to analysis: "Burnt: Did Rishi Sunak fly too close to the sun?"
The Sunday Telegraph carried a report: "Sunak faces questions over 'blind' investment holdings'.
Its columnist, Simon Heffer, commented: "Rishi Sunak has shown that he just isn't a very good politician. His problem isn't his wife's money, but that his talents are now being called into question."
This runs counter to general opinion that he is the brightest and ablest minister in the government.
The paper interviewed voters in Sunak's constituency, Richmond in Yorkshire, where he is hugely popular, but managed to find mainly those who were critical of the chancellor: "Once their pride and joy, 'out of touch' Rishi Sunak has let his Yorkshire constituents down. Revelations of the Chancellor's wife's non-dom tax status leaves a bitter taste in the mouths of Richmond's voters."
The Observer quoted unidentified senior Tories for its disclosure: "Rishi Sunak's hopes of becoming prime minister are over, say top Tories."
It is not specified whether these Tories are supporters of Truss but the paper said: "Senior Conservatives have written off Rishi Sunak as a potential prime minister — and now believe Boris Johnson will have to remove him as chancellor in his next reshuffle — following the furore over his US green card and his wife's tax affairs."
One former Tory minister — not named — "told the Observer that the fear among Conservative MPs with small majorities was that the party was now in a "death spiral" with its two leading figures — the PM and chancellor — both having lost respect among voters."
It added: "Johnson is believed to be considering a ministerial reshuffle in the summer or autumn. There are known to have been tensions between No 10 and No 11 after the chancellor offered only lukewarm support to Johnson at the height of the scandal over lockdown-busting parties, before Russia's invasion of Ukraine."
A government source — again not named — told the Observer: "I don't see the PM resisting this opportunity to move Rishi now."
Akshata issued a statement last week in which she said her non-dom status was "entirely legal" but added: "It has become clear that many do not feel it is compatible with my husband's role as chancellor. I understand and appreciate the British sense of fairness and I do not wish my tax status to be a distraction for my husband or to affect my family.
"This means I will now pay UK tax on an arising basis on all my worldwide income, including dividends and capital gains, wherever in the world that income arises. I do this because I want to, not because the rules require me to."
Akshata's statement had a personal Indian dimension: "Rishi has always respected the fact that I am Indian and as proud of my country as he is of his.
"He has never asked me to abandon my Indian citizenship, ties to India or my business affairs, despite the ways in which such a move would have simplified things for him politically. He knows that my long-standing shareholding in Infosys is not just a financial investment but also testament to my father's work, of which I am incredibly proud."
A government minister also suggested that racism was partly responsible for the manner in which Sunak and his wife had been subjected to a smear campaign. Greg Hands, minister of state for business, energy and clean growth, said there could be a racial element in the way Sunak and his wife were being targeted.
He told the BBC: "Some of the commentary about her being a foreign national has been unpleasant."
And in an exclusive interview with The Telegraph, the Tory peer, Rami Ranger, who has raised funds as a Conservative Party treasurer from well off Indians, said: "The attack on Sunak and his wife is being seen as an attack on the entire Indian community. When somebody rises, the establishment wants to bring him down.
"No one is talking about how well he has done as chancellor after the toughest economic period since the Second World War. He has stabilised the economy, helped people through the pandemic, and the British economy is now doing well. He is the chancellor, not his wife."
Boris will no doubt be asked about the chancellor when he flies to India on April 22. He will talk about India's relationship with Russia but his main aim will be to accelerate a post-Brexit bilateral Free Trade Agreement.