Sunak tipped for promotion in shuffle
And after an 80-seat majority, he might get what he wants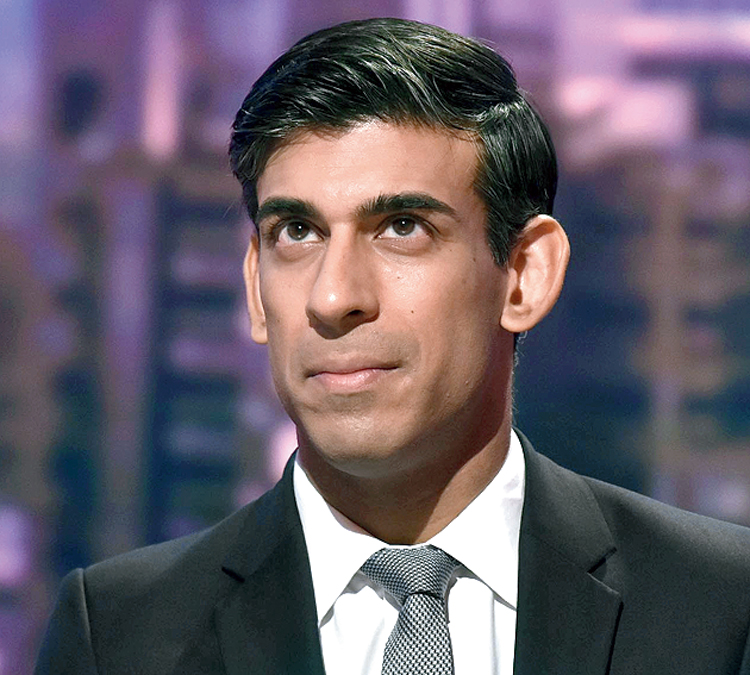 ---
|
London
|
Published 25.12.19, 08:27 PM
---
It is invariably the kiss of death for any politician to be tipped for stardom but the Financial Times, which is widely respected, suggested on Christmas Day that 39-year-old Rishi Sunak will be promoted in the new year.
Sunak is chief secretary to the treasury and a member of the cabinet — effectively number two to the chancellor Sajid Javid.
What has been rumoured is that Dominic Cummings, Prime Minister Boris Johnson's powerful but very unpopular chief adviser at 10, Downing Street, wants a shake-up in Whitehall and to subsume the department of international development — headed by Alok Sharma — into the foreign office, for example.
And after an 80-seat majority, he might get what he wants.
So what happens to Sunak, who played quite a starring role during the election campaign? He made numerous TV appearances ahead of other senior figures and twice stood in for Boris during high profile debates with Opposition figures.
There is no doubt that Sunak, who represents a safe seat in Richmond, Yorkshire, and is married to Infosys founder N.R. Narayana Murthy's daughter, Akshata — the couple have two daughters, Krishna and Anoushka — is well regarded both by Boris and, possibly more significantly, Cummings.
According to the FT, Sunak is "being tipped by senior Tories to run a new economic super-ministry after a big cabinet reshuffle due in February".
It is certainly true that Boris is planning a cabinet reshuffle once the Brexit bill is passed by January 31.
It also needs to be stated that often governments deliberately "fly kites" in order to test reaction to controversial ideas.
"Conservatives close to the prime minister said Mr Sunak's performance during the election put him in line for promotion to a full cabinet portfolio in the reshuffle," the FT reported.
"'Rishi is a superstar, he keeps to the line and proved himself to be a calm, able debater,' said one Tory official, adding he would be a 'perfect fit' for the economic super-ministry being considered by Johnson."
The paper went on: "The prime minister is expected to create a beefed-up business ministry — absorbing the international trade department — with a remit to attract inward investment and 'level up' Britain's economy by targeting help at poorer areas including parts of the midlands and northern England.
"According to senior Conservatives, Mr Sunak is Mr Johnson's 'favourite minister': a safe pair of hands trusted to carry the Tory message, partly because he is a true Brexit believer."
There was a qualification: "Mr Sunak's friends admitted he was not yet a fully formed debater. When he stood in for Mr Johnson in two TV election debates, he at times appeared slightly nervous, and too relentlessly 'on message'."
However, the FT pointed out: "But there was another reason why 39-year-old Mr Sunak had a prominent TV role: Mr Johnson's desire to project the Tories as a "change" party, even though it has been in power since 2010. 'He looks like change,' said one Conservative strategist.
"Several ministers believe the Treasury chief secretary will, after doing a stint in a Whitehall 'spending department', return to One Horseguards Road as chancellor. 'In cabinet, Boris will often turn to Rishi first on the economy,' said one minister.' "
That suggestion will not sit well with the current chancellor.
The FT said: "Some Tory MPs are convinced the steep upward ascent of Mr Sunak's political career puts him on a course to one day become prime minister. He declined to be interviewed for this article."
"From Winchester he went to Oxford University, where he was awarded a first class degree in philosophy, politics and economics. He then obtained a master of business administration from Stanford University in the US, where he met his wife Akshata."
It sketched out his career to date. "Mr Sunak's business career has involved stints at Goldman Sachs and a hedge fund — neither of which are mentioned in his 'about me' web page — before he co-founded an investment business 'working with companies from Silicon Valley to Bangalore'.
"In 2015 he made the intriguing choice of securing the safe Conservative seat of Richmond in North Yorkshire — a very traditional Tory constituency that was previously held by former Tory leader William Hague."
"British Indian is what I tick on the census," Sunak had told an Indian paper.
"I am thoroughly British, this is my home and my country, but my religious and cultural heritage is Indian, my wife is Indian. I am open about being a Hindu."
The FT said: "Mr Sunak, who was appointed a junior local government minister in 2018 by Theresa May, was an early backer of Mr Johnson's bid for the Conservative leadership in the summer when she quit as prime minister after failing to secure parliamentary approval for her Brexit deal.
"Mr Sunak was rewarded by Mr Johnson with a move to the Treasury as chief secretary, and put in charge of the prime minister's first public spending review.
"He immediately won plaudits from Treasury officials. 'He likes detail, he's interested in policy,' said one Treasury insider.
"If Mr Sunak is made head of the beefed-up business department, his good working relationship with chancellor Sajid Javid could come under strain: the Treasury has always jealously guarded its 'economics ministry' functions against interference from elsewhere in Whitehall.
"'Rishi says he's learned politics from Sajid,' said one friend, noting the two had worked together in the local government department. 'They are fairly alike. They are both fiscal hawks.' "