Rishi Sunak is UK PM after meet with King
New British leader praises Liz and Boris and vows to unite UK, not with words but with action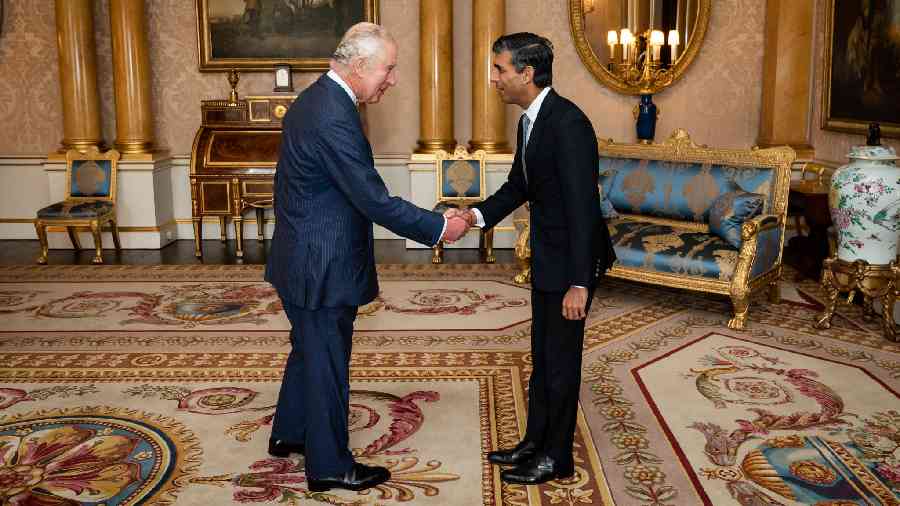 King Charles receives Rishi Sunak, at the Buckingham Palace on Tuesday.
Twitter
---
London
|
Published 26.10.22, 01:58 AM
|
---
Buckingham Palace was quick to release a photograph of a beaming King Charles meeting Rishi Sunak in the 1844 Audience Room on Tuesday morning and inviting him to form a government.
The BBC's Huw Edwards and his colleagues noted it was "a very warm image".
They added it was a first for both. Rishi is the first Prime Minister to be appointed by the King since Liz Truss, who formally resigned on Tuesday, had been Queen Elizabeth's 15th and final Prime Minister over a period of 70 years.
The BBC also pointed out that Rishi, at 42, is the youngest Prime Minister in 200 years and the first British Asian on the job. Even the Daily Telegraph, which had backed Truss in the leadership contest earlier in the summer, said in its leader comment on Tuesday:
"Yesterday was Diwali, that great festival of lights celebrating triumph over adversity. As PM-in-waiting, Mr Sunak doubtless will have lit his own candle, hoping to chart a way through the adversity that is surely to come. For the rest of us, the fact that Britain now has its first non-white Prime Minister is a triumph of its own, though it is perhaps how little the colour of his skin matters that is the greatest cause for celebration."
Tuesday's newspapers will be collectors' items for the Sunak family in London and in Bangalore. Even the Daily Mail led with a picture of Rishi occupying its entire front page alongside the headline: "A new dawn for Britain. RishiSunak becomes our youngest modern PM — and first with an Asian heritage."
And so the wheels of history turned on a sunny autumn morning in London asTV cameras in helicopters tracked first Truss going into Buckingham, followed by Rishi's armed motorcade.
As Rishi left for Downing Street to make his first speech as Prime Minister and pose for the traditional photograph outside the famous black door of Number 10, Buckingham Palace confirmed: "The King received The Rt Hon Rishi Sunak MP at Buckingham Palace today. His Majesty asked him to form a new Administration. Mr. Sunak accepted His Majesty's offer and was appointed Prime Minister and First Lord of the Treasury."
Rishi was preceded by Truss, who arrived with her husband Hugh O'Leary, and after the outgoing Prime Minister had met Charles, Buckingham Palace stated: "The Right Honourable ElizabethTruss MP had an audience of The King this morning and tendered her resignation as Prime Minister and First Lord of the Treasury, which His Majesty was graciously pleased to accept."